FULTON MARKET — After decades in the West Loop, the sun is setting on the celestial bodies of Fulton Market.
Mars Gallery, one of the West Loop's pioneering art galleries, will close next month and Jupiter Outpost, the indie coffee shop below, closed its doors last week. The two businesses are the latest casualties to redevelopment in Fulton Market — an area once home to the city's meatpackers — as the neighborhood undergoes a rapid transformation.

The closings of Jupiter and Mars comes as Chicago-based private equity firm Domus Special Situations Group scooped up the southern end of Fulton Market Street between May Street and Racine Avenue — including the building that has housed the two businesses for decades — for $20 million, according to The Real Deal. The company has yet to announce its plans for the block-long property.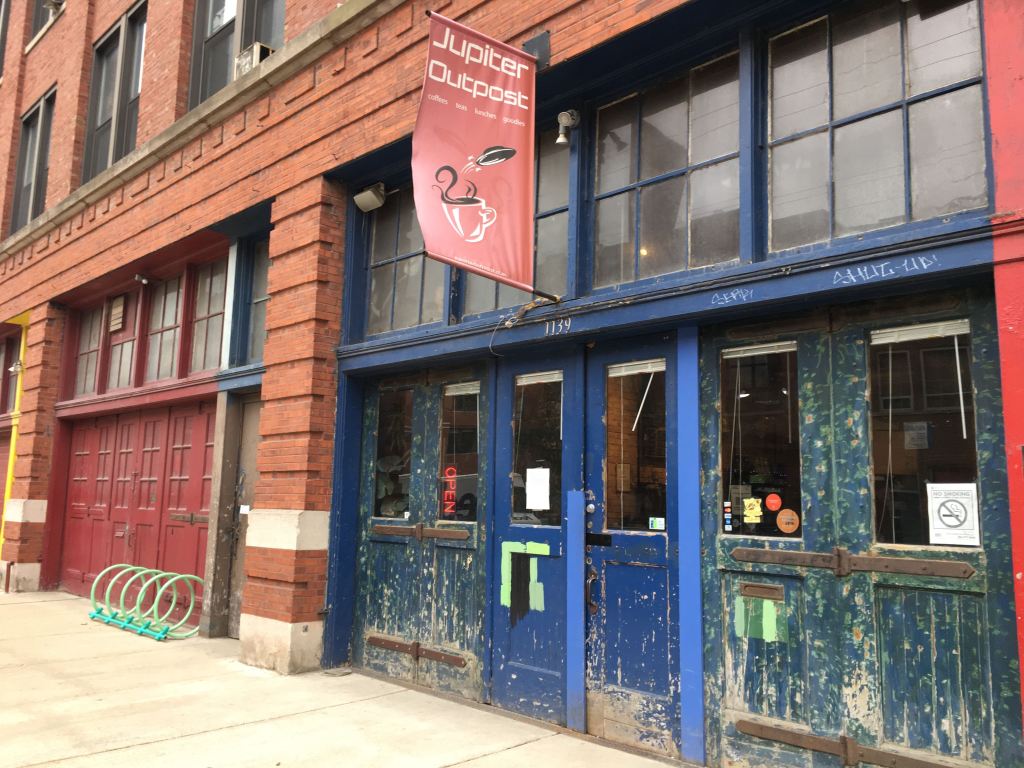 From the second-story window at 1139 W. Fulton Market St., Mars Gallery co-owner Barbie Gazdik has watched the many reincarnations of Fulton Market over 30 years.
When Mars moved in in 1988, the street was bustling with workers driving forklifts, loading and unloading trucks during the tail end of the neighborhoods' meatpacking heyday. In another life, it was ground zero for artists, photographers and creatives who flocked to set up shop in the industrial area's lofts. For a while, there was a seamless co-existence between the meatpackers and the artists who both called the neighborhood home.
The meatpackers presided in the day. At night, the artists reigned supreme, Gazdik remembered.
"The streets were empty and we would have late night events, art openings, benefit events for nonprofits," she said.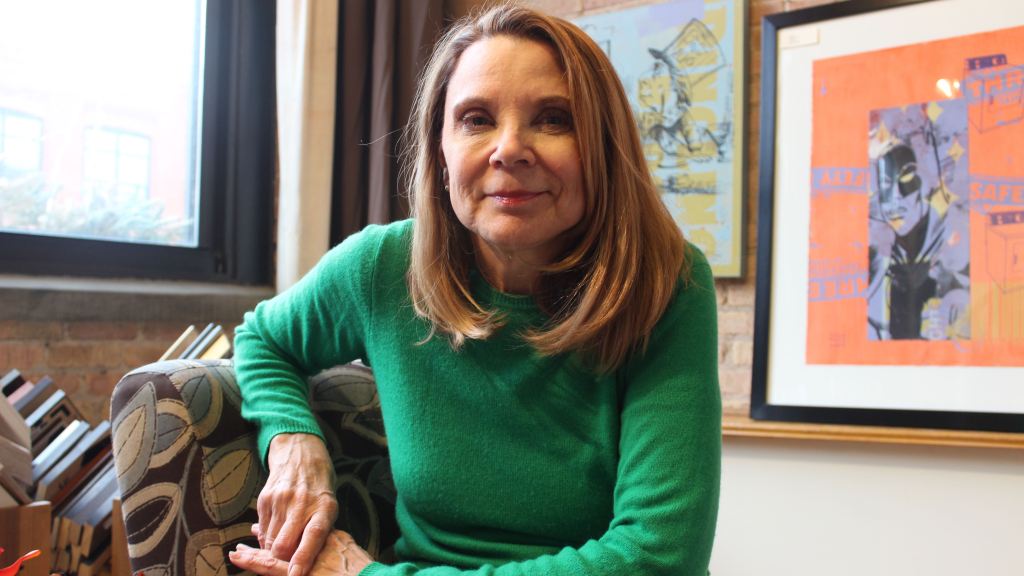 Now, Mars' days on Fulton Market are numbered. As meatpackers have packed up and office towers rise in their wake, Gazdik is preparing to take her final glance out that second-story window when the gallery closes April 30.

"It's bittersweet," she said. "But I'm fortunate to have had the years here. It's time to start a new chapter."
That new chapter will mean setting up shop elsewhere. She and co-founder Peter Mars are working with the city to find a new space for her thriving art gallery space, silk-screen studio and framing business.

"It would be a shame to wrap this up when we have a thriving business. It's just a question of how it's going to work out."
Ald. Walter Burnett Jr. (27th) said no definitive plans have been laid out for the future of the property Mars called home. Either way, Gazdik bares no ill-will for the closure.
As a renter, she was warned the property was up for sale. In February, they were told the gallery would have until the end of April to move out.

"We weren't blind-sided or anything like that," Gazdik said. "We knew it was coming, it was just a question of when."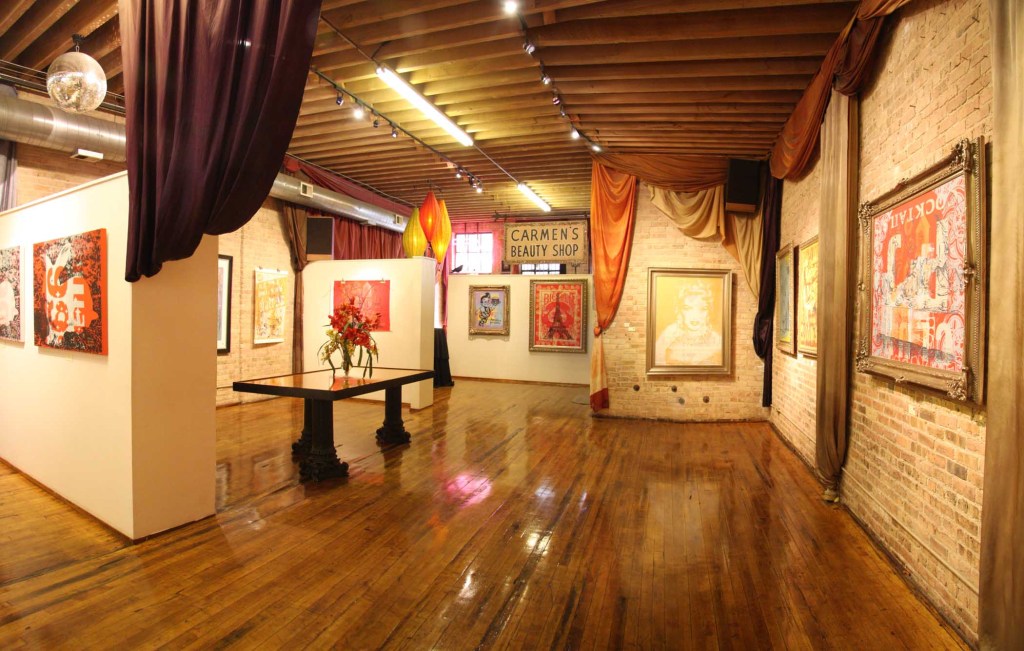 The departure of art galleries has become commonplace in the changing West Loop. Threewalls Gallery, Western Exhibitions, Document, and Volume Gallery have all left the West Loop as rents quadrupled in the neighborhood, Chicago magazine reported in 2016.

"Thirty years ago the West Loop was an overlooked gem," co-founder Mars told the magazine at the time. "It was an adventure. We weren't afraid to go into some weird neighborhood and treasure hunt for art."

As she packs up artwork in the gallery's downstairs studio, Gazdik recalls those early days hosting benefits and art exhibitions.
She's seen the business evolve from the art gallery that offered event space for artists to showcase their work, into a business that offers a silkscreen studio and framing business.

It's difficult to let go of those memories tied to the space, but she hopes another equally exciting era is beginning.
"We've been here for 30 years, we've had a good run," Gazdik said. "It's time to move on."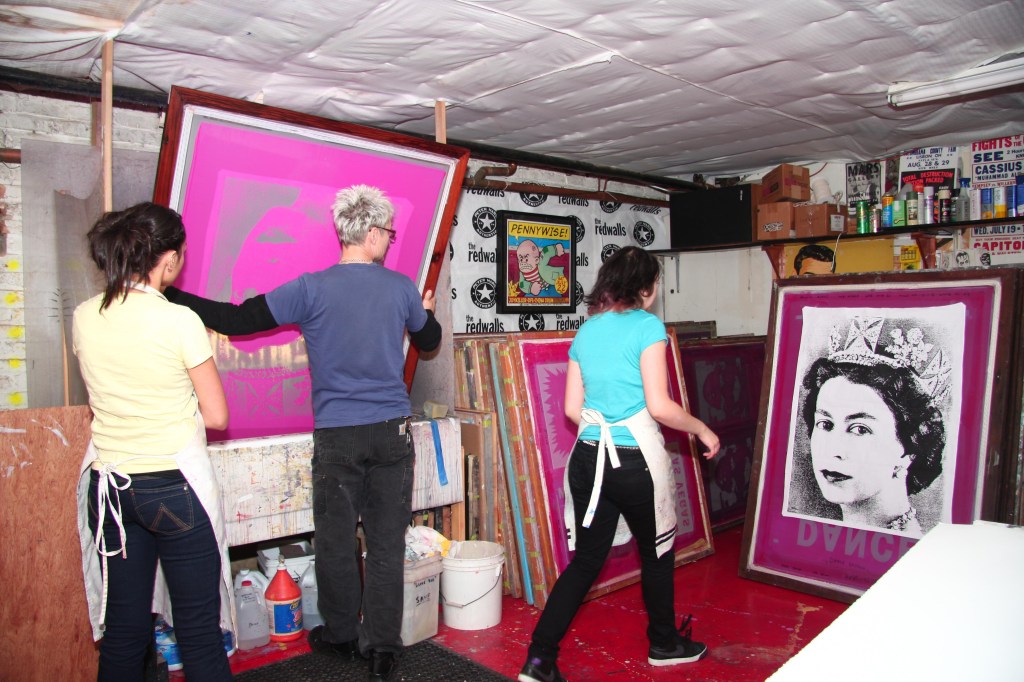 End of an era: Jupiter closes on Fulton
Underneath the gallery, Jupiter Outpost, a colorful coffee shop, served its final cups and sandwiches last week.
After 14 years on Fulton, owners John and Cindy Dymond alerted their customers of the closing with a simple note on their front door.
"Love has been made here from day one; friends for life, couples for life, and enemies for life," the note read. "…We have supported independent film and charities, help boost artist careers, and have been instrumental in bringing Fulton Market to its present-day glory, all done with love."
On Friday, the Dymonds looked back on the humble indie coffee shop ' a "raw," unpretentious place they opened in 2005.

"I'm pretty proud of what we accomplished here," John Dymond said. "For a restaurant to survive three to five years, that's an accomplishment. We did it for 14, and you know, our employees stayed loyal. Some stayed eight years. Some stayed for longer. Some still come back and visit and say, 'hi.'"

"We never tried to be anything we weren't."

The pair recalled late summer nights spent out on the patio in front of their shop with customers and friends after closing on a Friday. And there were Fulton Market Days, the Guerrilla Truck Show — where Fulton shops would transform into sidewalk pop-up galleries — birthday parties and even a marriage proposal at the coffee shop.

"It's been great," John Dymond said.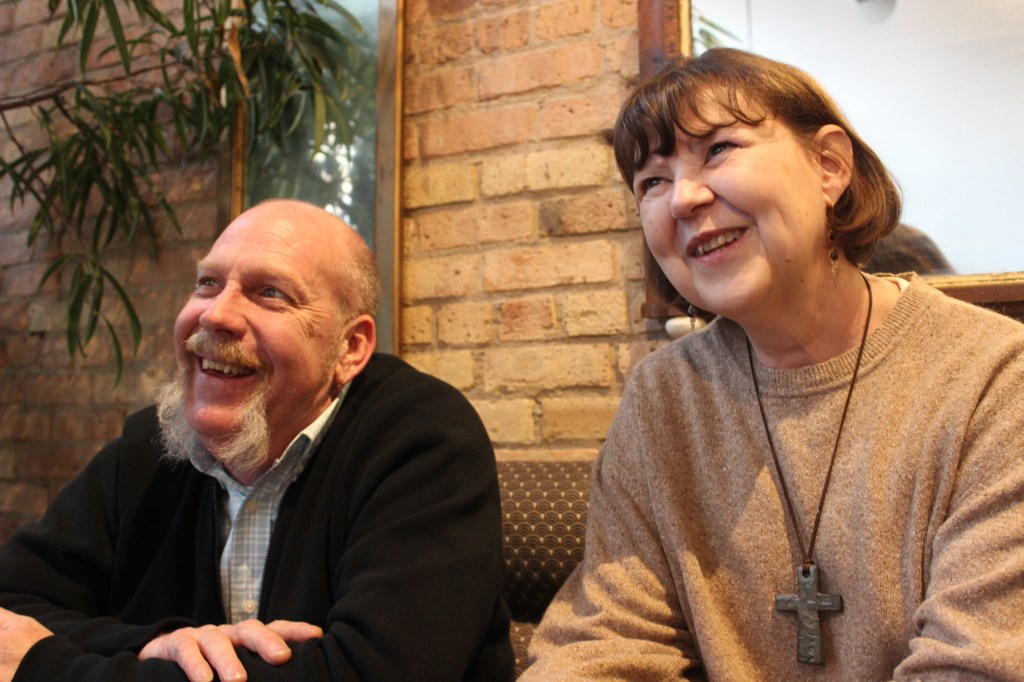 Over the years, the coffee shop became a staple for workers at nearby businesses and residents who lived in the artist lofts in the neighborhood. Jupiter Outpost was supported by workers from businesses like Design Kitchen, Aspen Foods Inc., Maloney-Cunningham & De Vic, businesses that have all since left the neighborhood.

"It was a close-knit community of market people, you had blue-collar workers, design companies, artists who lived here," Cindy Dymond said. "It became a meeting place to come in where people would gather."
Now as the neighborhood undergoes another transformation, the loyal clientele that has sustained the business have left.
"I've lost my core concentration of clientele and there's been no replacement, as a result business is suffering," John Dymond said.

Fulton Market residents Gregg and Kim Shapps have been coming to the coffee shop since it opened in 2005.

"There wasn't much around" back then, Kim Shapps recalled.  "It used to be that there were only a handful of restaurants coffee shops, and you knew all of them. Now things go up so fast that you don't get a sense of what's around."
"It's sad the shop is closing," Greg Shapps said. "It's a life-changing event."

His wife said it signaled "an end of an era."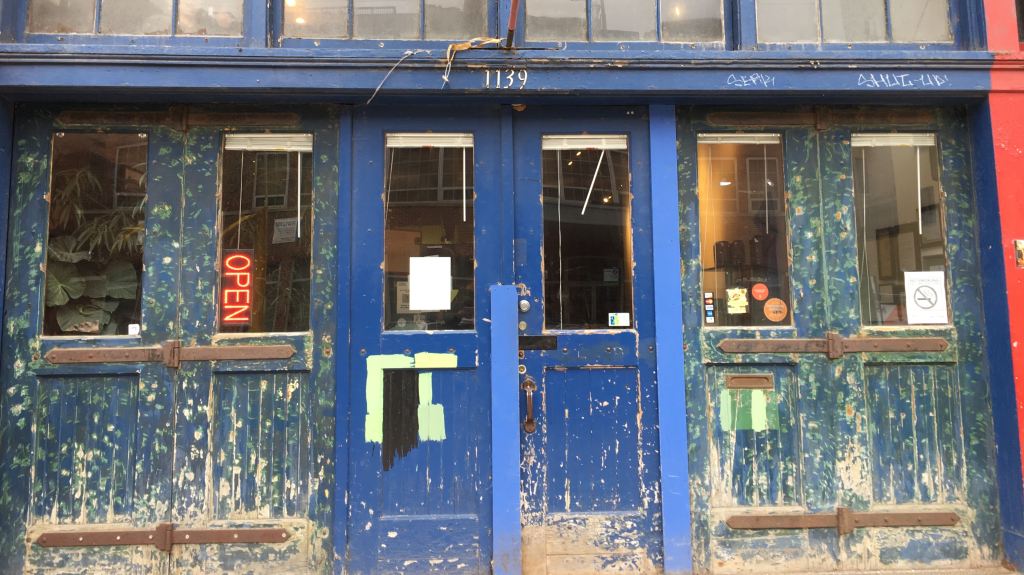 Like Gazdik, the Dymonds were given until April 30 to close the shop, but they opted to hang up their hats this month instead.

"We knew it was coming," Cindy Dymond said. " You are going to have to close sometime, why not take control and do it on our own terms."

The couple said they have no immediate plans to open another location.

"Never say never," John Dymond said.

"Regardless, we need to take some time to regroup," Cindy Dymond said.

Instead, they plan on traveling to Malaysia for a few months.

"We've come, we've conquered," John Dymond said. "And we're going," Cindy said with a laugh.
Domus Special Situations Group, the firm that bought the building, did not return calls for comment.

Do stories like this matter to you? Subscribe to Block Club Chicago. Every dime we make funds reporting from Chicago's neighborhoods.