LOGAN SQUARE — At least 100 carolers gathered in Logan Square Sunday night to give thanks to the man that lit up the neighborhood for 35 years.
Frank Lopez, who transformed his Victorian home into a festive winter wonderland every holiday season, died in November at the age of 85. His daughter, Francesca "Peggy" Lopez, told Block Club last week her father planned this year's display from his hospital bed in the days before he died.
John Parizek has lived down the street from Lopez's home, on the corner of Washtenaw Avenue and Logan Boulevard, for 35 years and helped organize Sunday's memorial. He said Sunday was not the first time he and his neighbors have gathered outside the home to say thanks.
RELATED: Man Behind Logan Square's Magical Christmas House Dies
"Well, when I heard he died I thought we've got to do something," he said. "We always try to carol there but sometimes it doesn't work out and so we said this year we've got to."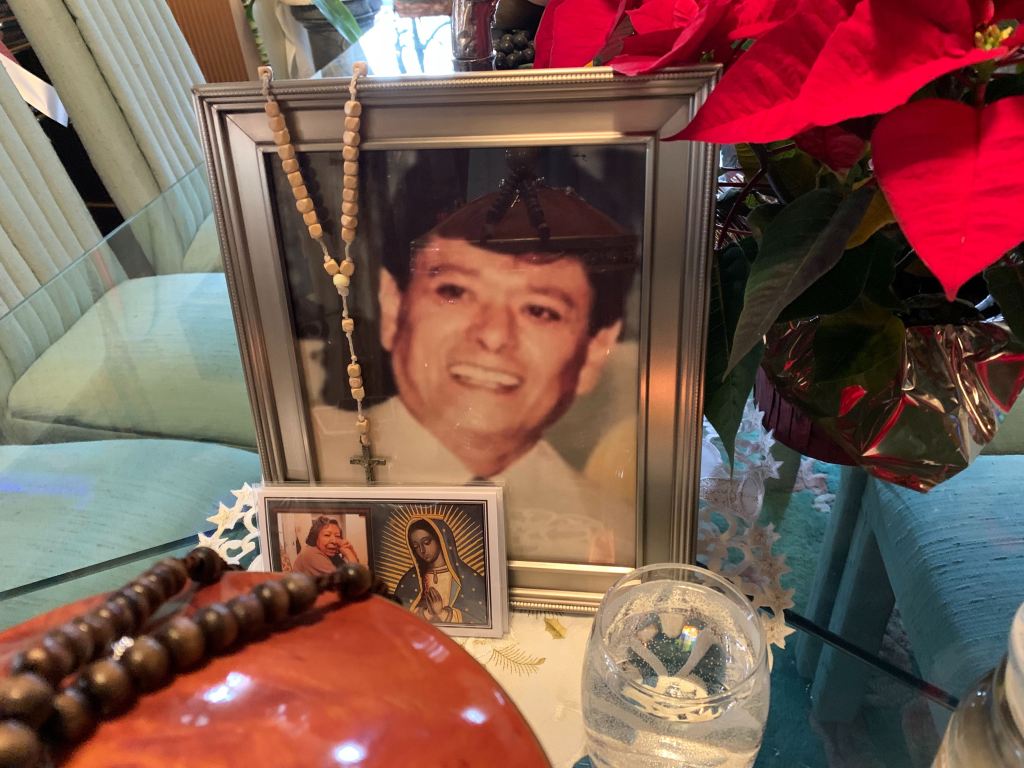 Scott Arkenberg, who once led the choir at St. John Berchmans Parish across the street from Lopez's house, came out of retirement to lead the community in song and welcome anyone who had a memory to share.
After the memorial, Lopez's daughter was overcome with emotion. She and other members of Lopez's family stood by the front gate as her father's admirers sang songs and shared memories of her dad and the Christmas House.
"Oh my God I didn't know how many people were going to come," she said. "…It was really hard for me also, I didn't know that that many people loved my dad."
Susan Geraghty lived just across the street on Washtenaw for 23 years before moving to another house in the neighborhood. She told those gathered Sunday that Lopez helped make the area a special place to raise a family.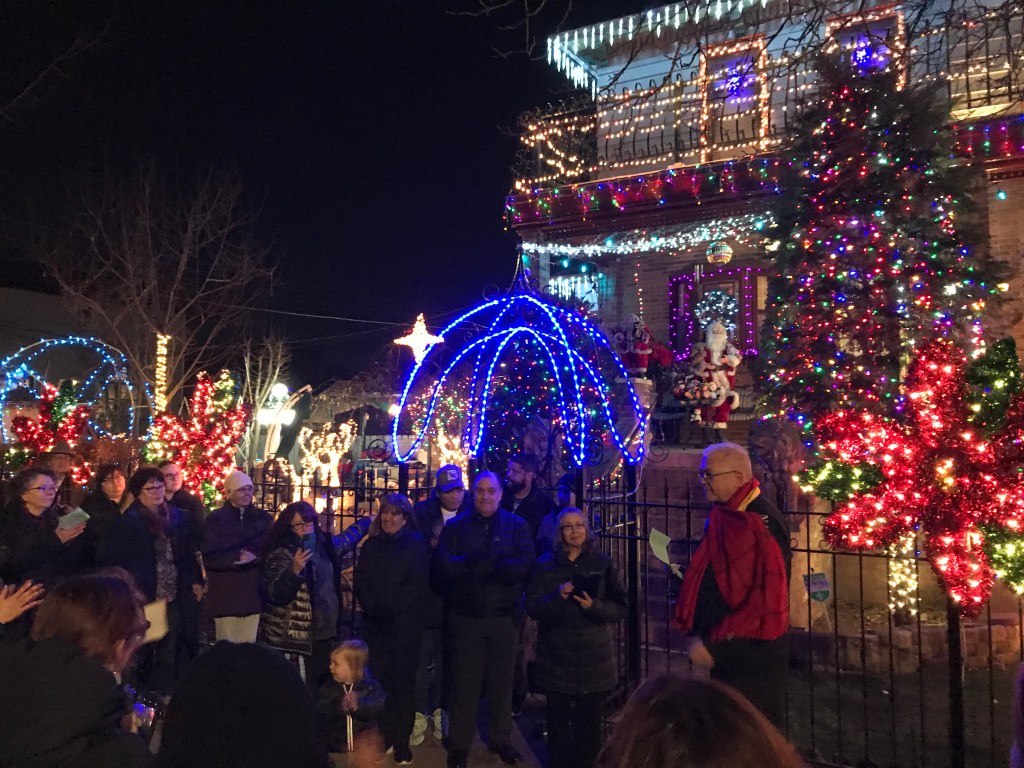 "It was our first home and we ended up staying there for 20 years. This whole block at that time, you know we were a cohesive, very close block, and Frank was always a part of that," she said.
Lopez became known for dazzling Chicago every year with his extravagant Christmas decorations, but Geraghty said he didn't skimp on Halloween.
"So he did a fantastic Halloween decorations, over the top, and then he hired people to come in dress in costume. And our kids, they were so afraid to go up. I mean, some of them, it took them maybe three, four years of trick or treating before they would get up the front steps. It was a rite of passage for sure," she said.
Parizek and other neighbors described Lopez as shy, but he always said hello or shared a smile.
"Frank told me like 10 years ago he was planning to sell the house and move back closer to his daughter…in Mexico. So it was always on the back of my mind and every November I kind of smiled when I saw the decorations going up," he said.
Lupe Martinez said she grew up in Logan Square and has memories of visiting the house with her mother, and then with her own children.
"I just had to come and see and pay a little tribute to Mr. Lopez, it really broke my heart," she said.
Martinez said the Christmas House was a constant in a neighborhood that's seen so much change over the years.
"It's a beautiful thing that he's done. [The neighborhood] changed, but you know what, people still remember who this man was and what he was, what he stood for, what these holidays meant to him," she said.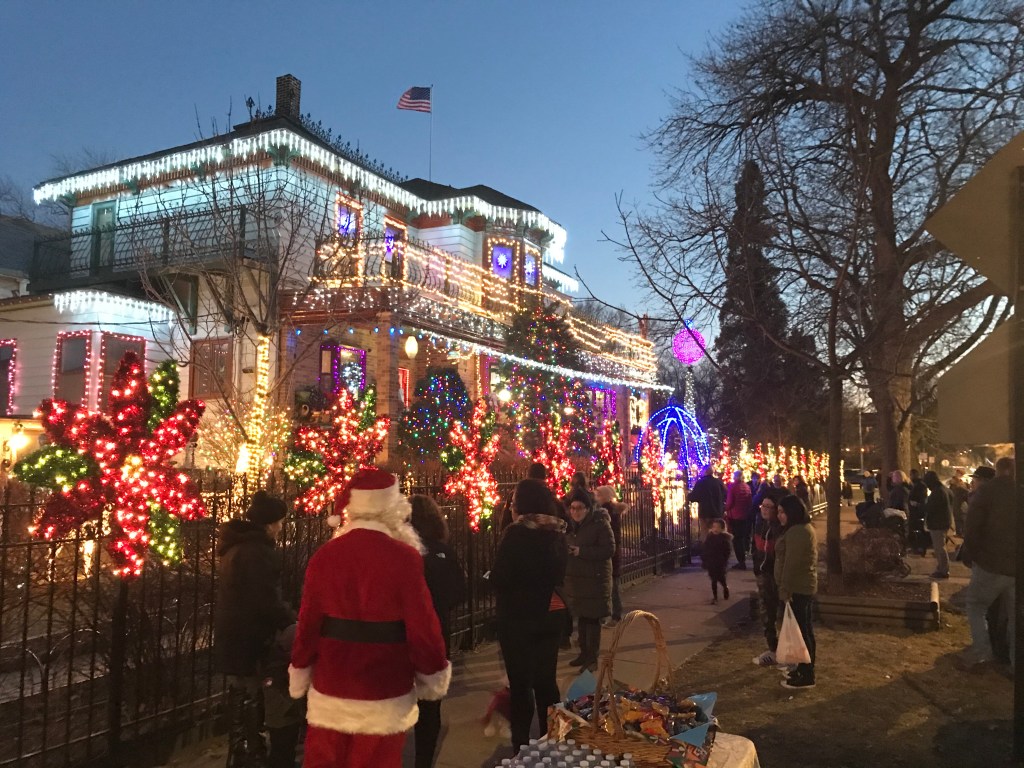 As a crowd formed on the sidewalk outside the house, Parizek handed out song books and a member of Lopez's family set up a table offering water and candy. Parizek changed the lyrics to some of the songs to honor the man that spent so much time, energy, and cash to put on his holiday display each year.
"O' Christmas Tree," became "O' Christmas House." "Jolly Old St. Nicholas" made way for "Jolly Old Frank Lopez." One line in "O' Christmas House" allowed the Lopez family a bit of laughter on this first Christmas without the family patriarch.
"We come to look and be inspired,
We know the workers must be tired,
How much, how much is your electric bill?
We want to know, but hate to ask"
WATCH: Carolers sing "Feliz Navidad" outside of Logan Square's Christmas House
Lopez's goddaughter Annabel Salazar said the extravagant display began with just a few reindeer in the backyard.
"It just kept growing every year," she said. "My favorite thing was always the Santa Clauses that used to take off from the top of the house."
Mary Edsey wrote two editions of "The Best Christmas Decorations in Chicagoland." She said Lopez house was unique in that many of the other large displays were in the suburbs.
"There's a lot of real extravagant displays in the suburbs, but in Chicago not that many people have this much land and put this much effort into it with such a big house. Because he owned Chicago Wire Design Company, his workers made practically everything here but he was very particular about how they put things up," she said.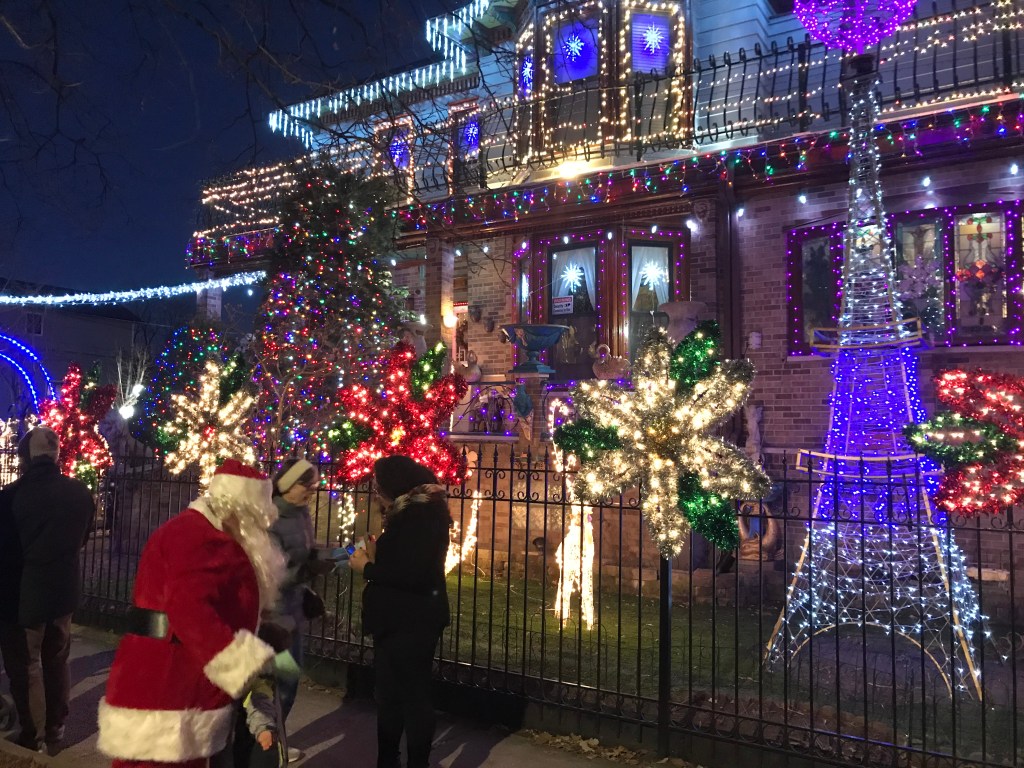 Parizek said Lopez never tried to capitalize on the publicity his display garnered.
"He never had any advertisement out," he said, "buy my stuff or whatever, he never commercialized it, and it was always kind of a pure Christmas scene."
The community sang and remembered Lopez for over an hour, with some people calling out thanks in English and Spanish. Children climbed on top of their parent's shoulders to get a better look.
A member of the Lopez family said Frank was always pleased to give back to his city, his community and his neighborhood. He was sure Frank was somewhere watching the moment.
If that's true, Salazar said he wouldn't be among the crowd.
"No, he would've watched from the window," she said.
Do stories like this matter to you? Subscribe to Block Club Chicago. Every dime we make funds reporting from Chicago's neighborhoods.
Already subscribe? Click here to support Block Club with a tax-deductible donation.