IRVING PARK — When Jae Choi Kim moved to the U.S. from South Korea when she was 9, her family struggled to find affordable housing.
The lack of stability extended into her teens, but her family eventually went on to buy and operate a successful dry cleaning business on Montrose Avenue in Irving Park.
So when it came time to decide on longterm plans for the land their Ruby Dry Cleaners sits on, the family remembered the early days — and decided to build an affordable housing complex.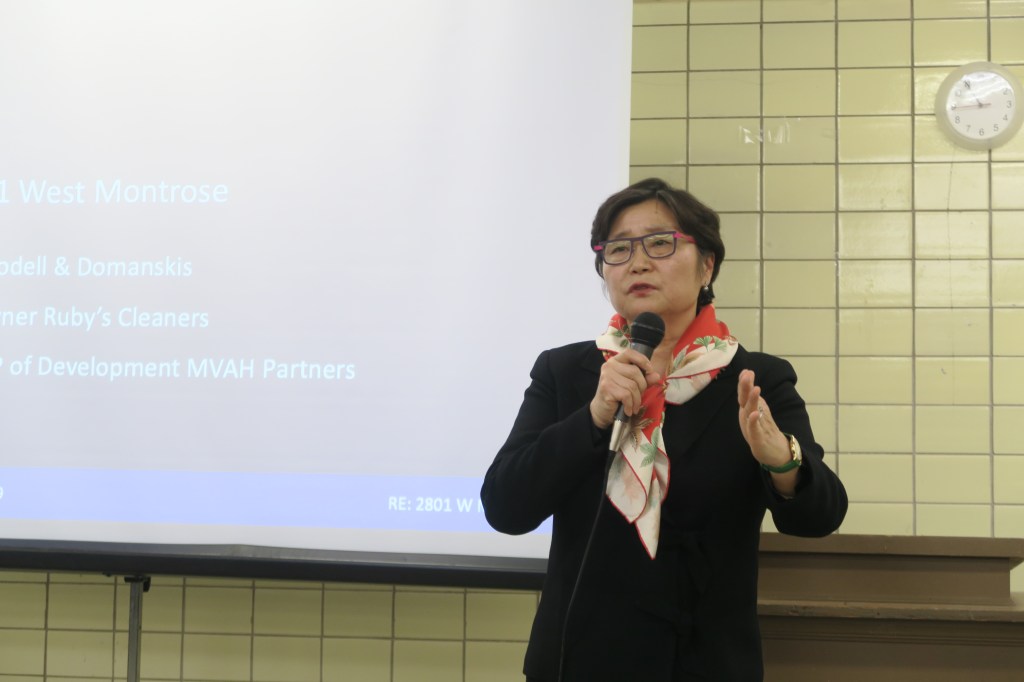 "My father really wanted to build this for affordable housing because we have a history with it," Kim said.
"He was been helped by the kindness of people and institutions and policies all his life," Kim said. "And he knew that there was something really valuable here. Something good that could happen on this land to help other people."
Her father, Hancock Choi, died last month. But Kim is pushing ahead with his dream. She presented plans this week to neighbors of the proposed Horner Park Lofts at 2741 W. Montrose Ave.
Ruby Dry Cleaners sits at the corner of Montrose and California avenues, across from Horner Park. The building would be torn down for the project.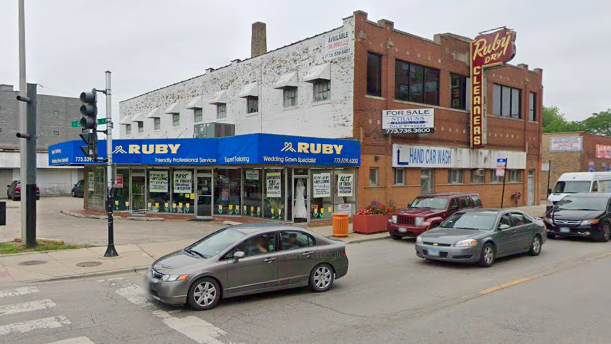 It's far from a done deal, and the local alderman said she's reserving judgment until more details are clear. There are also challenges with the site, including environmental remediation from decades of use as a dry cleaner.
Kim plans to sell the land to developer, MVAH Partners, which is pitching a four-story building with 47 apartments and 29 parking spaces.
Forty-one of those apartments will be affordable housing while the remaining six will be market rate.
Eleven of the units would be available to people on the CHA waiting list. Five of the affordable units would be set aside for military veterans. These veterans would also be able to get supportive services from Thresholds — a Chicago-based organization offering services and resources to people with serious mental illnesses and substance use disorders.
Studios would be 542 square feet, one-bedroom apartments would be 673 square feet and two-bedroom apartments would be 1,027 square feet. (Details on the income requirements are below).
About 155 people attended a two-hour meeting at the Horner Park field house Monday night to hear Kim's proposal. The North River Commission organized the meeting so the community could learn more the project and give feedback to developers before they begin the formal community zoning process. 
Ald. Rossana Rodriguez (33rd), who attended, said she wanted to learn more about the project before deciding whether to support or oppose it.
"I want to make it very clear that there is still not a zoning request in my office for this project," Rodriguez said. "We are starting to discuss what it could look like, but this is just an initial meeting."
During her campaign and since being elected, Rodriguez has been a proponent of keeping neighborhoods affordable and working to prevent displacement from rising rents and gentrification.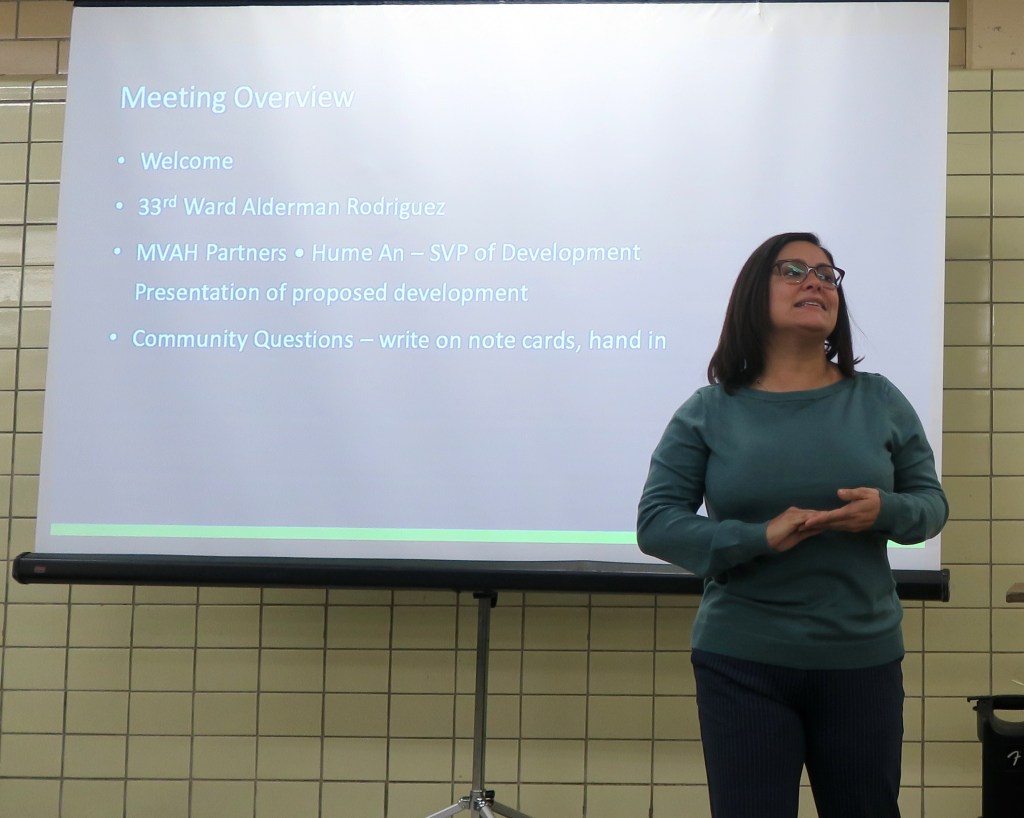 During Monday's meeting, concerns from the audience included whether the site had been property remediated, fear of increased traffic congestion, the current design of the building and worries about a federal lawsuit that was brought against MVAH Partners regarding a lack of disabled accessibility in some of its other facilities.
The developer has not yet applied for a zoning change to allow them to put housing on the first floor of the proposed building. MVAH did apply for an affordable-housing tax credit from the city.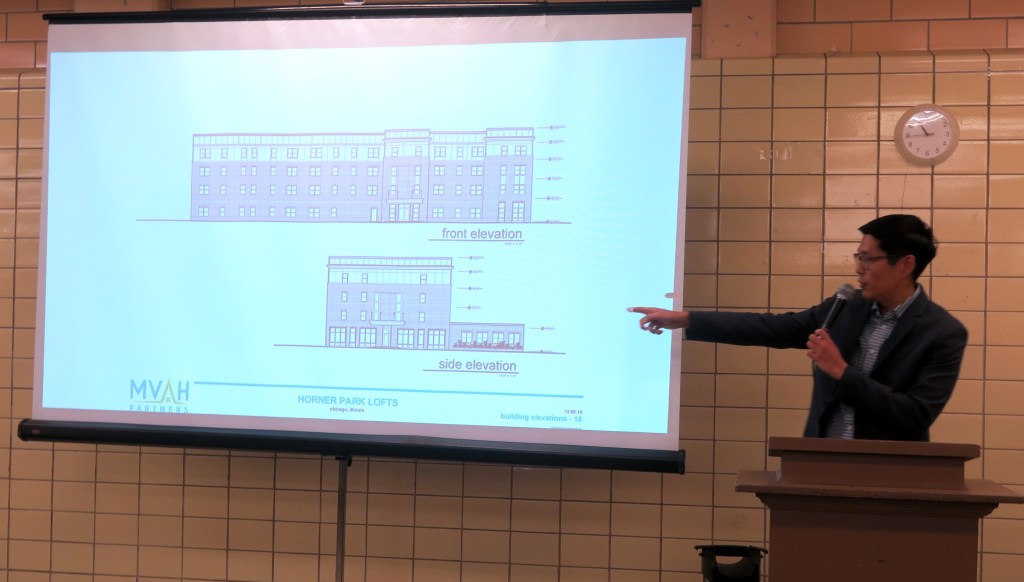 Developers hope to the awarded the housing credit in February. Once that funding is in hand, developers plan to continue with community outreach during the zoning process and plan to file city permits by June.
Financing is expected to close in December 2020, and construction could begin in winter 2021. Once crews break ground the project should take between 12 and 14 months to complete, according to the developers.
Kim, the owner Ruby Dry Cleaners, said the property has housed a dry cleaning business since 1950. Her father bought it in 1990.
"When my parents bought this, my dad had the idea of making this into a big franchising operation, but that never happened," Kim said. "Instead he decided to scale it down and modernize its operation in order to survive as a dry cleaner."
Her father left her the business when he died last month.
Kim is a lawyer and isn't interested in keeping the dry cleaning business open long term. That's why she decided to look at affordable housing developers to take on the project.
"This is something that that my family has been struggling with for 20 years. I lost my dad a month ago. So this is a really hard meeting for me. But my dad wanted to clean up this property and sell it for good use," Kim said.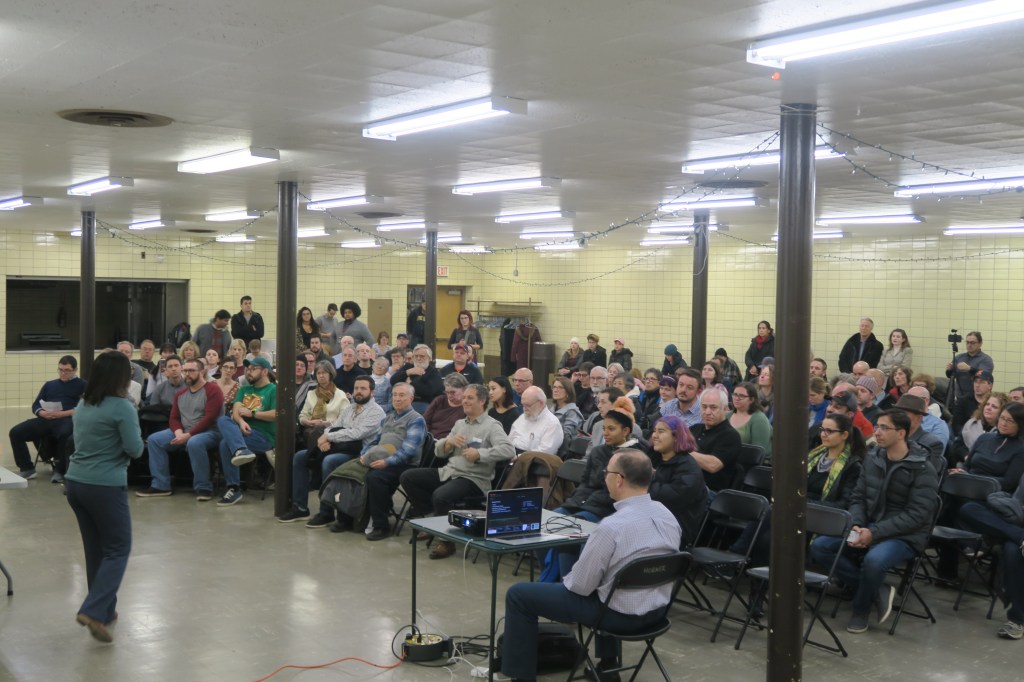 Addressing the contamination, Kim said she's been working with the Illinois Environmental Protection Agency to make sure the site will be safe to build housing on.
As a dry cleaning business, Ruby pays into the state's Drycleaner Environmental Response Trust Fund. Part of this fund is used for remedial programs that clean up of spills and/or leaks from their dry cleaning machines and solvent storage units.
"Over the last three years I have done nothing but environmental remediation on the site," Kim said.
She began looking into the process to clean up the site in 2017. By 2018 she had crews working with the Illinois EPA dig out and treat contaminated soil.
The property at 2741 W. Montrose Ave. enrolled in the state's remediation program on April 13, 2018, according to records with the Illinois EPA.
During the meeting, some residents raised concerns about a federal lawsuit filed in May by the U.S. Dept. of Justice, alleging MVAH buildings in multiple states lacked proper access for disabled residents.
Hume An, senior vice president of development at MVAH, addressed the lawsuit at the meeting, saying each property had been scrutinized and approved by local and state regulators before being built.
"The contractor developers have not intentionally ignored the rights of persons with disability or the average accessibility requirements," An said.
Still, the developer is working with inspectors in each state to correct anything that would impede accessibility to someone who is disabled, he said.
Other questions raised at the meeting including the building's impact on local traffic (it's still being studied, the developer said) and whether retail stores would occupy the first floor (not in the current plan).
Carol Maher, a neighbor, supported the affordable housing aspect but asked why the building design didn't look "sexier."
An and Kim both said the current design that uses masonry is an attempt to have it blend better with the existing properties in the area.
Maher also asked for the number of parking spaces be reduced and swapped out with bicycle parking to help reduce traffic congestion in the area.
A few residents asked why affordable housing was needed at the corner when the Oso Apartments at 3435 W. Montrose Ave. already exist further west on Montrose.
Kim defended the need for affordable housing options, saying that what's currently available to low-income people isn't enough.
"There's something like 42,000 people who need affordable housing in this city," Kim said. "The voices of those 42,000 people are not in this room right now."
The housing breakdown and proposed income qualifications for the units are:
• 7 studio apartments with monthly rent of $882 for a household with a maximum income of $37,400.
• 11 one-bedroom apartments, with rent pegged at 30 percent of household income. Applicants mush have a household income of less than $21,390 to qualify. The apartments are available to people on the CHA waiting list.
• 23 one-bedroom apartments with rent at $935 for a household with a maximum income of $42,780.
• 6 two-bedroom apartments at market rate with no income limits.
Here are renderings of the proposed project :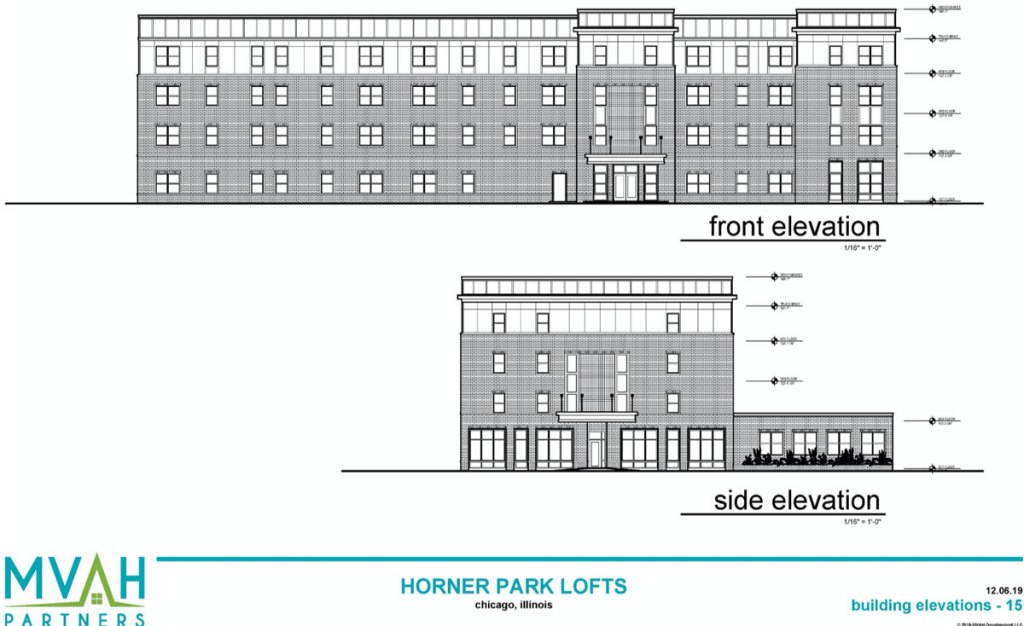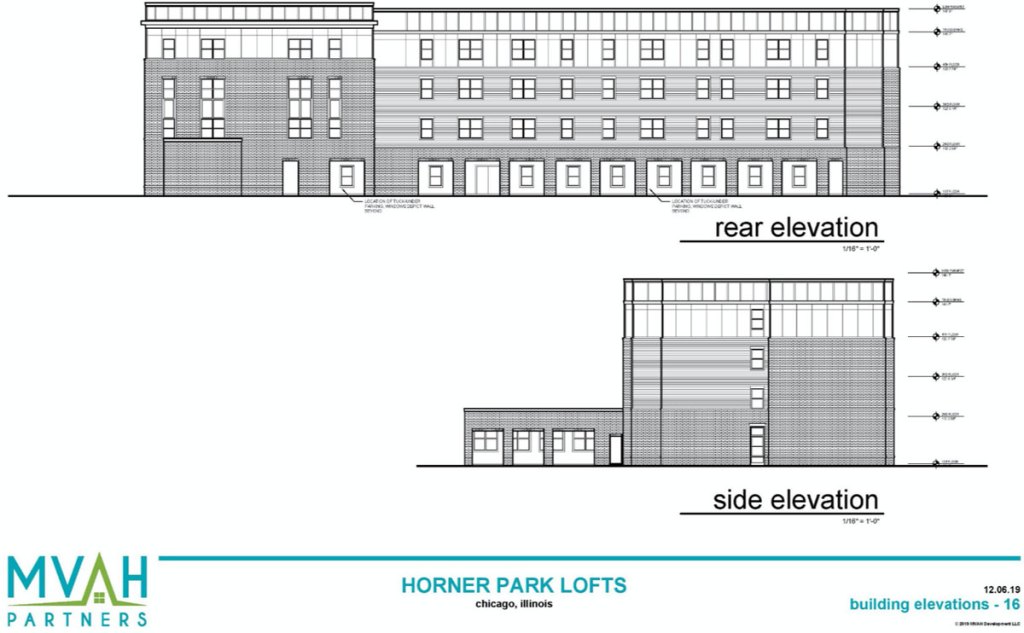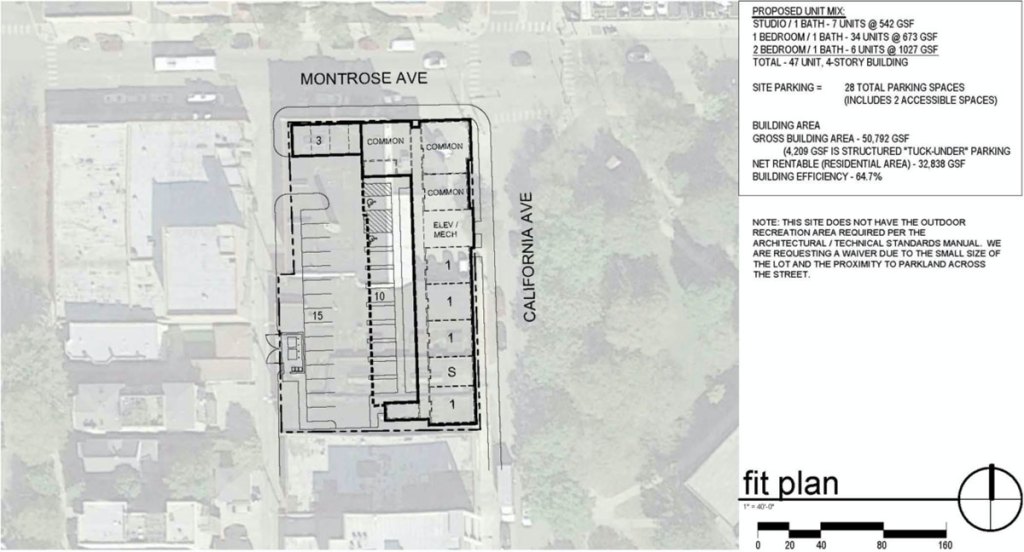 Do stories like this matter to you? Subscribe to Block Club Chicago. Every dime we make funds reporting from Chicago's neighborhoods.
Already subscribe? Click here to support Block Club with a tax-deductible donation.
Our goal is to reach 10,000 subscribers by the beginning of 2020. With just a few weeks left in the year, we're pretty close to that goal. Can you help us get across the finish line? Subscribe here or buy a subscription as a gift here.