HUMBOLDT PARK — In the summer months, one longtime Humboldt Park resident, a mother of two, said her kids like to play tag outside, running from one corner to the other.
But with shootings on the rise, she's uneasy. She makes it a point to go outside with them whenever they play now — just in case a gunman is lurking.
"I get scared because of what's been happening," the woman said. Block Club is not naming the woman because she fears for her safety.
The woman was one of about 40 residents who marched the streets Thursday evening in protest of recent gun violence west of Humboldt Park's namesake park.
The area has seen a spike in shootings this summer. In fact, the peace walk was originally supposed to happen a couple of weeks ago, but community leaders were forced to call it off after two men were shot along the route just a few hours before the walk was set to begin. Police couldn't provide the victims' conditions, saying only that they were "stable."
That shooting followed at least two other shootings, in which two people were killed.
On Aug. 17, Luis Lopez, 45, of Berwyn, was shot and killed in the 3400 block of West Pierce Avenue.
On Sept. 1., an 18-year-old man was killed and another man was wounded in a shooting in the 3200 block of West Le Moyne Street.
Thursday evening the area was again awash with blinking blue police lights, but not because anyone had been shot.
Officers with the Shakespeare (14th) Police District joined neighbors as they marched down Spaulding Avenue chanting, "What do we want? Peace! When do we want it? Now!" and "Stop gun violence, stop the code of silence!"
Throughout the march, local pastors led the group in prayer.
Carey Wiese, his wife Lisa, and their two daughters, ages 4 and 1, were among the neighbors who participated in Thursday's peace walk.
Wiese, a pastor, said the shooting on Sept. 1 happened right in front of their home, where his family has lived for about four years.
"We love our neighbors and we love our community. … This impacts everybody," he said.
"They're hurting kids and we want healing for them," his wife Lisa said.
A longtime resident of the area, who declined to be named for fear of repercussions, said the peace walk sends an important message.
"If you stay locked up in your house, they take over the streets," he said of those causing violence in the neighborhood. "But if they see you coming out, they say, 'Uh oh.' They slow down."
The man, who has been living in the area for more than 50 years, said this is the most violent summer he's experienced in more than a decade.
"In the '90s, it was bad. Now it's going back to the same thing again. … It's gotta stop. Enough is enough," he said.
Mitzie Rivera, another longtime Humboldt Park resident, clutched a photo of her late son, 29-year-old Enrique "Ricky" Rivera, as she marched. Her son was shot and killed in Dunning in the 4000 block of North Narragansett Avenue Sept. 16.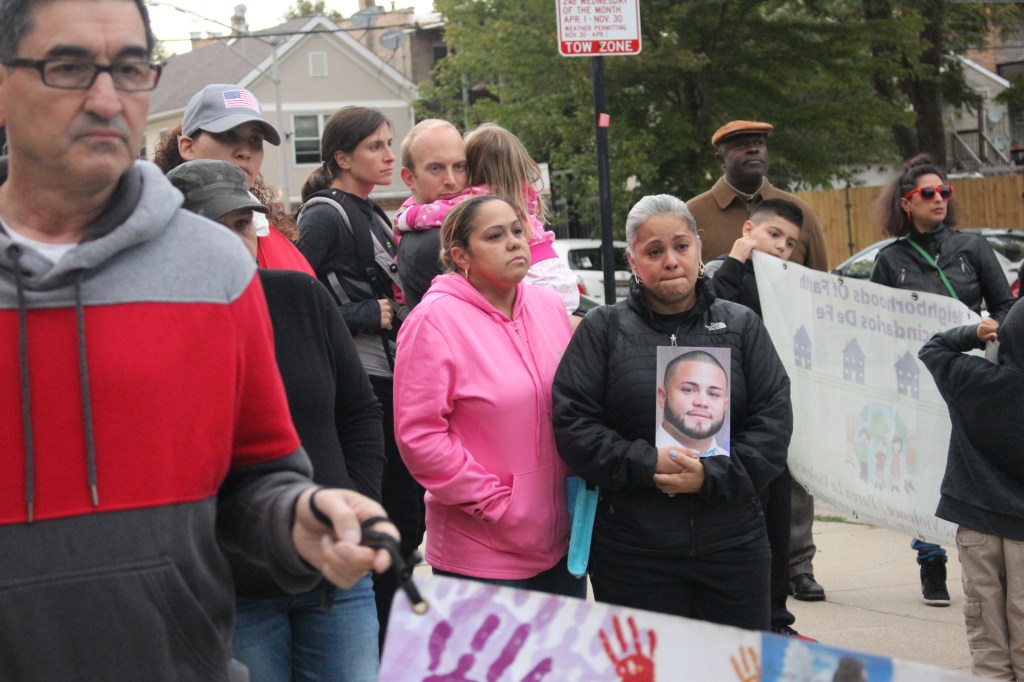 Rivera said her son was living with her in Humboldt Park, near where many of the recent shootings have occurred, up until his untimely death. She said the shooting was random, and her son was on his way to a girl's house after dropping off his cousins when he was gunned down.
"I grew up in Humboldt Park and none of this ever happened to us here, and here he goes to a better neighborhood and he gets shot at," Rivera said, holding back tears.
Rivera lives across the street from the woman whose kids play tag in the street.
During the walk, the woman's mother, who also declined to be named for fear of repercussions, told Block Club she was marching for Enrique "Ricky" Rivera and for a 15-year-old boy who was killed on the block years ago.
"It's terrible. … this year has been really bad," the woman said.
Do stories like this matter to you? Subscribe to Block Club Chicago. Every dime we make funds reporting from Chicago's neighborhoods.
RELATED COVERAGE