HUMBOLDT PARK — Humboldt Park community leaders were forced to cancel a Thursday peace walk after two men were shot along the route just a few hours before the walk was set to begin.
The peace walk, a collaboration between the Shakespeare Police District, a local church and community groups, was organized in response to recent gun violence west of the neighborhood's namesake park. At least three people had been shot in the area in recent weeks. Two were murdered.
Around 3:15 p.m. Thursday, just a few hours before the peace walk was set to begin, another shooting ripped through the area.
A gunman fired shots at two men, ages 19 and 22, from his car in the 3300 block of West Le Moyne Street, striking them both in the leg, according to police.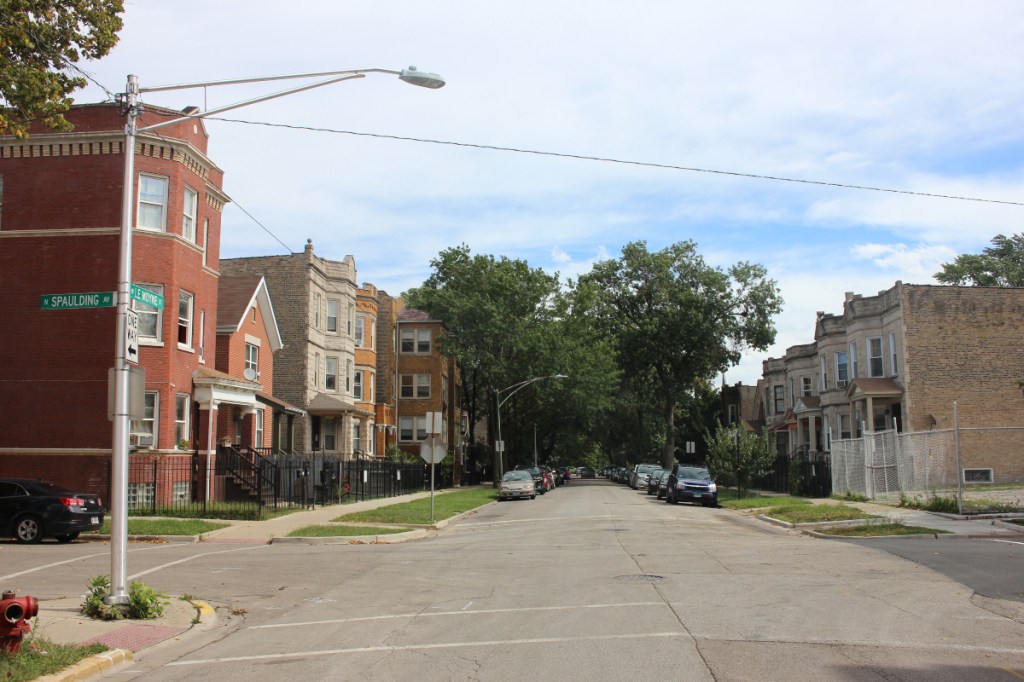 Police said the victims went to Norwegian Hospital, but couldn't provide their condition, saying only that they were "stable."
When word of the shooting spread, community leaders immediately called off the peace walk, saying the area was "too unsafe" to march, according to Richard Karwowski, co-chair of United Blocks of Humboldt Park, one of the community groups that organized the walk.
Karwowski called the ordeal "heartbreaking."
"How bold — I mean on a school day to shoot down these two kids in the middle of the street. What's happening to the area between Le Moyne and Hirsch and Spaulding and Homan — it's like gang activity is right through the roof," he said.
Chicago Police spokeswoman Jessica Alvarez said the motive in the Thursday shooting appears to be gang-related.
Karwowski has lived in Humboldt Park for nearly 20 years. He said the area just west of the park has seen a spike in gun violence over the last month.
On Aug. 17, Luis Lopez, 45, of Berwyn, was shot and killed in the 3400 block of West Pierce Avenue.
On Sept. 1., an 18-year-old man was killed and another man was wounded in a shooting in the 3200 block of West Le Moyne Street.
Alvarez said the fatal Le Moyne Street shooting was gang-related, but the motive in the Pierce Avenue shooting was undetermined.
Karwowski said this kind of gun violence is uncommon for a neighborhood that has largely gotten safer in recent years.
"What it was beforehand is nothing like it is today," he said.
"We used to have shootings here every weekend. Back in the bad old days, in the '80s and '90s, they had murals of dead gang members everywhere."
Karwowski said it's unclear if the peace walk will be rescheduled or canceled altogether, though he'd like to see it rescheduled.
Liz Rios, beat facilitator for the Shakespeare Police District and one of the community leaders driving the peace walk effort, didn't immediately respond to a request for comment.
The block where the two men were shot Thursday was quiet Friday morning. That shooting happened just down the street from Lowell Elementary School at 3320 W. Hirsch St., where marchers had arranged to meet, and right next to the Church of God, 3301 W. Le Moyne St., a peace walk partner.
Karwowski said while the shooting "demoralized" their efforts, him and his fellow group members aren't backing down.
"We can't be bullied," he said.
"We want to put old Humboldt Park to rest. We're sick and tired of people telling us: 'Humboldt Park, bang bang.'"
Do stories like this matter to you? Subscribe to Block Club Chicago. Every dime we make funds reporting from Chicago's neighborhoods.