EDGEWATER — Police officers inspecting homes to show residents where they're vulnerable to burglars.
Beat cops being told to take their time on initial burglary reports — and then detectives following up the next day.
Investigators handing out checklists to residents near a burglary to help them avoid being next.
Those are among the strategies a North Side police district has undertaken to get serious about solving burglaries.
And it's working, they say.
In February, Lincoln Avenue (20th) District Cmdr. Sean Loughran put together a plan to tackle burglaries in his district, which straddles Foster Avenue from from North Park to Edgewater.
Since the full-court press was initiated, Loughran's district has seen a 35 percent cut in burglaries compared to last year.
And in the last 28 days (compared to the same period last year), the district has seen a 70 percent drop in burglaries. At one point the district went 30 straight days without a burglary.
"I don't remember that ever happening before," said Loughran.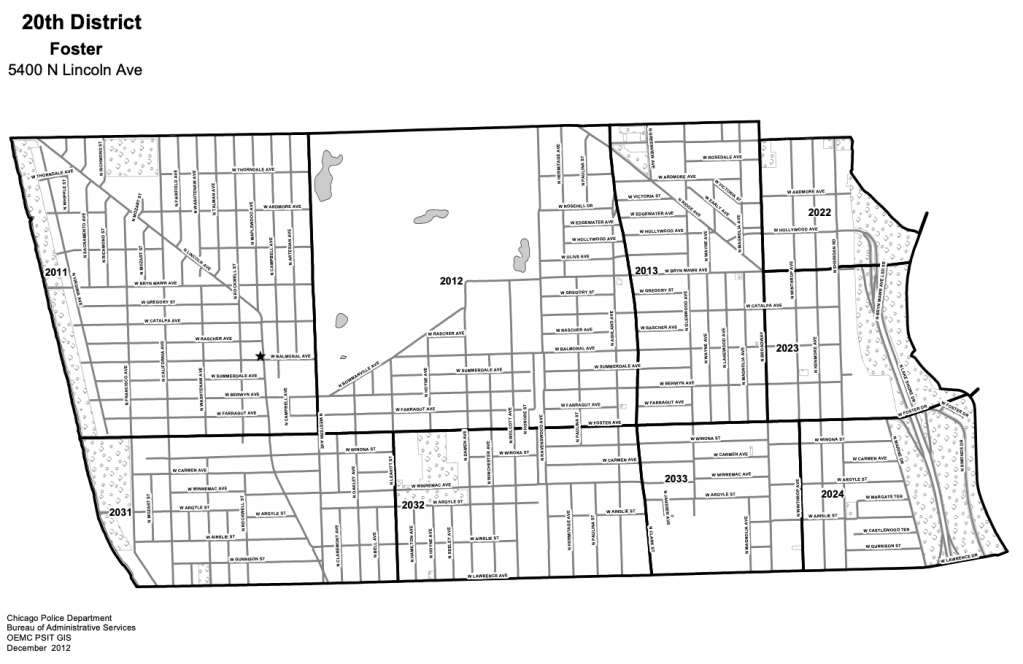 It's not a coincidence, the district officers say.
Together, using a combination of data officers, detectives and beat cops, the district has been able to tackle the problem from all sides. It starts with educating residents, according to Loughran.
"We enjoy a low amount of violent crime in the district," he said. "That gives us the luxury of turning our attention to crimes like burglary."
For those who see lower levels of violent crime, it can be easy for residents to become complacent. Loughran said it's common for a burglary not to involve any forced entry because homeowners will leave their doors unlocked.
"That's pretty frustrating," he said.
In the past, officers would respond to burglary calls, take the report and offer the victim some tips to better keep their residence safe. But Loughran and his officers decided to get more proactive.
Officer Nicole Deluca had the idea to create a "report card" for home security. On the report card is a checklist of things homeowners can do to better protect them against burglaries. Instead of only handing these cards out to victims, the department began offering security check-ups for homeowners.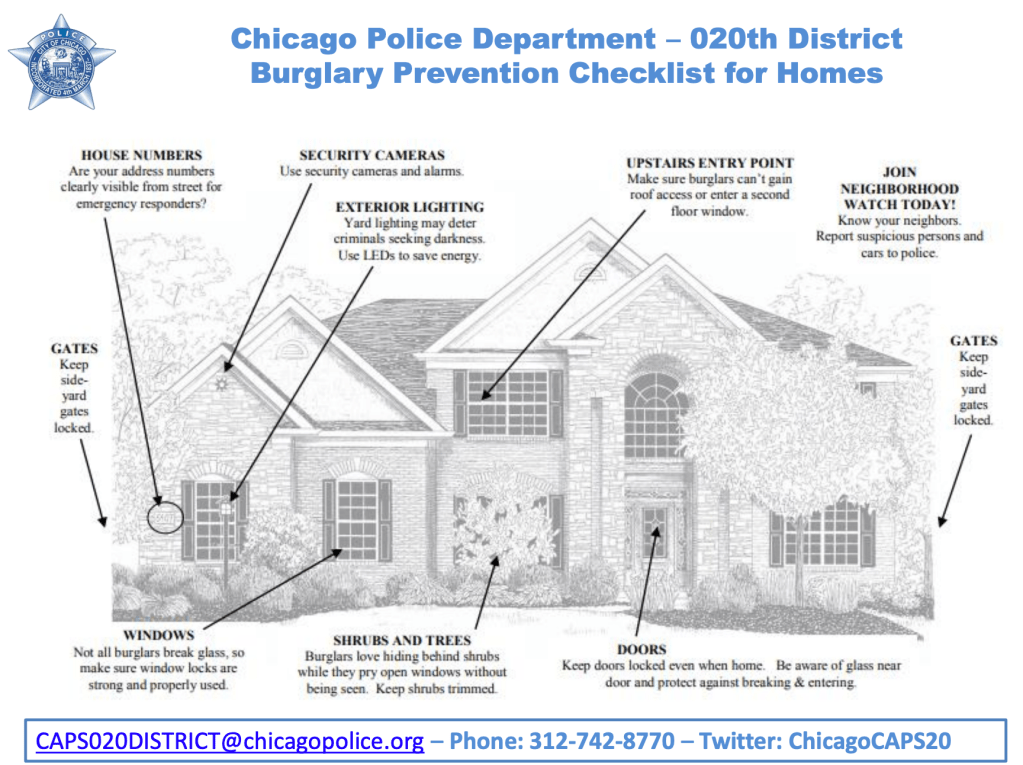 Homeowners were encouraged to call their alderman or district to have officers come out to their home and grade them on their home security.
But officers didn't stop there. When responding to burglary calls, officers would pass out the report cards to multiple homes on the block — the idea being that improving safety for all the homes would lead to a safer community.
They passed out the report card checklist at CAPS meetings, encouraging neighbors to get a whole block together for an officer to come and grade the block on its home security.
Things like overgrown bushes and improper lighting might seem like no big deal to the untrained eye, but to a professional burger they are like a welcome mat, said Sgt. Patrick Barker, the robbery and burglary team leader.
"The criminals aren't stupid," he said. "They do their homework, spot trends and case homes they are looking to burglarize."
But the 20th District attacked the problem beyond simply educating the public. They radically changed the way they investigated burglaries.

Before, an often overworked and less experienced beat cop would be the first and only point of contact in a burglary. The officer would take notes at the scene and write a report, where it would sit in a file until a detective got to the case.
Instead, the beat cops were taught to slow down and follow important checks. The officers were all given cards to carry with them to remember the most crucial information that detectives would later need.
The beat cop would also canvass the entire area more thoroughly, knocking on more doors and talking to more neighbors.
And after the initial intake from the beat cop, Loughran had a detective stop by the next day to take a second look at the crime scene. With experienced eyes, sometimes a detective would catch something the responding officer might have missed.
By the time the case became assigned to a detective, much of the vital information has already been completed, said Sgt. Hector Morales, coordinator of the district's technology center.
By slowing things down, the 20th District sped up its solve rate and saw burglaries begin to diminish.
The department also integrated statistics professionals to analyze burglary from a more technical viewpoint. Deluca and Officer Edward Choi have been helping the district to spot valuable data trends.
By analyzing these trends in the area officers were able to identify areas most prone to burglaries and concentrate their efforts there.
"They are both quick to catch patterns," said Morales.
Another benefit that Loughran and his officers didn't anticipate was an increased sense of safety among the community. Even when burglaries were not solved, neighbors felt good seeing multiple officers canvass the area, knock on doors and hand out safety checklists.
"If you don't feel safe, then you don't feel safe," said Loughran. "We noticed people felt better after we checked their homes vulnerable points."
Loughran and his team said the number one thing a homeowner can do is to embrace today's newest technology. With home camera systems no longer a luxury reserved for the wealthy, most homeowners can afford some sort of monitoring system.
But cameras are not a fail-safe. Burglars are skilled at avoiding detection and sometimes image quality can make it difficult to definitively identify a suspect.
If homeowners want to get a group of neighbors on the block to have their homes evaluated by the officers of the 20th District, they should contact their alderman. They can also contact the community relations office at CAPS.020District@chicagopolice.org
However, Loughran said the most efficient and streamlined way to keep your home safe is to use the district's checklist.
"If everyone [in the district] used the checklist, the results would be tremendous."
Do stories like this matter to you? Subscribe to Block Club Chicago. Every dime we make funds reporting from Chicago's neighborhoods.