LOGAN SQUARE — A group of people living on an abandoned bank property at Western and Armitage avenues in Logan Square had their personal belongings thrown out during a city cleanup last week.
"I'm frustrated by how it went down because it was very outside of what our expectations were," Ald. Daniel La Spata said. La Spata's 1st Ward includes the former MB Financial Bank property at 2000 N. Western Ave.
"Our expectations were that they were going to clean and sanitize the space. … The way they were treated, the way their personal items were discarded, particularly for the folks who weren't there and didn't have a choice, was deeply frustrating," the alderman said.
The cleanup happened around 9 a.m. Sept. 17, according to La Spata. Police and city workers were on the scene, according to photos shared with Block Club Chicago.
The workers threw out personal items belonging to three or four people experiencing homelessness. Only one of them was on the property when the cleanup occurred. The rest were not there when their personal items were thrown out, according to La Spata and Diane O' Connell, a community lawyer for the Chicago Coalition for the Homeless.
La Spata said street cleaning notices were posted near the bank.
"It was just the regular street cleaning notice. Usually when those signs are posted, they're not just throwing away peoples' property. They're picking up garbage. Only on rare occasions is there a sweep like this one," the alderman said.
In a statement, Streets and Sanitation spokesman Marjani Williams said the "off-street cleaning notice" was posted and the cleanup was scheduled in response to "complaints from local residents."
"The City of Chicago conducts scheduled cleanings along parkways and public spaces to protect the health and safety of residents, while respecting the rights of homeless populations in the area," Williams said.
The Chicago Department of Family and Support Services was also on hand to help those in need find shelter, Williams added.
O'Connell, who was on the scene when it happened, said this is an example of poor communication on the city's part.
"There was ample opportunity for the city to do better in this situation," she said. "Certainly if they needed people to move things they could've communicated beforehand, they could've provided a place to move things to."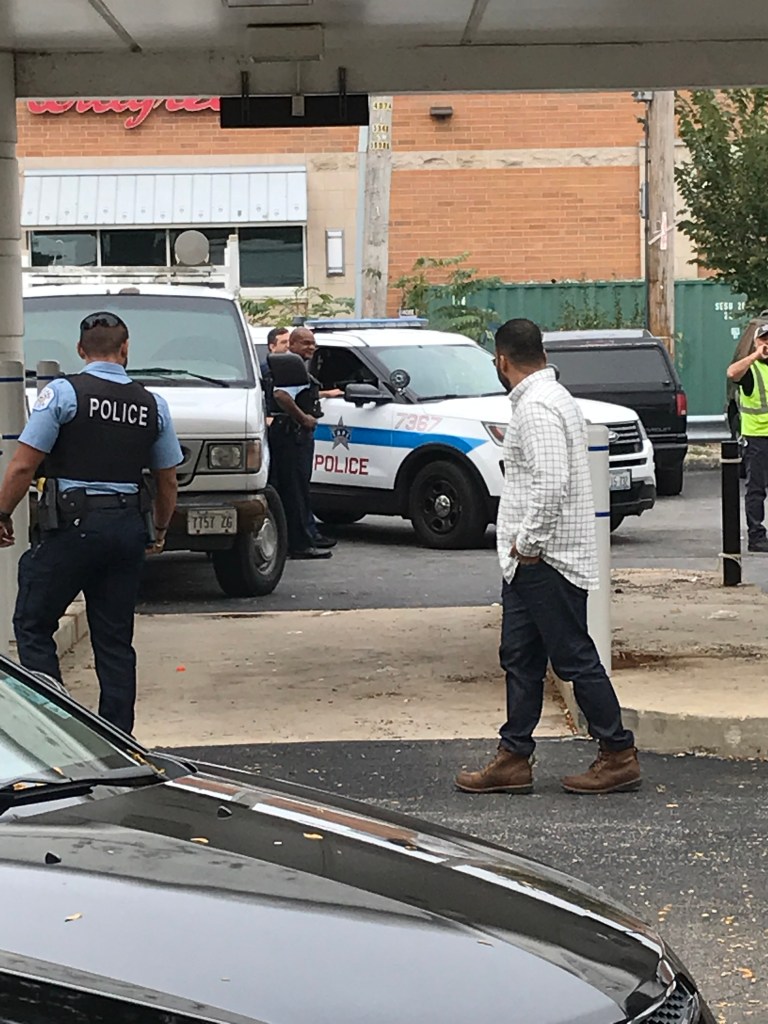 The bank property has sat vacant for years. Nick Zettel, La Spata's policy director, said the property is in the middle of changing hands, but couldn't provide more information.
After last week's cleanup, La Spata said he's planning to meet with city departments to talk about ways of improving communication before such sweeps.
"How these cleanups happen can vary dramatically from ward to ward. There does not seem to be a solid citywide protocol," he said.
"We want to make sure that people are treated safely and with respect. … These folks are are our neighbors, whatever substance abuse issues or economic issues or mental issues they're dealing with, my job is to care for them the same way I'd care for any resident in the 1st Ward."
Said O'Connell: "This is obviously not a reasonable or acceptable response to homelessness."
On Wednesday, the bank property was cleared out. There were no signs of the people who lived there or their belongings.
Do stories like this matter to you? Subscribe to Block Club Chicago. Every dime we make funds reporting from Chicago's neighborhoods.