BRONZEVILLE — After years of organizing, Bronzeville residents finally have a dog park to call their own.
Members of BARC (Bronzeville Association for Recreation with Canines) joined Chicago Park District officials and Ald. Pat Dowell (3rd) for a ribbon-cutting ceremony Tuesday afternoon to celebrate the new park, located on a former vacant lot at 3928-40 S. Indiana Ave.
The park is one of three opening on the South Side. As of last week, the two other locations at 3906 S. Lake Park Ave. and 4149-53 S. Vincennes Ave. were going through final checks, with grand opening dates soon to be announced.
The Indiana Avenue dog park boasts a water fountain for dogs and their humans, bench seating and two separate areas for larger and smaller dogs.
"Today confirms what I always knew, that people in the community who love dogs wanted to see a dog park in Bronzeville," Dowell told Block Club. "Things happen in its own time. It took us about three years to organize the community and get people committed to working on the park, and then we were able to get it done. It means a lot to see the neighbors out here enjoying the park."
As for future dog parks coming to the 3rd Ward, Dowell said she's taking a "wait and see" approach, preferring to focus on gauging community usage of the three new parks for now. But she would like to see one closer to Washington Park.
For Phil Keithly and her schweenie rescue, Maggie, Tuesday afternoon was a long time coming. And Maggie will definitely make herself at home, said Keithly, who's training her furry companion to be a therapy dog.
"I've been an advocate of the park since getting Maggie last year," said Keithly. "When I found about the park being built, I was waiting with bated breath. I love that she has a safe place where she can come get water and socialize with other dogs."
Bronzeville has always been home in some way for Keithly, whose parents owned a corner store for 32 years at 41st Street and Bowen Avenue. Upon returning to the city four years ago, she was so impressed by the changes she moved back to the area.
"It's the dog park, it's the neighborhood, it's the culture in the neighborhood that's coming together and making it new, and I'm loving every minute of it," said Keithly.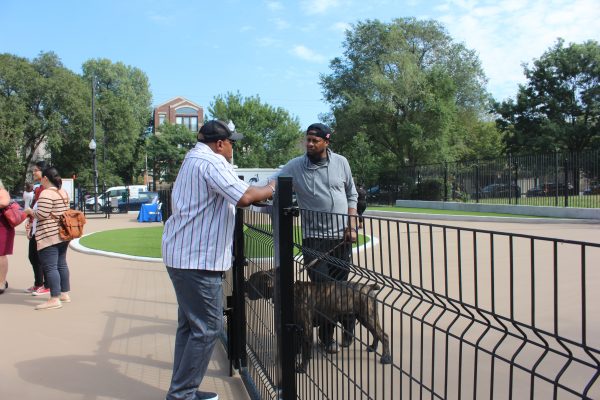 Bronzeville resident Ameer Salaam is happy that he no longer has to pack Sudan, his giant cane corso Italian mastiff, into his car to drive him to the South Loop dog park.
"We can just walk out of the house and go down the street. It's a great space, which he needs because I live in a loft and there's no space for him to run around or make some new fur friends," said Salaam, who has lived in the area for seven years.
Heather Gleason, director of planning and development for the Chicago Park District, said she was excited to help bring the park to the neighborhood.
"It's really great to see how dog parks do build community, and people who are interested in having the dogs meet up and socialize, it just creates another opportunity for the community to come together," Gleason said.
Do stories like this matter to you? Subscribe to Block Club Chicago. Every dime we make funds reporting from Chicago's neighborhoods.