BRONZEVILLE — Soon collies, retrievers, shih-tzus and all of their friends will have several new spaces to run and play on the South Side, with two new Bronzeville dog parks set to break ground in a few weeks.
The two parks will be the first ones opened in the neighborhood, long known to be part of the South Side's "dog park desert," and the Chicago Park District is looking for volunteers.
Chicago's City Council approved plans for three Bronzeville dog parks last September. Tax increment-financing dollars will cover the $1.8 million cost to build them.
The first one will be located east of Mandrake Park on 3906 S. Lake Park Ave., with the second one located at 4149-53 S. Vincennes Ave. Work on a third park, at 3938-3940 S. Indiana Ave. in the city's 3rd Ward, is set to break ground later this year.
Ald. Sophia King (4th) said that the parks would take about two to three months to complete.
The idea for the dog parks originated years ago with residents, who huddled with King in July 2017 to help move the projects forward.
"Parity has always been a huge issue," King said. "We've had a lot of meetings over the years to make this happen. The South Loop has had dog parks, but these will be the first in Bronzeville."
To that end, the Chicago Park District is hoping a few neighborhood dog lovers step up to help maintain the new parks.
"The Chicago Park District doesn't manage them, so this is a way of getting people involved," King said. "We want people who will keep it clean, make sure things are hosed down and put back in their place."
Volunteers would also serve as monitors, and attend committee meetings, maintaining communication with each chairperson of the parks, known as Dog Friendly Areas or DFAs.
People interested in volunteering should send an email to Ward04@cityofchicago.com.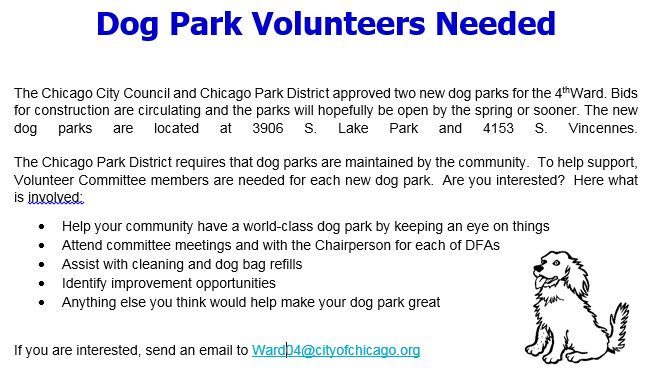 In July 2018, the city broke ground on a dog park in Calumet Park, ending the South Side's status as an official dog-park-free zone.
Do stories like this matter to you? Subscribe to Block Club Chicago. Every dime we make funds reporting from Chicago's neighborhoods.