HUMBOLDT PARK — Humboldt Park residents at Kimball and Wabansia avenues have some "creepy" new neighbors.
Defaced baby dolls were spotted dangling from power lines in the alley in the 3300 block of West Wabansia Avenue over the weekend.
Two of the dolls are covered in marker. One of them has red marker all over its face, "obviously" meant to mimic blood, said neighbor Megan Saul. The other doll's skirt is half off.
"It's really messed up," Saul said. "They're baby dolls. And they're bloodied and beaten looking and hanging by nooses. The nooses are the most disturbing part to me."
Saul's bedroom window faces the alley. She first spotted the dolls early Saturday when she came home from a wedding.
"I looked out the window and I was like, 'What the heck?'"
Saul has since called 311 to get them removed. The city worker referred her to ComEd. Saul said the ComEd representative was a little confused but ended up putting in a request to remove them.
"I don't want to see them anymore," she said. "I want to open my blinds in the morning and not see baby dolls hanging by nooses. I'd rather see the trash cans. That's already disturbing enough."
The dolls were still up as of late Tuesday afternoon.
"It gives me chills. Like, bad chills," said neighbor Toni Baez.
Baez, 35, who was walking her dogs through the alley Tuesday afternoon, said she collects dolls from horror movies but the dolls hanging on the power line were especially creepy, noting the half-off skirt and red marker.
"That's not OK," she said, staring up at the dolls.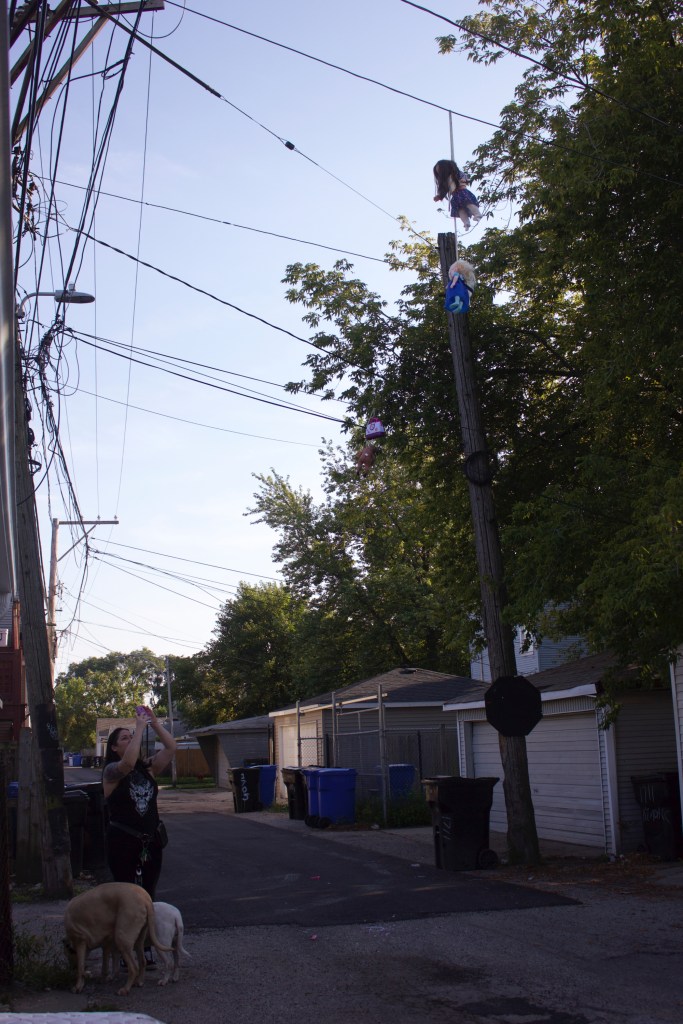 Carlos Lopez, whose home overlooks the alley, was in the yard with his kids Tuesday afternoon. Asked for his reaction, Lopez simply said, "No me gusta."
Lopez's 13-year-old daughter, Dayanara, was equally disturbed, saying her family doesn't have dolls in the house as a rule because they're all afraid of them.
So, what is it? A subversive art project? The product of late-night drinking?
"It looks too random to be an art project," Saul said. She works as a wedding photographer and sometimes shoots fine art.
Said Baez: "I think an art project would be a little more thought-out than that."
Abby Israel, who lives across the alley, called the stunt "tacky."
"I don't know who did it, but, you know, the neighborhood is changing," she said.
Do stories like this matter to you? Subscribe to Block Club Chicago. Every dime we make funds reporting from Chicago's neighborhoods.