WEST TOWN — Atomix Coffee Shop, a staple in the neighborhood since 2001, announced in a Tuesday Facebook post it would close by the end of the month.
Located at 1957 W. Chicago Ave., Atomix was one of the only independent coffee shops in the area that withstood the changing retail and housing landscape on the border of West Town and the Ukrainian Village over the past two decades.
"It is with a heavy heart, that we must announce that ATOMIX will close at the end of this month," the Facebook post read. "After 19 years, it is time to to say good bye- to Yuri and your favorite baristas."
Dan Murphy, the owner of Atomix since 2011, said financial pressures were a major factor in the decision. Revenue began to decline in 2017, he said.
"I know that it was a special place for me," Murphy said. "I don't think I necessarily understood or comprehended how special it was to other people. A great many people were able to grow and feel safe there, and expand their lives."
Atomix opened in 2001 with a space theme, which included a massive blue-and-white mural of Yuri Gagarin, the world's first astronaut.
In 2010, Murphy began managing the coffee shop. The next year, he bought the business.
The following decade saw lots of change in the neighborhood, Murphy said. Several new coffee shops and cafes opened, and trends within the coffee industry changed.
At most places, large booths for writers and students who needed to camp out for several hours were replaced by tightly-packed communal tables. All-day wifi was scaled back to kick customers off after an hour or two.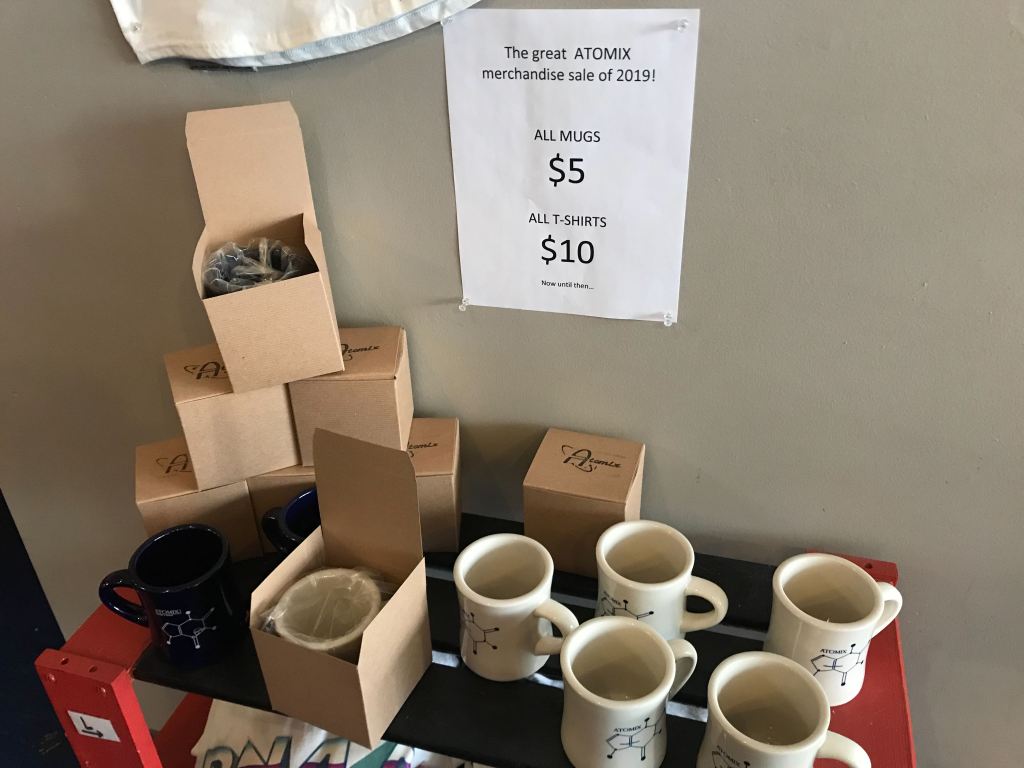 "We resisted all those things, for forever," Murphy said. "I've enjoyed being a little bit the antithesis of the modern coffee shop. But in the end, that is not necessarily the most sound financial decision."
In 2017, Murphy began to notice a stark decline in revenue. He also knew many of the writers, artists and students who once comprised the bulk of his customer base could no longer afford to live in neighborhood.
"I'm not sour about this. … It's a matter-of-fact thing," he said. "Businesses that are thriving [in West Town] would not have been able to exist years ago. And businesses that existed years ago, would not be able to thrive today."
One of Murphy's favorite memories of owning the coffee shop was the free community events he organized with staff and neighbors, like a free yoga night run by a barista/yogi.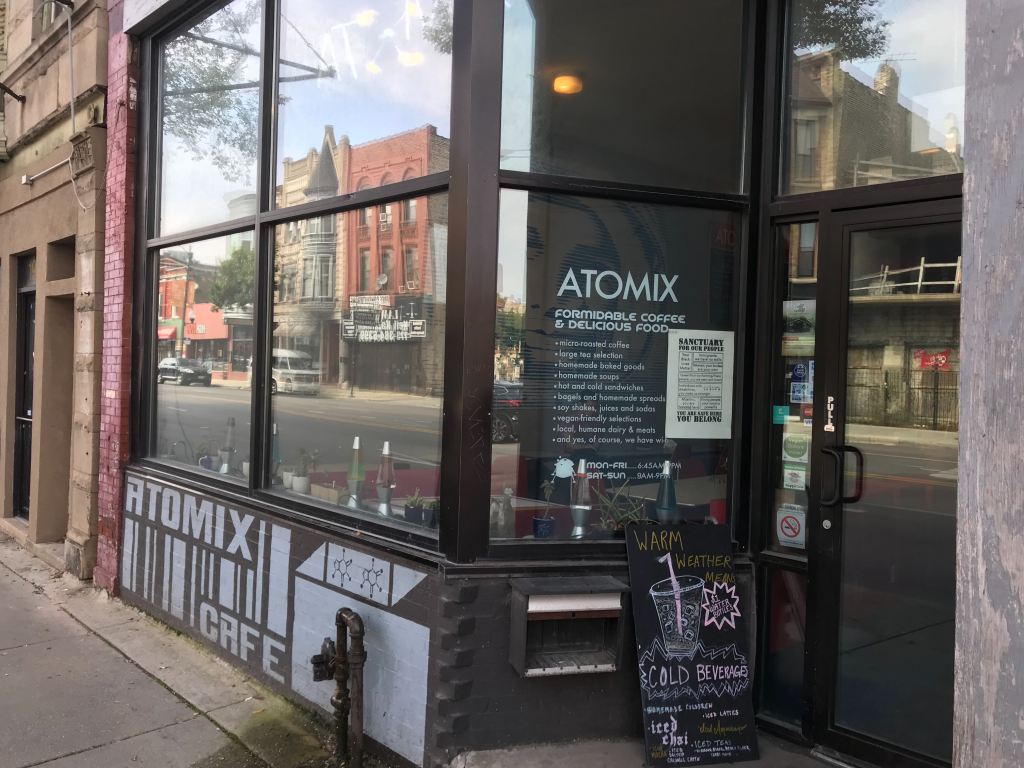 "That's really like, the high point, [to] use your business to help other people and better their lives," he said. "Then you're doing better than someone who's making a lot of money."
As regulars came in for their morning coffee Tuesday, barista Audrey Headley broke the news of the shop's closing. Since taking the job in July 2018, Headley said she has personally gotten to know several neighboring residents and business owners. Atomix was her first workplace where she became close with her coworkers, customers and boss.
"I would even come in on my off days," she said.
One of her favorite memories of working at Atomix will be Monday movie nights, when her coworkers would pull down a projector screen in front of the shop's windows and show cult and horror flicks from the '70s and '80s.
Headley said she has appreciated the "safe space" it provided to the neighborhood's writers, artists and LGBTQ community.
"I'd have to say, I feel people are recognized and safe coming here," she said.
Jesse Sharkey, president of the Chicago Teachers Union, was among the customers who stopped in Tuesday for coffee Tuesday. In 2016, the union moved its offices to 1901 W. Carroll Ave., near the border between West Town and the Near West Side. Since then, Sharkey said he has relied on Atomix as a place to grab a coffee, snack on a pretzel roll sandwich and catch up on emails.
"I'm sorry to see it go," Sharkey said. "I guess I'll have to start exploring the neighborhood and see what else is around here."
David Young, a trader, has been frequenting Atomix since he and his wife moved to West Town five years ago. His job allows him to work remotely, and he enjoyed Atomix's quiet, quaint atmosphere. It's also a few blocks from his daughter's day care center, which makes working from the cafe all the more convenient.
"It's been a staple for us, and I'm sure it's been a staple for the neighborhood, too," he said. "[But] I'm not shocked. The neighborhood has changed quite a bit. … Nineteen years for a cafe, that's pretty solid."
Where will Young work next?
"That's the million dollar question," he said.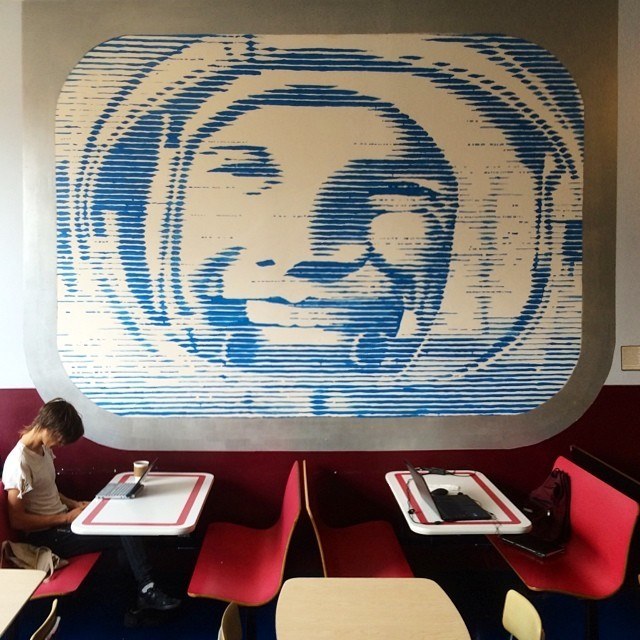 Christopher Papa, a medical resident at University of Illinois at Chicago and a two-year resident of Wicker Park, stumbled into Atomix for the first time on Tuesday. While he said he wouldn't be likely to make a special trip back to the coffee shop before its closure, he appreciated that it wasn't as "yuppie" as some of the coffee shops in Wicker Park.
Like Young, Papa wasn't surprised to learn Atomix was closing.
"The coffee shop-per-capita in the Wicker Park area is pretty high," he said.
Check back for updates.
Do stories like this matter to you? Subscribe to Block Club Chicago. Every dime we make funds reporting from Chicago's neighborhoods.