WICKER PARK — A developer currently building a batch of million-dollar condos and town homes in Wicker Park has filed a lawsuit against the city this week after former 1st Ward Ald. Proco "Joe" Moreno discreetly approved a massive development nearby.
The lawsuit, filed by an entity of Vermilion Properties, alleges the city violated the Illinois Open Meetings Act as well as a six-month city zoning approval deadline when Moreno pushed through a zoning change on his way out of office for a high-rise at 1628 W. Division St.
Crains first reported on the lawsuit.
The new development is a 16-story, 168-unit tower from RDM Development — the same company behind the CVS at 1200 N. Ashland Ave. and a neighboring 33-unit apartment building at 1624 W. Division St.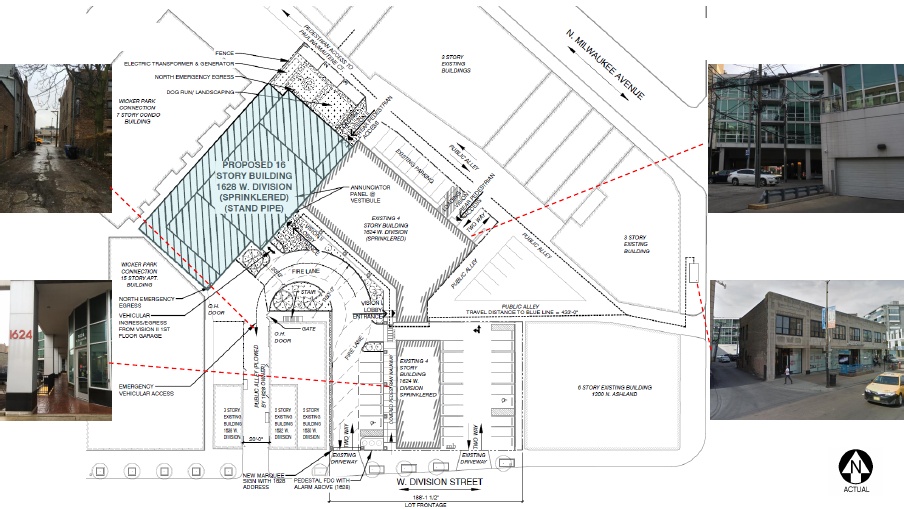 On April 10, at the direction of Moreno, City Council approved a zoning change to bring the property from four to 16 stories. That meeting took place a full year after the city's Zoning Committee approved the smaller proposal in March 2018.
In a complaint filed Monday, an attorney representing Vermilion wrote that Moreno's "parting gift to the developer" violated the Illinois Open Meetings Act, which requires agenda items to be posted at least 48 hours before they come to a vote.
The lawsuit alleges the proposal was added to the City Council meeting agenda "less than 20 hours" before it was considered.
The suit also alleges that the year-plus window between the proposal's March 2018 adoption by the City Council zoning committee and its approval by the full council violates city code, which gives the full council six months to seal planned developments after the zoning committee advances them.
Any application that misses the deadline "will be considered to have been denied," according to city ordinance.
Leah Root, a Wicker Park Committee leader, said on Wednesday she hopes Vermilion will win the lawsuit.
"The city should just fold now," she said. "Spending money to fight that disaster is a bad use of tax payer dollars."
Still, in order for the lawsuit to move forward, Vermilion must demonstrate that it would suffer from the construction of the RDM-proposed building.
In the lawsuit, the developer alleged that RDM's building would "diminish the value of neighboring properties as a result of its inappropriate size, density and building scale and the resulting undue burden on public infrastructure and city service — including specifically the already overcrowded CTA Blue Line stop at Division Street."
Attorneys added that the site of the new development exists in a part of Wicker Park that is "already parking constrained" and that neighboring properties are "substantially shorter and have fewer residential units."
A spokesperson for Vermilion and attorney Eamon Kelly of the law firm Sterling & Slater, which is representing the plaintiff, declined to comment.
Bill McCaffrey, a spokesperson for the city's Law Department, also declined to comment.
Root said she hoped La Spata would undo Moreno's rushed approval, but so far he's been unwilling to do so.
"The challenge is, how do we work to modify this development in a way that comes across both legal and in a use of power that is going to be looked on favorably by all parties," La Spata has said. "We need a choice that is both legal and reputable."
Mayor Lori Lightfoot issued an executive order on her first day in office distancing aldermen from permitting and licensing decisions that pertain to their own wards. But the order does not apply to zoning decisions, which are decided through votes in the City Council.
RELATED: Neighbors Say There's No Room For Another High-Rise On Wicker Park Corner, But A Final Push From Moreno May Have Sealed Their Fate
RDM Development CEO Robert Mosky, who has declined multiple interview requests with Block Club and with The Daily Line, told Crains his firm plans to shrink building designs to 13 stories with 121 apartments.
He also said this project is "what the city wants."
"I am the poster child for greater zoning on that corner because it is so close to the el stop," he told Crains. "At the end of the day, this is what the city wants."
Neighbors who live on Paulina Street, said they are worried another big apartment complex would worsen commutes on the CTA Blue Line. 
Because of overcrowding, neighbor Andrew Wasserman said he can't get on the train during morning rush hour. And neighbor Kyle Sneed, who is also the president of the Wicker Park Committee, described the site as "landlocked." 
"As a neighbor, I have concerns about how they're actually going to construct something like that," Sneed has said. "There's no room back there for any type of staging." 
Tucked behind Philz Coffee and Scone City on Division Street, the RDM site is a square-shaped parking lot that physically touches Mosky's existing 33-unit apartment project.
The site also touches the eastern perimeter of Vermilion's property, which will soon house 12 town homes and 43 condos.
Vermilion broke ground on the condo and town home projects last week.
The RDM project qualifies for relief from Equitable Transit Oriented Development, a city program that incentivizes development near CTA public transit.
Neither Mosky nor Moreno are named as defendants in the lawsuit.
RELATED: Construction Begins On New Batch Of Million-Dollar Condos, Townhomes On Wicker Park's Division Street
That didn't surprise Root.
"Ultimately, Moreno didn't do anything wrong, legally," Root said. "It's more the City Council procedures."
Kelly, the attorney for Vermilion, is also a committeeman who represents Evanston in the Cook County Democratic Party.
Moreno, who was unseated earlier this year by Ald. Daniel La Spata (1st), remains the committeeman representing the 1st ward in the party organization.
Moreno did not attend the party's two-day endorsement slating event last week.
The next status hearing in the lawsuit is set for Dec. 17.
Do stories like this matter to you? Subscribe to Block Club Chicago. Every dime we make funds reporting from Chicago's neighborhoods.