LOGAN SQUARE — A long-discussed plan to build an 100 percent affordable housing complex on the city-owned parking lot directly north of the Logan Square Blue Line station is moving forward.
Nonprofit housing developer Bickerdike Redevelopment Corporation has crafted a development proposal for the site at 2602-2638 N. Emmett St. that is expected to face its first regulatory hurdle in the coming months.
Bickerdike's proposal calls for a two-to-seven-story tiered complex with 100 apartments, 4,500 square feet of ground-floor commercial space — aimed at local small businesses and nonprofits — and 20 on-site parking spaces.
All of the apartments — a mix of 33 one-bedrooms, 49 two-bedrooms and 18 three-bedrooms — would be geared toward residents earning at or below 60 percent of the area median income. The cap is $35,580 per year for an individual and $50,760 per year for a family of four.
Green space would be provided in the form of a plaza, planned for the base of the complex at Kedzie Avenue and Emmett Street, and a rooftop garden. The project is designed by Landon Bone Baker Architects.
Because of its close proximity to the train, the proposal falls under the Transit-Oriented Development Ordinance, which allows for more dwelling units and fewer parking spaces than the zoning code requires for non-transit-oriented projects. The proposal includes 20 parking spaces, which would be for service cars and tenants with mobility issues.
The entire project is expected to cost an estimated $31 million, according to Ald. Carlos Ramirez-Rosa, whose 35th Ward includes the site. The nonprofit developer is aiming to secure about $8 million in Tax Increment Finance funding, as well as low-income tax credits and other subsidies, to reach that figure, the alderman said.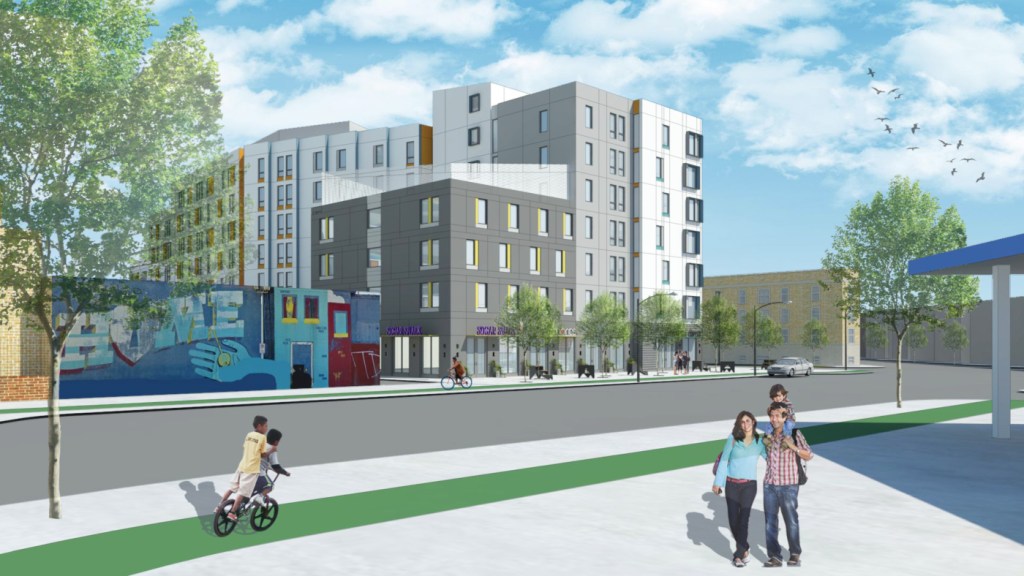 Under the proposal, the city would sell Bickerdike the property for $1. The property is worth an estimated $4.5 million, according to Ramirez-Rosa.
"We do have an affordable housing crisis in Logan Square and I think that everyone recognizes that," Ramirez-Rosa said.
"One of the biggest impediments to building in Logan Square is the cost of land acquisition. One of the things that make this possible is that this is city-owned land."
To build the project, Bickerdike needs a zoning change, which requires support from Ramirez-Rosa and the community under the alderman's community-driven zoning process.
So far, the proposal has the support of neighborhood groups Logan Square Neighborhood Association and Logan Square Preservation, according to Ramirez-Rosa.
Bringing affordable housing to the site has been a goal of Ramirez-Rosa's since before he was elected alderman.
In 2014, during a series of community meetings and surveys led by then-Ald. Rey Colon and the Metropolitan Planning Council, hundreds of residents said affordable housing — plus green space and an indoor market — would be the best use for the "historically underused" lot. Ramirez-Rosa was one of those residents.
About a year after Ramirez-Rosa was elected, The United Neighbors of the 35th Ward, a so-called "independent" political group Ramirez-Rosa helped create, renewed the call for redevelopment, but the plan didn't see much movement.
Securing the patchwork of funding needed to build affordable housing has always been the project's biggest hurdle, Ramirez-Rosa said.
"I've been trying to get this done since 2016 and the Mayor's office hasn't helped until now," the alderman said, adding, "The mayor wants to see this done during the final month of his administration. … as part of his legacy."
The broader community will get a chance to weigh in on Bickerdike's proposal later this month. A community meeting is set for 6:30-8 p.m. April 24 at Avondale-Logandale Elementary School, 3212 W. George St.
"There's been a lot of discussion about how turning to local communities and asking them to [support] affordable housing has been an impediment in communities that are segregated. We saw that happen in the 45th Ward," Ramirez Rosa said.
"April 24th is going to be an opportunity for Logan Square to show what our values are, to celebrate diversity."
Ramirez-Rosa said he will only support the zoning change if the broader community supports it.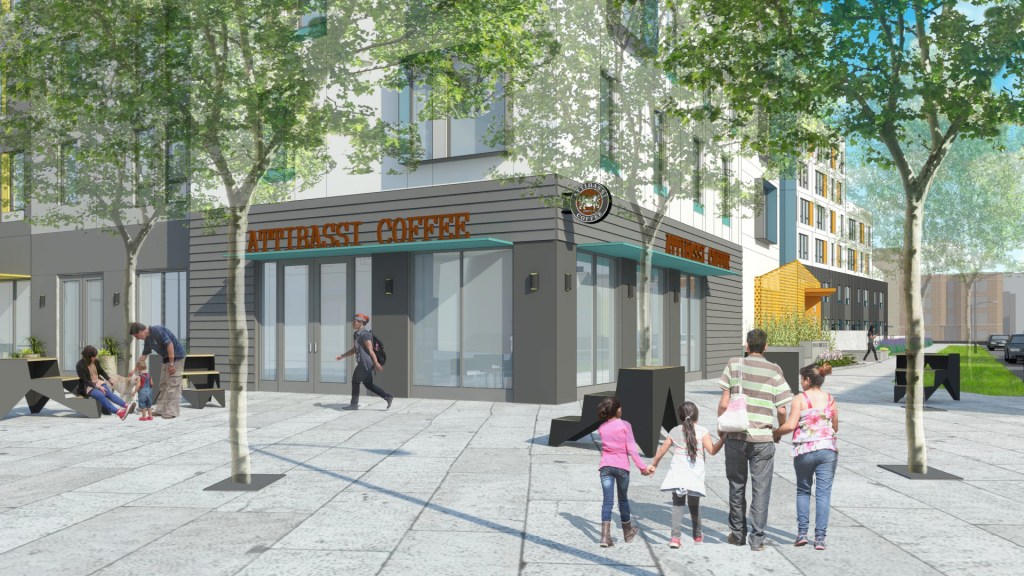 'The opportunities [low-to-middle-income people] have to live in Logan Square are almost entirely gone'
The parking lot was established sometime in the 1970s or '80s as part of a larger plan to create a pedestrian mall around Milwaukee Avenue, according to Ramirez-Rosa.
Owned by the city but operated by LAZ Parking, the lot is underutilized and has been for some time, according to city officials.
By building an affordable housing complex on the site, the developer will be providing housing for working people who couldn't otherwise afford to stay in gentrifying Logan Square, Ramirez-Rosa said.
"If you look at what a teacher's aide earns, if you look at what a security officer at O'Hare earns — this is housing that would be available to them. Individuals who are earning $35,000, a single mother earning $40,000-45,000 — the opportunities that they have to live in Logan Square are almost entirely gone," the alderman said.
Still, Ramirez-Rosa acknowledges the project isn't a silver bullet.
"While this is an extremely important project, it's still only 100 units. It's a drop in the bucket. A lot more has to be done to [curb] gentrification," he said, pointing to lifting the ban on rent control and implementing home ownership programs as two measures he supports.
"There needs to be a variety of strategies. I think this is a key component of that strategy."
Bickerdike's proposal must go through several City Hall hoops before reaching the full City Council, which could happen in several months.
Do stories like this matter to you? Subscribe to Block Club Chicago. Every dime we make funds reporting from Chicago's neighborhoods.