CHICAGO — Lori Lightfoot made history Tuesday night by becoming Chicago's first openly gay and first black woman mayor.
The victory for Lightfoot signifies a massive change and a step forward in terms of representation for queer people in Chicago and around the United States, LGBTQ advocates said Tuesday. They hope that can help young, LGBTQ people feel safer, more affirmed and can even encourage them to one day participate in government.
And Lightfoot's victory isn't just a historical moment for Chicago: She's the only black, lesbian mayor in the United States, and Chicago is the largest city with an openly gay mayor in U.S. history.
"As a black, queer woman myself, we don't see representation like this, and I think that's a huge step in the right direction and amazing thing for the city of Chicago," said Imani Rupert, executive director of Affinity, a social justice group that advocates for black, queer Chicagoans. "We know that when we see folks in positions of powers that share our identities, that impacts folks."
Equality Illinois CEO Brian Johnson also said Lightfoot's victory would serve as a powerful example of representation for queer people. Equality Illinois is an LGBTQ advocacy group that endorsed Lightfoot.
"To be able to see ourselves reflected in the mayor of the third-largest city in America, that'd be inspiring," Johnson said. "What does it mean for the young, lesbian, African American teenager? What is it gonna mean for the young trans woman on the North Side? What is it gonna mean for the gay Latino young man on the West Side … ?
"It's going to send a message of inspiration to assume there are no barriers to having an impact in the city."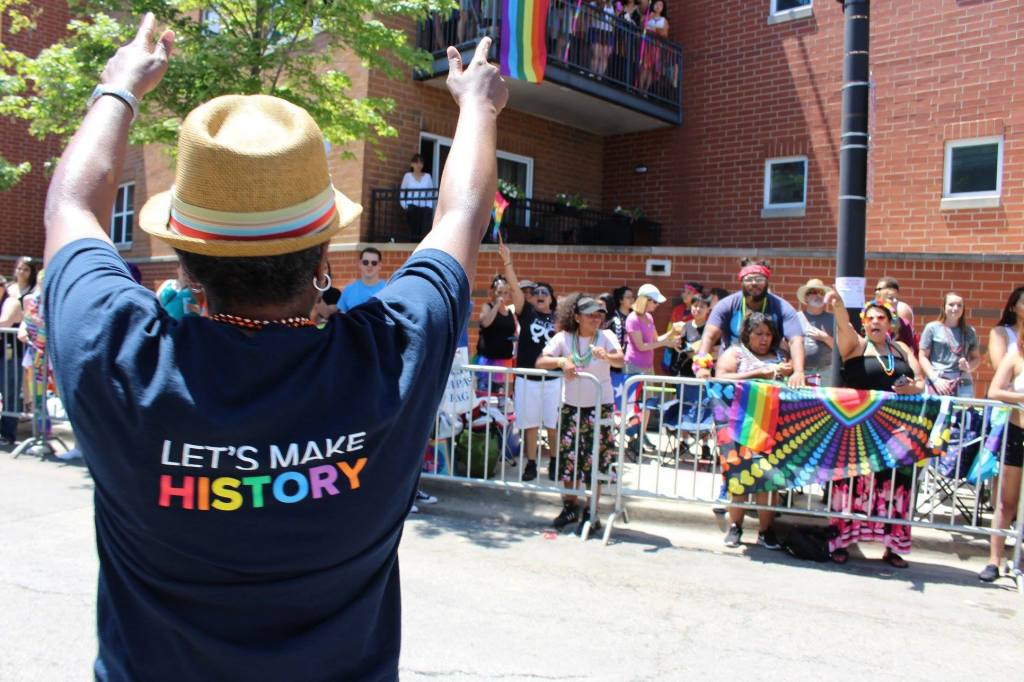 The representation is important to Johnson on a personal level, too, he said: As a 14-year-old boy growing up in Virginia, he never expected to see an openly gay mayor leading one of the largest U.S. cities.
"I may be 41 years old, but part of me is still that 14-year-old gay kid … thinking that me coming out was gonna be this death knell to my career, that I was gonna be ashamed and stigmatized my whole life," he said. Lightfoot's win "just makes me so proud of our city and proud of my community."
Annise Parker, who campaigned in Chicago for Lightfoot and served as Houston's first openly gay mayor, said Lightfoot won't just influence Chicago but will serve as a role model and can encourage more queer people to run for office across the United States.
"She'll be a galvanizing force for the LGBTQ community — not just in Chicago," Parker said. "Chicago has an outsize impact on national politics. She has the ability to not just help run the city but also to influence the national dialogue."
Lightfoot's win, and the wins of other LGBTQ politicians, shows "what is possible" and can help lead to success for other queer candidates, Parker said.
It's not enough just to be a representative, though, supporters said.
While Rupert said it's exciting to see a mayor who is a black woman and a lesbian, she'd be even more excited to have a mayor who also shared her views on things like gentrification, violence in Chicago communities and helping underrepresented people.
"I think it's important that we don't confuse this [victory] with liberation and justice for everyone," Rupert said. "But it does represent a change."
Equality Illinois will want Lightfoot to ensure everyone is treated equally in school and is safe and feels affirmed, Johnson said.
Lightfoot — who was attacked for her sexuality when people handed out anti-gay fliers near churches in March — did outline plans to support and protect LGBTQ people in Chicago, saying she'd prioritize improved safety for trans people, ensure queer people are visible and can participate in the city government, among other things.
And Lightfoot emphasized her commitment to LGBTQ Chicagoans again in her victory speech Tuesday night, thanking her wife, Amy Eshleman, and their daughter, Vivian, for their love and support.
"Out there tonight, a lot of little girls and boys are watching. They're watching us. And they're seeing the beginning of something, well, a little bit different," Lightfoot told her crowd of supporters. "They're seeing a city reborn, a city where it doesn't matter what color you are and where it surely doesn't matter how tall you are.
"Where it doesn't matter who you love — just as long as you love with all your heart."
Read Lightfoot's LGBTQ policy here: