CITY HALL — Despite vehement opposition from residents and community groups, a 12-year, $19.7 million tax break for Hilco Development's planned distribution center in Little Village cleared City Council Wednesday afternoon.
The tax break will assess the property at 10 percent of its market value for the first 10 years, 15 percent in the 11th year and 20 percent in the 12th year — saving the Northbrook-based company $19.7 million over the life of the agreement once applied.
Ald. Milly Santiago (31st), Ald. Carlos Ramirez-Rosa (35th), Ald. Brendan Reilly (42nd), Ald. John Arena (45th) and Ald. Ameya Pawar (47th) voted against the tax break.
Ahead of the vote, residents expressed concerns about the increase of pollution and traffic congestion the massive distribution facility would bring to the already burdened Southwest Side neighborhood.
RELATED: After Post-Arrest Absence, Ald. Muñoz Returns To City Hall To Argue For Tax Break For Little Village Project
Earlier this month, Ald. Ricardo Muñoz (22nd) returned to City Hall — after being absent for months following domestic violence charges — to back the tax break for the $100 million dollar project.
"Hilco has identified a project that is seeking to invest $300 million in construction, $150 million in demolition" and add 300-400 jobs to the neighborhood, Muñoz said. "I'd hope that this 6B [tax break] application be considered as a local matter in the 22nd Ward where we've taken this debate at heart and decided that the investment and the repurposing of this vacant site to a site that will be creating these jobs is a much better use than just leaving it vacant."

The Hilco development would replace the Crawford coal-burning power plant and create hundreds of jobs, but environmental activists told committee members they were allowing one kind of pollution to be replaced with another.
Since it was proposed last summer, residents and community groups alike raised concerns the warehouse would exacerbate existing health problems in the neighborhood.
A spokesperson for the Sierra Club said the project is "a step backwards" for Little Village and that City Council should take environmental issues more seriously, not reward potential polluters with tax breaks.
Little Village Environmental Justice Organization Executive Director Kim Wasserman-Nieto said given the historic respiratory issues in the neighborhood from industrial pollution and diesel trucks inundating the neighborhood, the development "should not" receive financial incentives.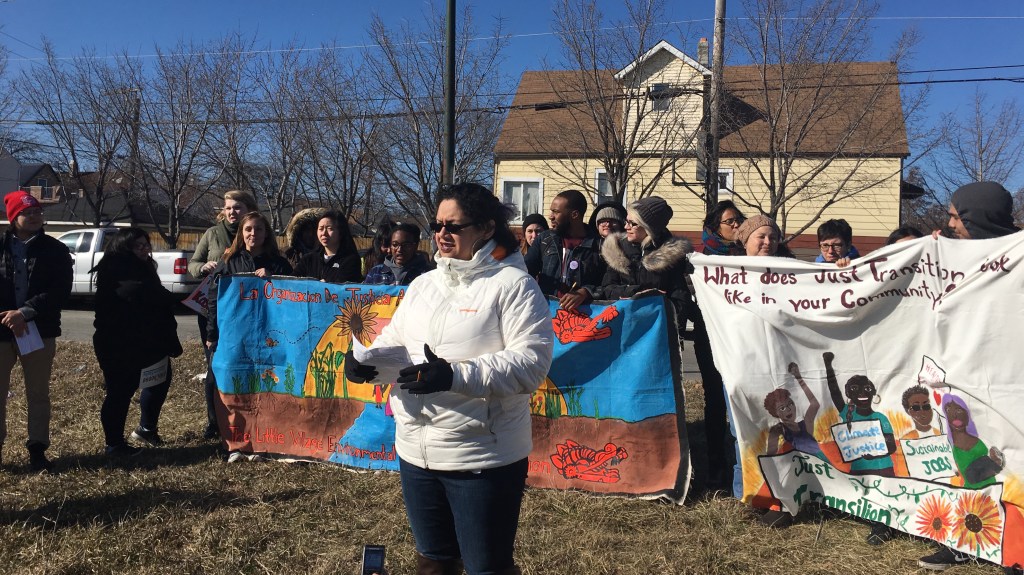 In September, the City Council approved the $100 million plan despite the opposition from nearby residents and environmental groups.
RELATED: Massive Little Village Warehouse On Old Crawford Coal Plant Site Approved By City Council
During January's committee meeting, Wasserman-Nieto testified that more than four trucks pass 31st Street and Pulaski Road every minute, and said that increased air pollution from diesel-fueled trucks will exacerbate respiratory illnesses, particularly among the 8,000 students attending school within a mile of the planned center.
Colleen Smith, the legislative director for the Illinois Environmental Council, said taxpayers should not be on the hook "to perpetrate more environmental racism," and said she was "alarmed" at how much the process so far has conflicted with what the Little Village community wants.
Preservation Chicago included the Crawford Power Plant at 5th Street and Pulaski Avenue on its list of most endangered buildings earlier this month.
The plant, which has a brick facade with Art Deco and "Gothic Industrial" influences, was built in 1926 by Graham, Anderson, Probst and White, according Preservation Chicago.
Developer Hilco Partners purchased the 70-acre site in 2017. 
The Crawford Power Plant was shut down in 2012 after community-led efforts raised concerns about the impact coal pollution was having on the health of Little Village residents. 
Last year, Hilco officials told residents they plan on beginning demolition and remediation in 2019. The distribution center is expected to be completed in 2020.
Do stories like this matter to you? Subscribe to Block Club Chicago. Every dime we make funds reporting from Chicago's neighborhoods.