Get more in-depth, daily coverage of Chicago politics at The Daily Line.
LITTLE VILLAGE — Ald. Ricardo Muñoz (22nd) returned to City Hall Friday to back a 12-year, $19.7 million tax break for Hilco Development's planned distribution center in Little Village.
Muñoz had been absent since Dec. 31, when he was arrested and charged with misdemeanor domestic violence after his wife said he struck her while intoxicated. Muñoz declined to answer questions from reporters about the incident.
"I'm not having this conversation in the press," Muñoz said.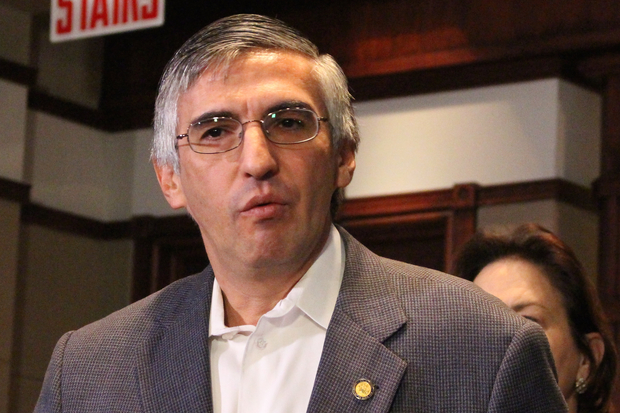 The Hilco development would replace the Crawford coal-burning power plant and create hundreds of jobs, but environmental activists told committee members they were allowing one kind of pollution to be replaced with another.
"Hilco has identified a project that is seeking to invest $300 million in construction, $150 million in demolition," and add 300-400 jobs to the neighborhood, Muñoz said. "I'd hope that this 6b [tax break] application be considered as a local matter in the 22nd Ward where we've taken this debate at heart and decided that the investment and the repurposing of this vacant site to a site that will be creating these jobs is a much better use than just leaving it vacant."
Once applied, the property would be assessed at 10 percent of its market value for the first 10 years, 15 percent in the 11th year and 20 percent in the 12th year. That could save Hilco $19.7 million over the life of the agreement, officials said.
Ald. Proco "Joe" Moreno (1st) — the chairman of the Economic, Capital and Technology Development Committee, who lost his bid for another term Tuesday — was not present for Fridays committee meeting.
After roughly an hour of questioning from aldermen about the project, Muñoz grew frustrated.
"I don't mean to cut anybody off, but for crying out loud, people, this is a local matter," Muñoz said, becoming the second alderman in as many days to deliver a pithy defense of aldermanic privilege, which gives each alderman the final decision over projects in his or her ward.
Activists with the Little Village Environmental Justice Organization, the Sierra Club and others testified Friday and at previous meetings that increased particulate matter from the trucks traveling to and from the 1 million-square-foot facility would exacerbate existing health problems in the neighborhood.
A spokesperson for the Sierra Club said the project is "a step backwards" for Little Village and that City Council should take environmental issues more seriously, not reward potential polluters with tax breaks.
Another compared the Hilco Development to Lincoln Yards or The 78 — two developments that would reshape their respective neighborhoods along the North Branch of the Chicago River and the South Loop.
Hilco Development Partners Director of Development Jeremy Gray has described the project as one designed to fuel economic development throughout Little Village and the entire West Side, bringing both construction and likely e-commerce warehousing jobs to the 100 million square foot facility.
The proposal has the support of the Little Village Chamber of Commerce and construction trade groups, and has already won approval for construction from the City Council.
The project's community benefit agreement will require Hilco to set aside space on the facilities' roof for solar panels and provide electric charging stations to reduce the use of diesel trucks.
Hilco will be required to meet city regulations regarding the use of firms owned by black and Latinos and to hire local residents. The company plans to recycle more than 90 percent of the demolition debris and plant 600 trees.
The committee delayed a vote last month after aldermen heard complaints about the community engagement process, in addition to pollution concerns.
Ald. Carlos Ramirez-Rosa (35th) attempted to delay the vote again by making a quorum call. Staffer from the mayor's office nabbed Ald. Jason Ervin (28th) from the cloak room and brought the committee's attendance up to the minimum requirement of 10 members, and the meeting continued.
Rosa, Ald. Milly Santiago (31st), and Ald. Ameya Pawar (47th) voted no.
Pawar has been critical of Amazon's workplace conditions for warehouse workers and the potential for jobs to be easily automated.
Muñoz dismissed concerns that the already high rates of asthma would rise after the facility is built with a shrug.
"The Stevenson is not but 1,500 feet away from here," he said. "Diesel is everywhere. It's not making it worse, it's just moving it to 35th and Pulaski."
When reminded of testifier's comments on asthma rates in the community, Muñoz shrugged.
Muñoz did not run for re-election, and will be replaced by 22nd Ward Democratic Committeeperson Mike Rodriguez, who had been endorsed by Muñoz. Rodriguez called for Muñoz to resign after he was charged.
The committee also approved the appointment of Christopher Wheat as member of Community Development Commission (A2019-5).
Attendance – Vice Chairman Leslie Hairston (5), Greg Mitchell (7), Patrick D. Thompson (11), Raymond Lopez (15), Willie Cochran (20), Howard Brookins (21), Ricardo Muñoz (22), Jason Ervin (28), Milly Santiago (31), Carlos Ramirez-Rosa (35), Gilbert Villegas (36), John Arena, Ameya Pawar (47)