UPTOWN — After spending almost 50 years in River North, The Baton — a famous drag club that has been host to everyone from RuPaul to Madonna — is set to open at its new Uptown home at 4713 N. Broadway on Friday.
The Baton had to leave its first home at 436 N. Clark St. at the end of 2018 due to rent hikes, its owner said.
Friday's show will be a soft opening at the new spot and only the main showroom will be accessible, said owner Jim Flint. There will be shows at 8:30 p.m., 10:30 p.m. and 12:30 a.m. The shows will highlight drag performers of all talents.

The club's official grand opening is set for April 10, when Flint said the additional disco and bar room will open, providing an extra 150 seats. The new showroom has a seating capacity of 195 patrons.

Flint said he is moving past the sadness of leaving the original location in River North.

"I'm feeling good," he said. "I'm sad leaving the old space, but it's a new chapter, I guess."

He laughed when he reflected on the price of rent when he first set up shop 49 years ago.

"It was only $350 back then," he said. "But River North was skid row in those times."
Flint said they hope to have a limited menu of pub food starting in May.
"The new space is very nice, but we have a lot of work to get done," he said.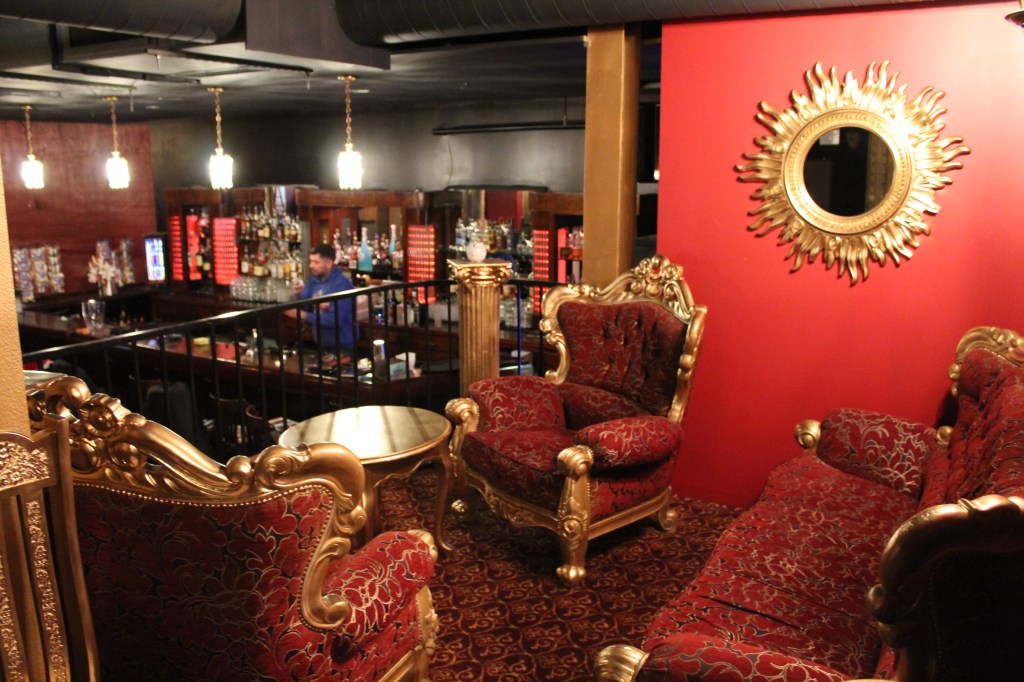 Flint is particularly excited about a special VIP area in the back of the showroom. Elevated above the rest of the viewing area, Flint said he hopes to host longtime patrons and celebrities in the space.
'Holy Grail' Of Drag Venues
Journalist and documentarian Mark Saxenmeyer first visited the Baton Lounge in '94 when it was in River North. The artistry of the performers — who sing, dance and crack jokes while donning elaborate outfits, makeup and wigs — dazzled him. He quickly became wrapped up in its storied history of producing the top LGBTQ performers and playing host to the world's most famous celebrities.
"I was pretty mesmerized right from the get-go," Saxenmeyer said. "It's not just a drag show. It's a choreographed art form. They're illusionists and there's lights and costumes and choreography."
Saxenmeyer visited the Baton again and again over the years; in 2011, he even went to Flint and suggested they make a reality show based on the club. The two put together a "sizzle reel" and pitched it but couldn't find anyone to commission the show. (People loved it in Hollywood, Saxenmeyer said, but they wanted to make "less real and more drama-filled, and for me it was just kind of absurd.")
Instead, Saxenmeyer made a documentary about the Baton, spending years on the project. "The Queens" tackles the history of the club, follows its performers, and chronicles the Miss Continental Pageant that's hosted there ever year.
The documentary covers how when the Baton opened, Flint had to pay off the police — and the mob — to keep the gay bar open. At that time, the Baton's home neighborhood of River North wasn't the "thriving, tourist-y, nightclub area" it is now but was "sort of a dump."
But Flint persisted. That dedication helped turn the Baton into the "holy grail" of drag venues, with the nation's top performers vying for a regular spot there, Saxenmeyer said.
Performers used to go from town to town looking for work and struggling with venues that didn't pay, patrons who didn't tip well and people not respecting them, Saxenmeyer said. But the Baton offered its performers a full-time job, a dressing room and loyalty from Flint. Working there meant you'd "made it," Saxenmeyer said.
In fact, some of the most iconic performers in the LGBTQ community's history were performers at the Baton: Chilli Pepper, Mimi Marks and Candace Cayne have all graced the club's stage.
"It's the longest-running club of its kind in the nation," Saxenmeyer said. "I don't think there's any that have been in existence, especially in the same place, for as long as the Baton."
The Baton's performers have always been consummate professionals, putting on shows three times a night, five nights a week for years, Saxenmeyer said. They go on stage whether the club is fit to bursting or it only has a small crowd.
The club has changed over the years: Its once largely gay audience is now packed with straight people celebrating events like bachelorette parties. That shows how people's attitudes have changed and they've become more accepting, Saxenmeyer said, and he thinks the Baton played a role in that growing acceptance of drag and female impersonation.
"It's the art of illusion. It's changing the way people think about other people. It's changing the way people think about glamour and beauty," Saxenmeyer said. "It's opening people's eyes to the fact that not everyone is like you … and the more you know people who aren't [like you] the more your world becomes larger."
The club's guest lists has included bigwigs like Madonna and RuPaul, herself a famous drag performer. And its homegrown talent — like Pepper, Marks and Cayne — have become huge names in their own right and appeared in TV shows and movies.
Flint's given "a voice and a stage — not just literally but figuratively — to a community that was being ignored, ostracized, condemned and scoffed at," Saxenmeyer said. "And [he's] given them an opportunity to shine and showcase their talents and let other people know what they're all about.
"What more could anyone want in terms of a life legacy?"