CHICAGO — Sturdy campaign signs staked in yards. Leaflets stuffed into mailboxes. Pamphlets hung on door knobs.

Now that Election Day is over and the ballots have been counted, what happens to all that stuff?
Paper-based mailers and pamphlets can be recycled, but after a few nights spent in Chicago winter, many have been caked in ice, snow or mud. And the thousands of campaign signs stuck in yards and grassy medians cannot be recycled.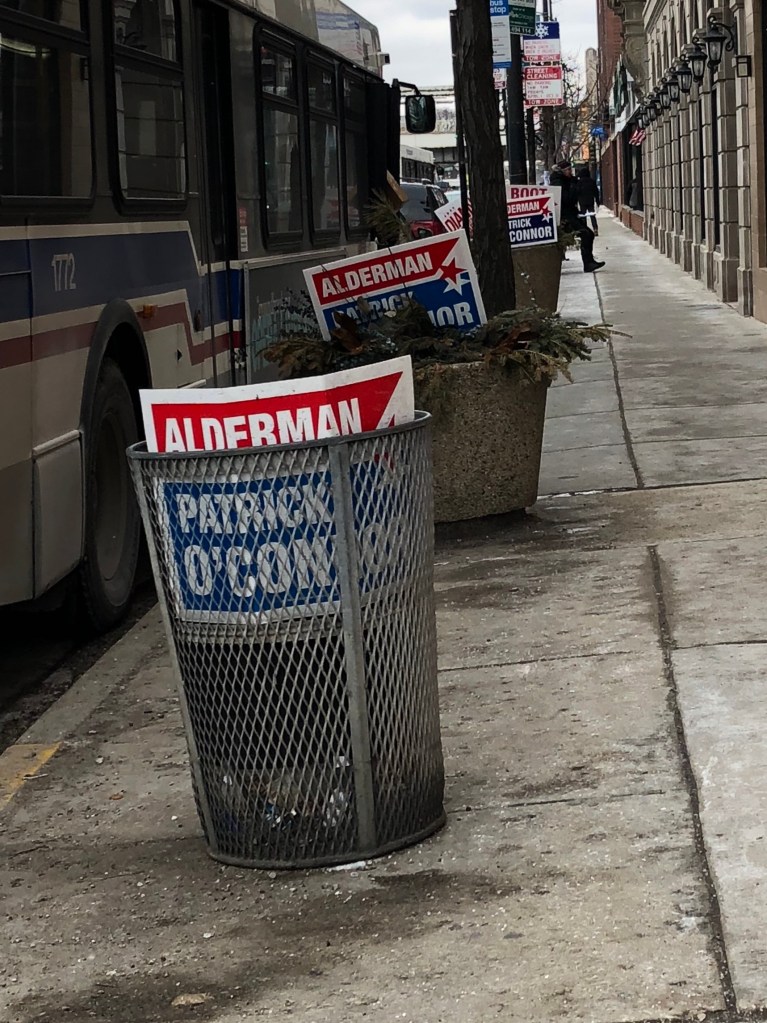 Political yard signs are made from a polypropylene-based material called corrugated plastic, a material that is not accepted in Chicago's blue recycling bins, the city's director of recycling Gianni Seifer said.

Some states do have programs in place to recycle the material after elections. In Colorado, for example, private company Apline Waste & Recycling offered to recycle leftover signs for free, The Denver Post reported.

Illinois does not appear to have such a program.

On Friday, Chicagoans from all ends of the city lamented a post-election hangover of litter.
"Jim Gardiner's campaign placed signs on the very edge of both sides of my neighbor's property lines and it looks like my house supports him too," said Diego Lopez, who lives near Jefferson Park. "I'd like those gone now."
"[Ald. Ariel] Reboyras sent one or two mailers a day for at least two weeks preceding the election, which seemed wasteful and ineffective," 30th Ward resident Jena Kehoe said.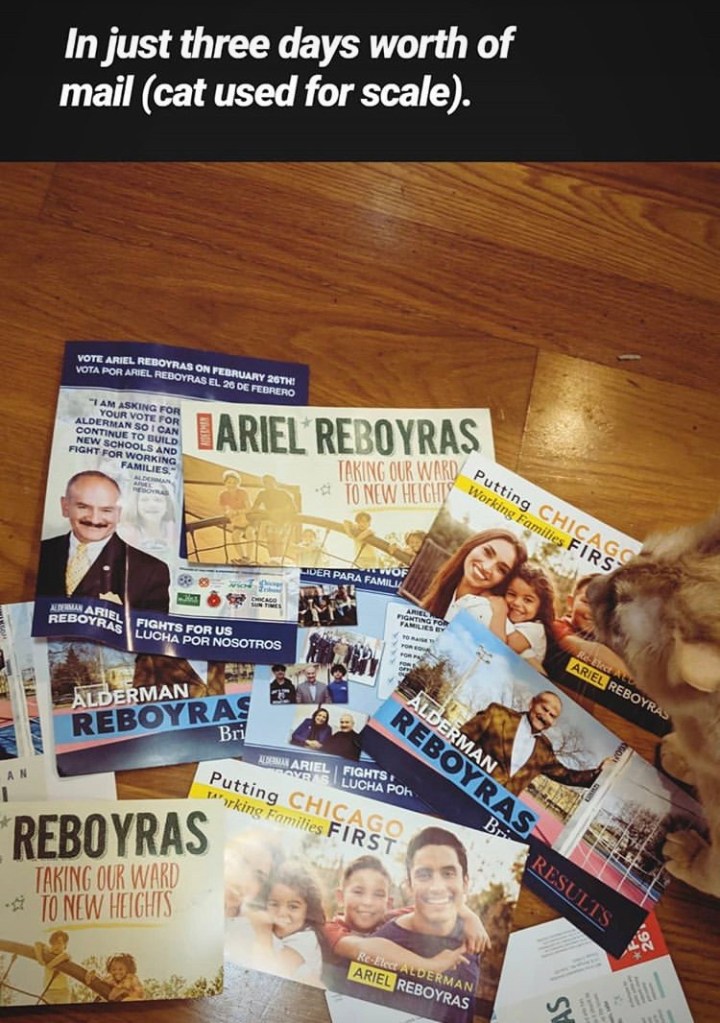 In the 40th Ward, Laura Fischer received so many "glossy postcards" from incumbent Ald. Pat O'Connor that she actually took time to count.
"Our home received 49 mailers from a single (high profile) aldermanic candidate this February, sometimes eight in one day," she said. "He wasn't my candidate of choice, so it just made me dislike him even more."
"His budget for direct mail must be just huge," Fischer added. "I put them into the recycling bin instantly."

Bucktown resident Rachel Mennies said mailers in the 1st Ward are littering her neighborhood streets.

"I had thought about gathering some up myself, but the general condition of trash on our street right now is rather gross from the weather," she said.

Hyde Park resident Spencer Crosby said his neck of the woods didn't look much different.

"Flyers under windshield wipers and door knob hangers are litter," he said. "They should be illegal."

"I saw so many signs that are just going to either going to rot where they are or be thrown into an ever increasing pile of trash," 36th Ward resident Sam Luchsinger said. "Is there a way to run a campaign that doesn't involve littering?"

Tech CEO and mayoral candidate Neal Sales Griffin said, yes — there is.
"We should get rid of election litter," he wrote in a tweet. "Political yard signs are a race to the bottom and expend city resources for cleanup. I decided not to."
Chicagoans Get Creative
So, the city can't recycle campaign signs and many mailers won't make it into a blue bin.

But that doesn't mean the signs can't have another life.

AnySquared, an arts group in Logan Square, repurposes signs for arts projects, founder Tracy Kostenbader said.
"They're material that's around and they just get wasted at the end," she said.
Kostenbader inherited a few hundred yard signs a couple of years ago after her friend went around the city collecting them. They're sturdy enough to be used for sculptures, but they're often used as canvases for paintings, she said.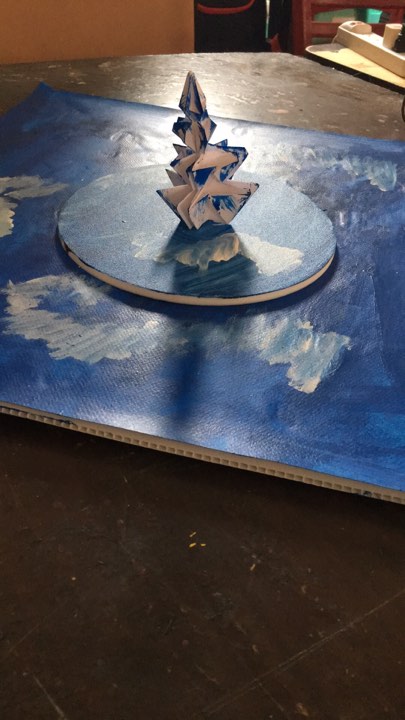 Anyone looking to make a painting out of a political sign should sand the sign first because they're typically covered in a glossy coating, she said. Simple sand paper will do the trick.
Unfortunately, Kostenbader can't accept any more signs right now because she said her studio is filled with them. She's open to accepting them in the future once the stacks start to thin out.
One Chicago resident had the idea to turn the signs into bicycle wheel fenders using zip ties.
"I'm turning a bunch of them into a windscreen for my chicken coop, inspired by a pal," another Chicagoan tweeted.
"This is going back quite a while, but my Papa, a longtime Dem. precinct capt. in Beverly, would repurpose campaign signs," said another crafty Chicago native. "For example, he would cut small slits on either end and wrap garland for the Christmas tree around the signs. They make handy storage devices that way."
Do stories like this matter to you? Subscribe to Block Club Chicago. Every dime we make funds reporting from Chicago's neighborhoods.