FULTON MARKET — Americano? Check. Avocado toast? Check. Bicycle tune up? Check. Check. 
After announcing its new location last fall, the ultra-popular—and Beyoncé approved—Heritage Bicycles and Coffee opened its doors at 172 N. Racine Ave. Friday in Fulton Market.
The 1,778-square-foot bicycle and coffee shop offers merchandise, bike storage and bicycle repair services, alongside Heritage coffee and breakfast on the corner of Lake and Racine.
Owner Michael Salvatore sees the Fulton Market shop as a perfect location for the booming West Loop neighborhood.
"We have great coffee, and I think some of the best grab-and go-breakfast food in the city," Salvatore said. "The neighborhood is in need of bike shop."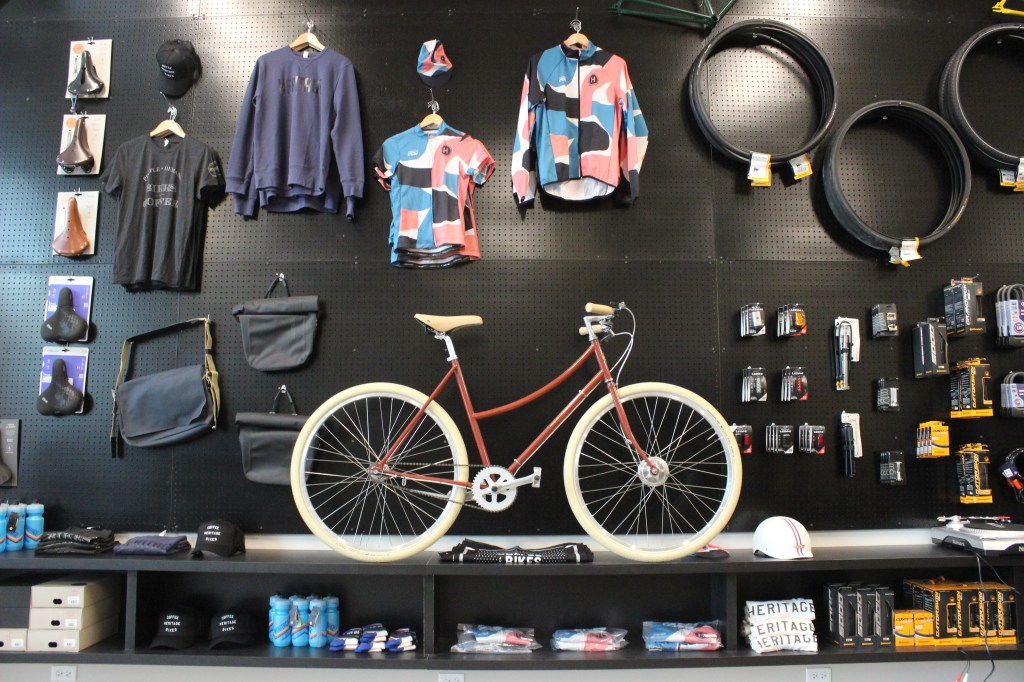 Salvatore opened the first Heritage General Store in Lakeview in 2011, and has since expanded Heritage locations in Uptown and River North. He is also set to open another location at 30 E. Adams Street.
At the Fulton Market location, he wanted to pay "homage" to the original location on Lincoln Avenue.
"It's a modern, upscale version of the General Store in Lakeview," Salvatore said. "It's version two of what we already do."
They've tripled their kitchen staff and offer a menu that changes seasonally.
The Fulton Market location offers a breakfast burrito ($9), bacon & egg sandwich ($9), veggie & egg Sandwich $8 and avocado toast $11.
Guests can also expect pastries, grab and go drinks and more packaged goods, Salvatore said.
The new location on the ground floor of McCaffery Interests' new Twelve01West development also offers a coffee bar, open kitchen and will broadcast bike races on the television.
Salvatore envisions the Fulton Market location as a "gathering point for cyclists before or after work."
They are also adding membership deals at each bike and coffee location. At the Fulton Market location, members can take advantage of the bike showers. When the 30 E. Adams Street location opens, members can expect a Club House that includes bike stands, lockers and showers as well as group rides.
"We have a niche concept for each bike and coffee stop," Salvatore said. "This location will be geared towards the roadies with some more upscale bikes."
Despite the various offerings at the different locations, Salvatore said he hopes the variations will bring the cyclist community together through group rides and other community events.
Heritage Bike is open 7 a.m. to 7 p.m. daily.
Here are more photos of the new coffee shop.