LINCOLN PARK — Dozens of supporters of The Hideout, a small but influential bar and music venue located near the site of the massive Lincoln Yards project, showed up to a public meeting Wednesday night to urge Ald. Brian Hopkins (2nd) to delay any movement on the development until after the February municipal election. 
The Hideout's owners, Tim and Katie Tuten, sent out a letter about the meeting on social media late Tuesday, noting that fans had expressed concern about what will happen to the Hideout, 1354 W. Wabanasia Ave., as nearby buildings have been sold and demolished.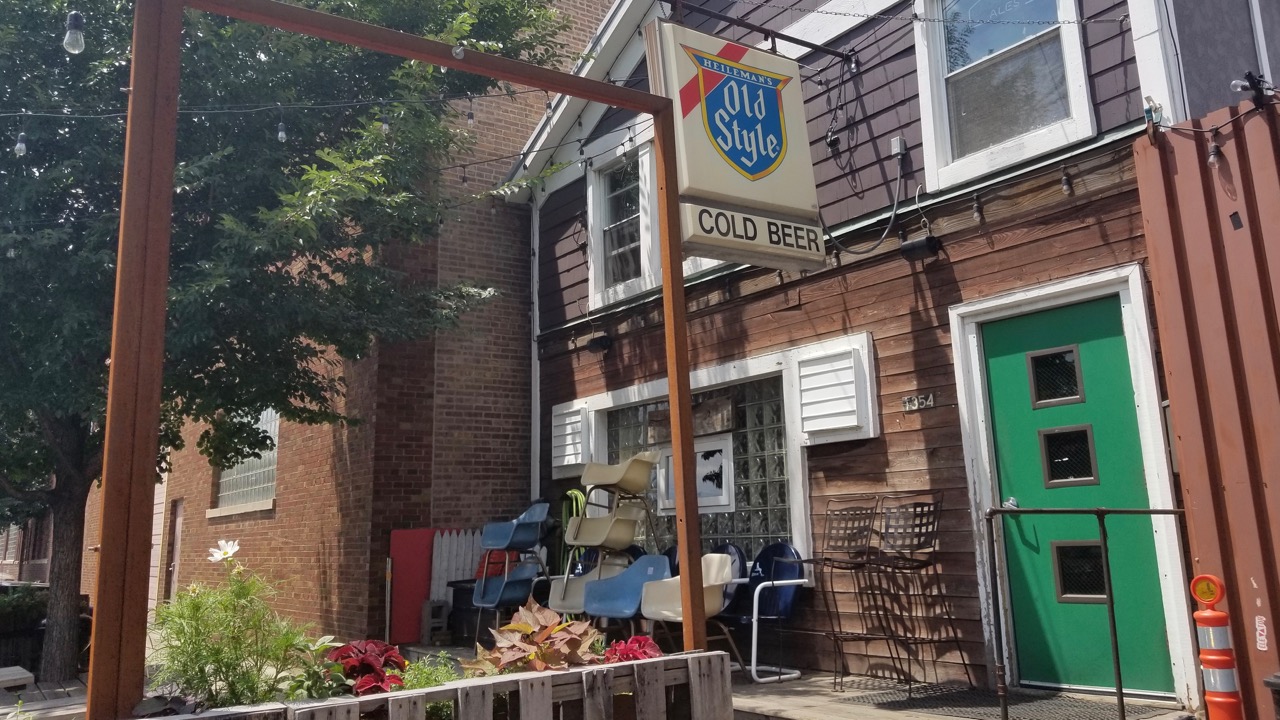 The Tutens, along with several dozen of the bar's supporters, did show up, and questioned the transparency surrounding the $5 billion development. They also urged Hopkins to, in general, slow things down until after the City Council and mayoral elections in the spring.
Hopkins attempted to assuage the crowd at the very start of the meeting, held at Park Community Church, 1001 N. Crosby St., by saying he had just introduced zoning legislation that would protect the Hideout's building and potentially allow it to be landmarked. 
Waving a blue folder containing a copy of the just-introduced legislation in the air, Hopkins said, "Tim and Katie, you are not going anywhere!" 
Though the crowed erupted in applause and cheers, by the time Hideout co-owner Katie Tuten could react to the proclamation in a question and answer session about an hour later, the joy was short-lived. 
"Thank you so much for bringing us up to historical landmarks, but you did it without even talking to us. I think it's a perfect example of how this process has been run," Tuten said. 
Tuten wants the city to delay submitting its plan for the new tax-increment financing district to the Community Development Commission, which its scheduled to do on December 11.
The proposed 168-acre Cortland/Chicago River TIF district, which includes The Hideout, would help fund public infrastructure such as roads and bridges and not buildings made by private developers, Department of Planning and Development officials repeatedly said.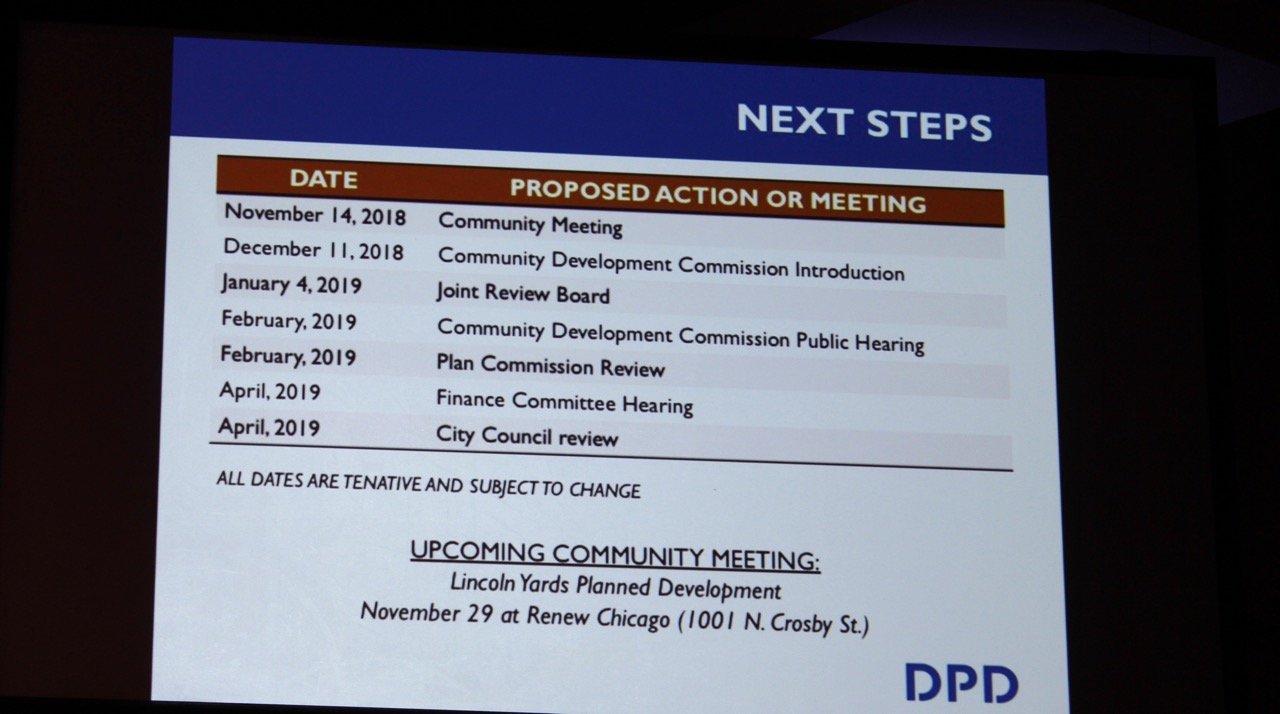 As of now, the timeline for the project shows Lincoln Yards on the city Plan Commission agenda as early as February — and some neighbors worried once that happens, it's a done deal.
Earlier this month, Crain's reported that Mayor Rahm Emanuel was attempting to lock in some big development subsidies — including the Lincoln Yards TIF — before he leaves office. 
"We are here today to ask for a responsible development … an investment that is carefully considered because it will have an enormous impact on all of our local communities and the entire city of Chicago for many years to come. This is why we are here to say let's slow this process down," Tuten said. "Wait until we have a new mayor and City Council in place." 
Marcelyn Cole, a Hideout employee, said it was "cute" that Hopkins agreed to designate The Hideout as a historical landmark so early on in the meeting and so publicly, but she did not want him or any of the city officials to be mistaken: this is bigger than The Hideout. 
"Don't think for one second that this means the Hideout will acquiesce or be happy with pushing through this ridiculous, unfair, oversized BS plan that is happening," Cole said. "If you think the Hideout is just that small building, you've underestimated us. The Hideout represents more than just our small building, we care about who goes there, and the south and west sides, and black and brown people… We ask that you delay the TIF." 
Cole's comment of "delay the TIF" resulted in chants of "delay the TIF, delay the TIF." 

After the meeting, Sarah Dandelles, a North Center resident and supporter of Hideout, said she was happy with how the entire meeting went  — and not just the small part that was devoted to the Hideout.   
"The Hideout is our community center and our community is completely being bought out. I think questioning this TIF is something everyone in Chicago should do, but certainly anyone in the area of the Hideout, who is TIF adjacent," Dandelles said.
No representatives from Sterling Bay were at the meeting.
Next step: landmark status
Early Thursday, Hopkins said his move to make the Hideout a historical landmark will "slam the door once and for all on the thought that a rapacious developer will acquire it and demolish it, or that the city will attempt an eminent domain maneuver. I will fight that."
Hopkins said that by changing the zoning for the Hideout building from manufacturing to a community shopping and retail district will allow him to proceed with landmark designation.
"The [proposed new] zoning reflects what it is, it has existed as a nonconforming use with improper designation in a manufacturing district," Hopkins said.
Hopkins said the bar meets two of the criteria for historical landmarks: character and historical events.
"There have been some significant events that have happened there in the history of Chicago music and the building is 100 years old. It was used in the bootlegging era and it was one of the first bars to become legal again after Prohibition ended."
Do stories like this matter to you? Subscribe to Block Club Chicago. Every dime we make funds reporting from Chicago's neighborhoods.