CHICAGO — Eye-catching fliers imploring citizens to wake up to the fact that "birds aren't real" and are instead government surveillance drones have quickly spread around Chicago neighborhoods and the world. 
On Tuesday, journalist Robert Loerzel tweeted a photo of a Birds Aren't Real poster in a newspaper box on Randolph Street Downtown. 
"I didn't really expect my tweet to go viral, but it has been retweeted more than 700 times! The flier looked like a crackpot conspiracy theory, but I suspected it was more of an ironic stunt. I, for one, think birds are completely real," Loerzel told Block Club on Thursday. 
The "Birds Aren't Real" message in bold "Heavy Equipment" font has been posted around Chicago and more than 50 cities nationwide by members of what 20-year-old Birds Aren't Real founder Peter McIndoe calls the "bird brigade." 
The bird brigade is made up of leaders who run Birds Aren't Real chapters in their respective states. 
"This is a 100 percent real campaign. At first it can seem absurd, but after looking into the fundamentals by which the movement is run by, it gives a lot of legitimacy to those three words: Birds aren't real," McIndoe said. 
The group claims the U.S. government replaced all real birds with spy drones disguised as birds in 2001 — and officials have hidden this fact from the American public. 
When speaking to Block Club Chicago, McIndoe cited government drones disguised as birds, but many of his supporters don't actually believe that. The campaign is meant to highlight the fact that "we are living in a post-truth era," McIndoe said.
A self-described full-time activist who lives in Memphis, Tenn., McIndoe said the campaign is an "awareness movement" that "hopes to achieve public unity through the disbelief in avian beings."
"We want to spread knowledge that has not previously been known," McIndoe said.  
Since the fliers went up two week ago, the Birds Aren't Real movement — which started last year but was only led by McIndoe until he brought on the brigade — has gained thousands of followers across social media, McIndoe said. 

McIndoe said Chicago is "the most active" bird brigade chapter by the number of followers on social media. 
He suspects "there are a lot of passionate activists in Chicago."  
Chicago's bird brigade chapter leader and manager of the Chicago B.A.R Instagram is a DePaul freshman named Zach who's studying computer programming. Zach declined to use his last name ("because I may look for jobs one day"). 

Zach said he first heard about Birds Aren't Real last year when he was a senior in high school and began following the main B.A.R. Instagram account. 
"At first it was a joke. My friends made fun of me for being into it. Then, a couple weeks ago, a few local accounts popped up and I reached out to Peter to lead the Chicago group," Zach said.
So far, Zach has put up an estimated 10 posters in Lincoln Park and his friends and strangers have posted even more. Chicago activists can use a public Google Drive link on the Birds Aren't Real Instagram to download and print posters. 
Zach said the response to the message has been "surprisingly positive."
"It's been on front page of Reddit twice. Almost 100 people have reached out wanting to start their own account," he said. 
But there have been some haters. 
"We get a surprising amount of hate mail, with people asking if I've ever dissected a bird. They tell me, 'Birds are totally real,'" Zach said. 
Zach added, "The whole thing is a joke, but the reason it's funny is how seriously we take it."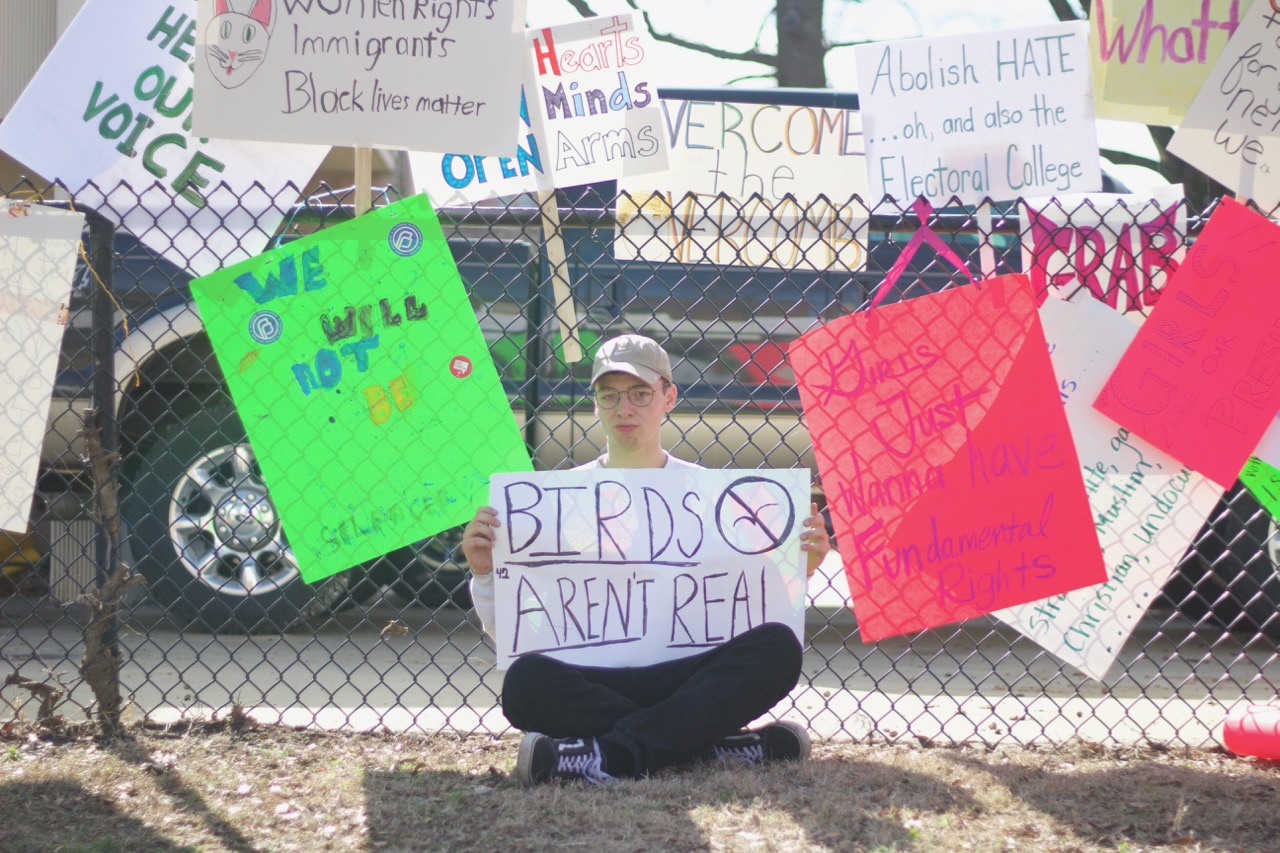 McIndoe said he has been accused of "making observational performance art" many times.
"I find that claim absurd. If you look at the heart of what we are saying, our opinions should be given just as much validity as anyone else's," McIndoe said. 
McIndoe claims he sees birds disguised as drones constantly ("I see them every day. Every bird I see I am aware it is a surveillance drone from above sending footage, recordings to the Pentagon").

The majority of the bird brigade members are Americans in their 20s, like McIndoe, and he's pleased with the movement's traction. Last week, Youtube star PewDiePie featured Birds Aren't Real and made a meme that's been seen almost 4 million times. 
"The psychology of Americans in [their] 20s is they are going through one of most intense sociopolitical eras America has ever seen," McIndoe said. "I think that Birds Aren't Real resonates with Millennials because this is the first generation that has ever dealt with such a bombardment of information and interactions … . We are constantly seeing the best of and worst of everything. We see so many extremes and so many opinions — vast extremes and no gray areas in the middle that are reality. We see everyone's opinions all the time in an unnatural way that's not human."