BUCKTOWN — Almost 400 cars from car2go descended upon Chicago last week, bringing a new type of car sharing to the city that lets drivers pick up vehicles from residential streets and leave them pretty much anywhere — including permit-only areas.
The service is part of a year-long pilot program with German automaker Daimler's car2go that was approved by the City Council in March. The company asks users to pay a one-time membership fee of $5 then charges between 29 and 39 cents per minute for use of its vehicles. Drivers can pick up their car — either a tiny fortwo smart car or a Mercedes Benz — wherever they see one on the car2go app. Then, they can use it and leave it elsewhere (within designated boundaries) if they're making a one-way trip.
Last Wednesday, Bucktown resident Matt Mazur noticed four  cars emblazoned with car2go logos parked in the 2200 block of North Lister Avenue. The residential street is not zoned for permit-only parking but there are several condos and apartments, so finding street parking is not always easy.
Mazur said he's in favor of a new car sharing option "because theoretically less people would own cars if they could just rent one from time to time.'"
But he also hopes that the cars won't end up clustered on his block — causing further parking issues.
Car2go's "free-floating vehicle" model allows drivers to park on any residential street — permit or not — within the company's 29-square mile coverage area, with some exceptions including parts of Wrigleyville, Lincoln Park and Lakeview. Ald. Michele Smith (43rd) and Ald. Tom Tunney (44th) did not want their wards to be included.
Nearly the entire South Side is left out of the coverage area. While users can drive to the South Side, vehicles must be returned north of Cermak Road.
In a statement, Smith said it is "not realistic or wise" to strain the parking situation further. 
"Residential zoned parking was put in place to help residents cope with a scarcity of parking due to the many wonderful venues and businesses we have in the ward as well as non-city commuters who regularly park in the neighborhoods and then ride public transit downtown," Smith said Friday. 
The company is able to pull off this parking wizardry without racking up tickets thanks to a brand new city sticker code, FFV for "free-floating vehicle." Currently, the code is only being used by car2go.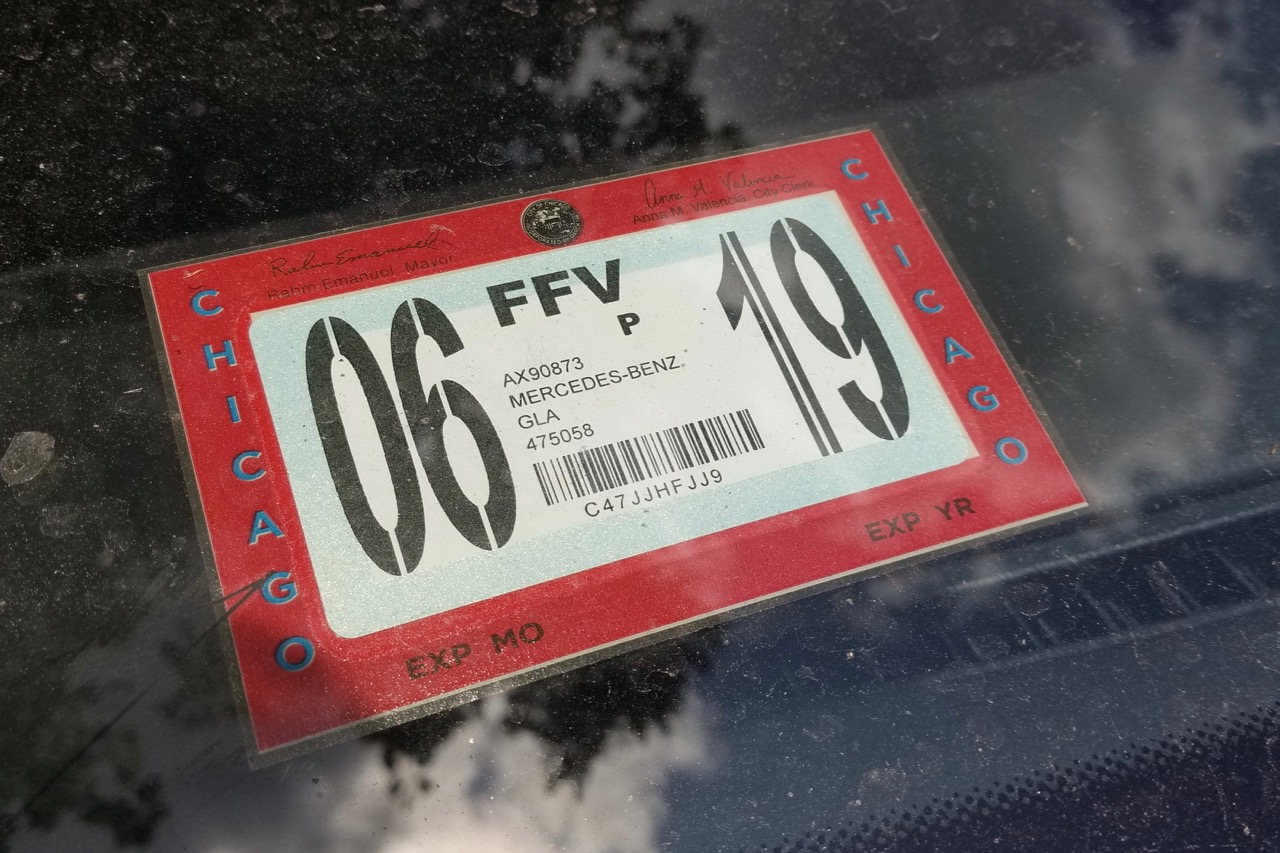 Like Smith, Ald Scott Waguespack (32nd) is opposed to the cars being allowed to park on residential zoned streets.
"We've had a few people call in and ask, 'What are these cars and why are they allowed to park here?" Waguespack said on Friday. "It defeats the whole point of residential zoned parking if the city can let an outside business come in and do it. Employees at local businesses can't even park on [zoned] residential streets, unless the owner of the building gets a sticker, that's alway been an issue."
Kate LeFurgy, a spokeswoman for the Office of the City Clerk, said car2go paid $63,662.62 for 391 city stickers and parking zone stickers. That amount reflects car2go paying $75 per annual parking zone sticker instead of the $25 that residents pay.
"Car2Go paid $87.82 (price of a regular city sticker) plus $75 to have the FFV code on the sticker, which allows them to park in any residential zone within the program area," LeFurgy said via email. "In total, they paid $162.82 per sticker. I'd like to note that residents would have to pay $87.82 for their sticker + $25 for their annual residential zone, so Car2Go is paying more."
The city's free-float carshare pilot program allows car2go to operate through June 30, 2019, but gives City Council the option to end it by the end of 2018 if they aren't happy with it, according to the ordinance. 
Ald. Joe Moreno (1st) who introduced the free-floating vehicle ordinance, did not respond to a request for comment about the car2go debut. Back in March, Moreno told WTTW-Channel 11 he likes any program that reduces car ownership in the city.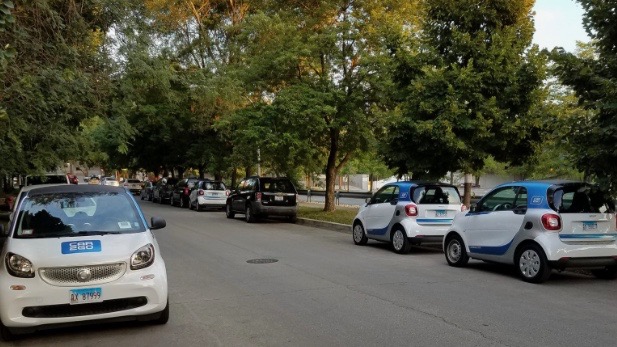 Kendell Kelton, a spokesperson for car2go, said roughly 10,000 Chicago residents each month were visiting car2go's app in the months leading up to last week's launch, but couldn't provide the number of Chicago registrants as of Friday.
"It just reaffirmed for us that this is a city we needed to be in, by the amount of people looking into it. We're excited to be participating in the pilot," Kelton said.
Though the pilot program gives car2go the ability to bring 500 cars to the streets, Kelton said at this time they're sticking to around 400 as the program ramps up.
Currently car2go has 200 smart cars, 113 Mercedes Benz CLAs and 87 Mercedes Benz GLAs parked on the streets, Kelton said. 
Car2go is competing with longtime car share company Zipcar, which costs $70 per year to join, or $7 a month, and requires users to drop the vehicle off at the same designated parking lot it departed from. The ability to make one-way trips as well as have more flexibility over where to park is a key advantage for users of car2go.  
In parts of Wicker Park, Bucktown and Ukrainian Village, car2go had 53 cars available on Friday, most parked on side streets.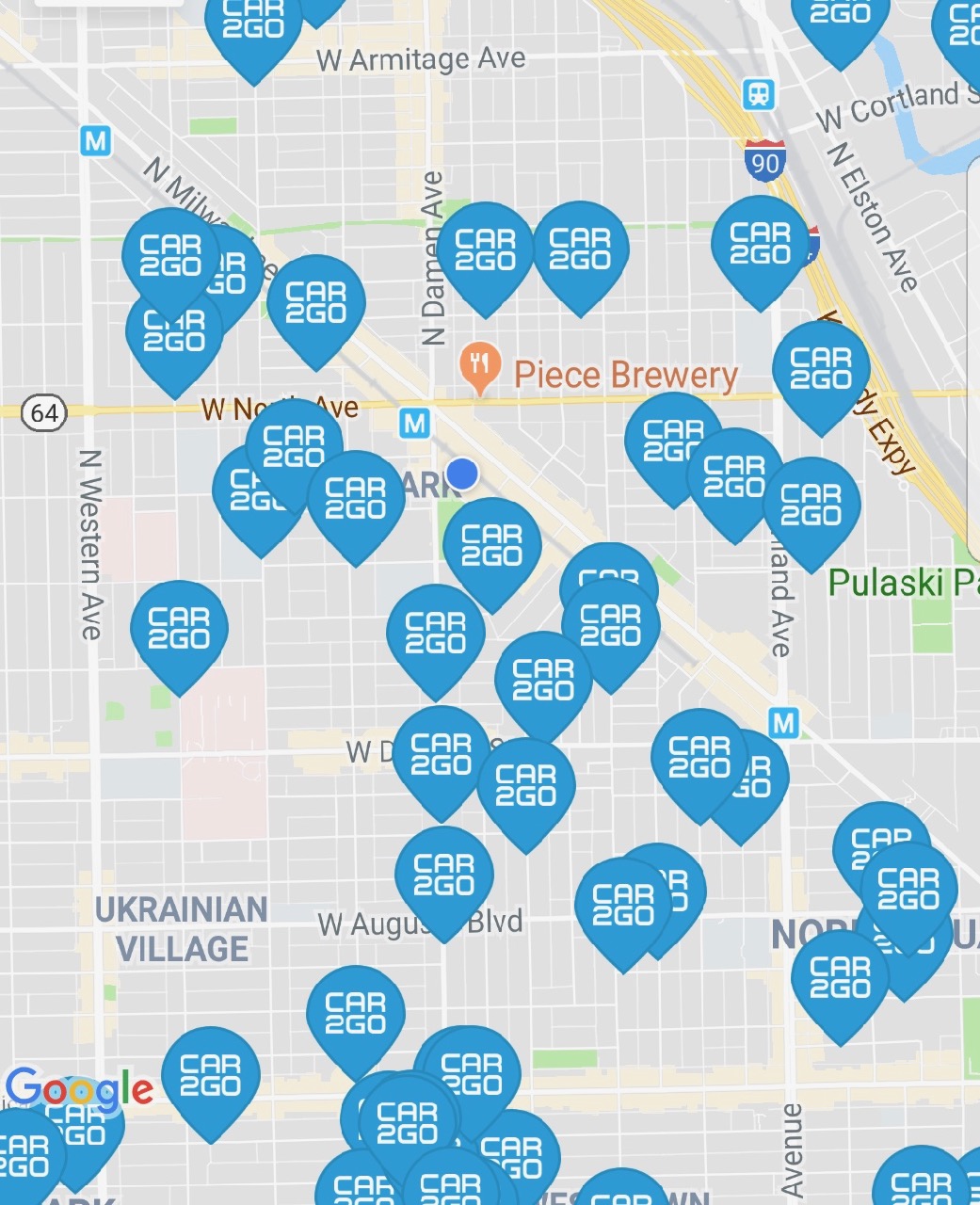 Reservations for a car can be made up to 30 minutes in advance, and users get a designated code to open the door and use the key inside the glove compartment in a Mercedes Benz, or hanging from the dashboard on the fortwos, to drive anywhere they want to go.
Rates start at 29 cents a minute and extend to $15 per hour or $79 per day for a smart car. For a Mercedes-Benz CLA sedan or sportier GLA, rates are 39 cents a minute or $19 per hour or $129 per day. Care can be also be rented in half-hour, three, and six-hour increments. One and two-day packages are available too. Insurance and gas are included in the cost of the rental.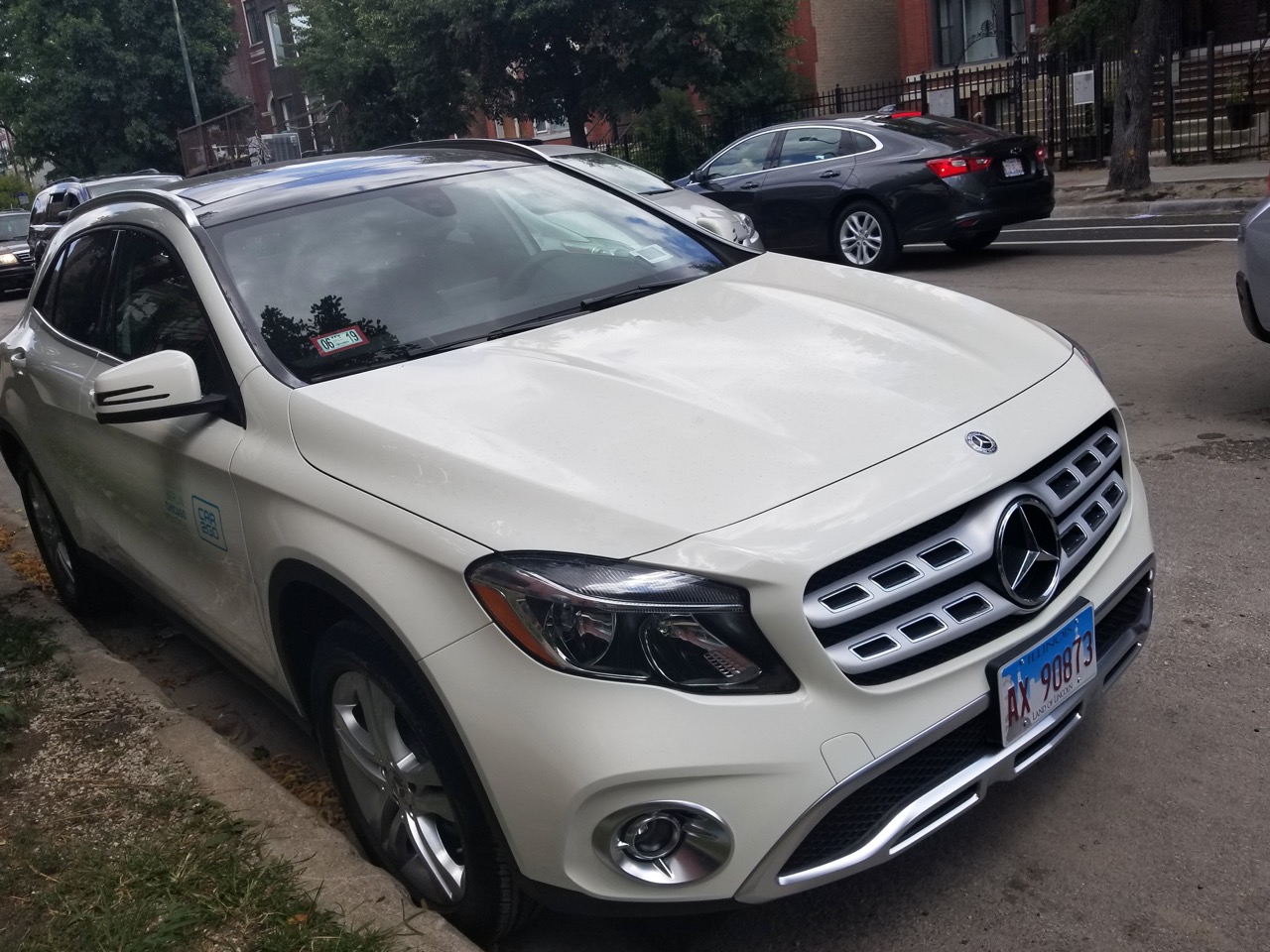 After their trip, drivers are instructed to park the rental car only within the boundaries of the "Chicago Home Area." If a driver parks in an unauthorized area or a metered space and gets a ticket, the Frequently Asked Questions section of the car2go website advises the next renter to place the ticket in the glove compartment box. 

A spokesman for car2go said that the cluster of cars Mazur saw on his street would not be permanent.
"You should see more movement of those vehicles in Wicker Park and Bucktown within the next day or two as more members use them," the spokesman said.
Mazur said the four cars were gone by Thursday.
Based in Stuttgart, Germany, with a North American headquarters in Texas, car2go was founded in 2008 and has over 3.3 million members worldwide, according to a news release. Over 1 million of those members are in the U.S. and Canada, and Chicago represents car2go's 10th North American city.