LOGAN SQUARE — In back of Brentano Elementary, by the school's playground and bright green turf field, there's a cluster of apartment buildings that say a lot about Logan Square.

All six buildings — the only ones you can really see from the back of the school — have been renovated within the last several years, according to school principal Seth Lavin. In each case, developers bought the properties, rehabbed the apartments and hiked up the rent, forcing out residents who could no longer afford them, many of them Hispanic.

Among the residents driven out of their homes were Brentano parents who, for years, and sometimes generations, lived just yards away from their kids' neighborhood school. When the rent went up, those families moved away. Some found new schools, while others managed to keep their kids at Brentano, long bus rides and all.

"Gentrification has made it very difficult for our families who lived here and grew up here to stay in this school," Lavin said. "Our families work so hard to stay Brentano families. We see the housing costs in the neighborhood making that harder every year."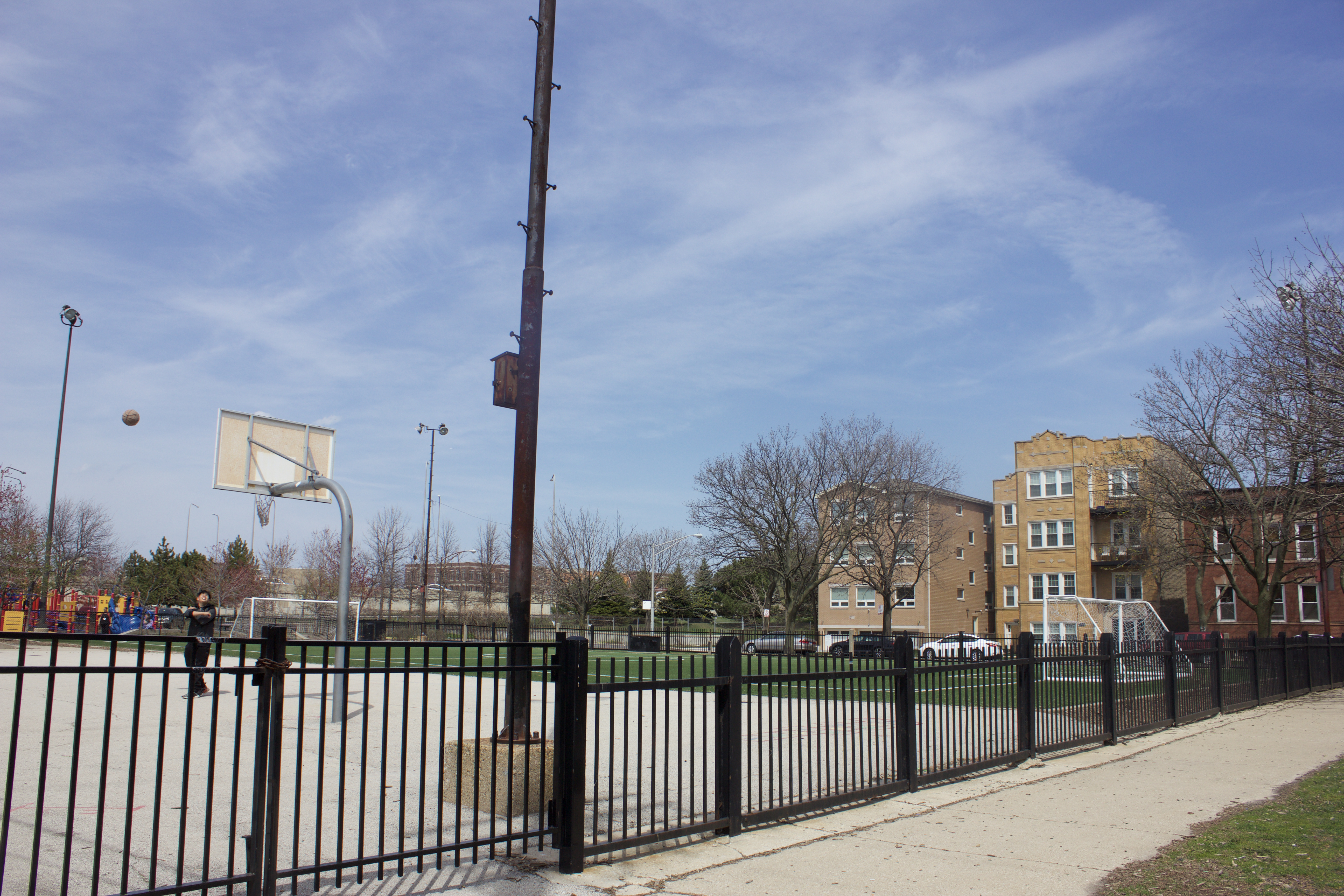 Since 2002, Brentano has lost 411 students, many of them Hispanic. Lavin said during his three years as principal, many of the departing students have been forced out because of the rising costs in the gentrifying neighborhood. The school has gained a number of white students, more than most schools in the neighborhood, data show, but it's still a long way from solving its enrollment problem. (Chicago Public Schools considers ideal enrollment at the school to be 960, but it only has 495 enrolled.)

Brentano isn't the only public school in Logan Square dealing with the effects of gentrification.

Logan Square's overall Hispanic population dropped nearly 40 percent between 2000 and 2014, according to the most recently available U.S. Census data. The number of Hispanic students in all Logan Square public schools fell by about the same percentage over the last 15 years, according to a Block Club Chicago analysis of Chicago Public Schools data. However, Hispanic students weren't replaced in Logan Square public schools by their white counterparts. In fact, data show that even as the overall white population in Logan Square was skyrocketing (nearly 50 percent between 2000 and 2014), the number of white students enrolled at Logan Square public schools fell, too.

How to both retain Hispanic students and attract white students is a question school leaders in Logan Square are grappling with as neighborhood changes mount and housing becomes increasingly more expensive. But the relationship between gentrification and public schools is complex.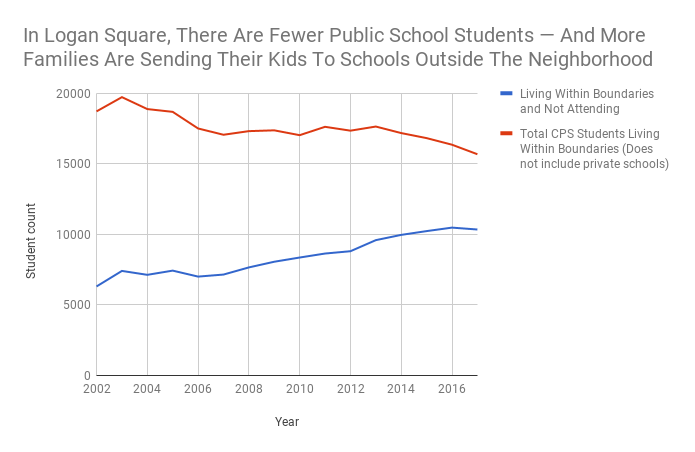 Many of the public schools in Logan Square have improved since 2008, when the district first launched its rating system. Though CPS tweaked the system in 2014, which makes comparisons difficult in some cases, what's clear is today more than half of the schools in Logan Square and the surrounding area have the highest or the second-highest possible rating.
On the whole, higher ratings haven't translated into higher enrollment or more diverse student bodies, Block Club Chicago's analysis shows. In fact, at most Logan Square schools, enrollment is falling and demographics are largely the same as they were 15 years ago.
Rising housing costs is undoubtedly an issue, as is the increasing prevalence of charter schools. Kelvyn Park High School, for example, is dying a slow death (the high school had 2,031 students enrolled in 2002, and now only enrolls 451 students), and many attribute it to the influx of charter schools in the area. The sharp decline is in line with citywide data on the neighborhood high school enrollment rate.
Ultimately, though, the choices parents are making are not as important to the story as Logan Square's changing demographics. As the Latino population has fallen, the overall student-aged population has gone down with it — 16 percent since 2002, according to a Block Club analysis. (The data includes CPS students living in the attendance boundaries of 14 public schools in Logan Square and the surrounding area, including Kelvyn Park High School and Carl Schurz High School. It does not include private school students.)
"This is a community now that the city cares a lot about and not because they care about the residents that have been here for so long, but because they care about the influx of new residents," said Juliet de jesus Alejandre, youth coordinator at Logan Square Neighborhood Association.
"It often feels like an attack on our public schools."

'How do we show parents that our school is great?'

Nick Dykert, who teaches eighth grade at Monroe Elementary, has noticed Logan Square change from a working-class community to a middle- to upper-class community over the last several years. The dramatic socio-economic shift, he said, poses challenges for his school, which serves mostly Hispanic students from working-class families.

"Just in the past six years, the houses on my street have gone from [selling for] $300,000 to $800,000. My neighbors are mostly upper middle-class now," said Dykert, who also lives near the school.
"We don't see the gangs. We don't have that issue anymore, but the other issue is: How do we show parents that our school is great?" 

As Monroe's attendance clerk for 21 years, Matlida Schiffino's observations stretch back much further than Dykert's, but she's come to similar conclusions.

"There used to be a lot of gang activity [in the neighborhood]. Like Haas Park, you couldn't go there or really walk through there [back then]," said Schiffino, who attended Kelvyn Park High School.

"The value of the home has gone up [in Logan Square]. And our school is recognized as [serving] the poverty level. That's where we're seeing a decline. I've seen kids leave because their parents can't afford the rent in the area. It's very expensive."

Like all of Logan Square's public schools, and many public schools across the city, Monroe's enrollment has fallen over the last 15 years. The elementary school, at 3651 W. Schubert Ave., has lost nearly 500 students since 2002, data show. But Monroe isn't getting worse academically. In fact, the school has improved in recent years. Back in 2008, Monroe was a Level 2 school. Today it's a Level 1 school, the second highest rating in the district's ranking system. The system is based on standardized test scores, attendance rates, parent surveys and graduation rates.
Perhaps more importantly, longtime parents and teachers said new principal Bryan Quinlan and his administration are injecting new energy into the school.

Fighting back tears, Schiffino said, "It kinda brings tears to my eyes because we are a Level 1 school now."

"Before you wouldn't want people to tell people you were from here. It was kinda embarrassing because we were on probation. Now it's like, we're rocking it. We're where we're supposed to be."
What hasn't changed at Monroe, according to longtime parents and Principal Quinlan, is the school's "small town" feel and its commitment to neighborhood families.

"Monroe is not a showboat, it's not a flash in the pan," said Quinlan, whose mother and father-in-law both went to the school. "It's a school that has strong traditions and a strong foundation."

The school's demographics haven't changed much over the last 15 years either. It is still a majority-Hispanic school with 96 percent Hispanic students enrolled in 2017, up from the 92 percent it had in 2002, data show. Perhaps because of that, some longtime parents said the only changes they've noticed over the years are outside of school walls.

"I've seen the difference [in the neighborhood over the years], but the community within the school is the same," Maria Gutierrez, president of the Local School Council, said in Spanish through a translator.
"Still the same parents, still the same students. Everybody knows each other here."

One of the challenges then for Monroe — and the rest of the public schools in Logan Square — is bringing in new families.

Quinlan said he's always trying to attract new families through community events and regular social media posts. But he's even more focused on continuing to build up the quality of the school in the face of budget cuts, he said. 

"We're just building the best school. [We're not] really thinking about catering to this or that," Quinlan said.
'The reality is: I know we can't all survive'
For the first time in her seven years as a teacher at Chase Elementary, Christine Dussault doesn't have her own classroom. In fact, she's not teaching at all anymore. Starting this school year, Dussault has a new role: dual language coordinator and English language program coordinator. It wasn't her choice; there simply aren't enough students enrolled at Chase for her to teach, she said.

"My principal said to me, 'We don't have enough kids for you to teach. … We are only going to have one third grade and one fourth grade class [this year]," Dussault said.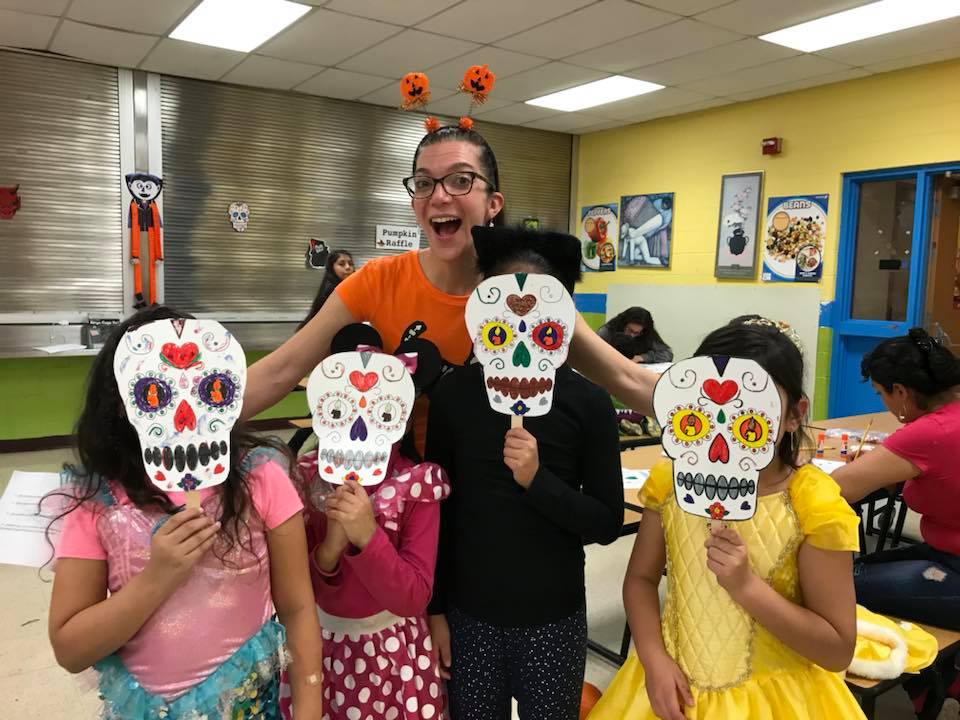 It's difficult for Dussault to watch her school shrink, not just on a personal level, but also as an advocate for Chicago public schools.

"We don't want to be flashy like, 'Come to Chase!' because I think the overall hope is if we stay a strong academic school we will survive," Dussault said. "There's many schools in Logan Square that feel that way, but unfortunately, the reality is: I know we can't all survive."
Chase's enrollment has been cut in half over the last 15 years ago, the second highest percent decrease of all the elementary schools in Logan Square, according to a Block Club Chicago analysis.
Declining enrollment at Chase, at 2021 N. Point St., has forced the school to make cuts to its programming over the years, which hurts its chances at winning over new parents. For example, Chase lost its art teacher, as well as after-school programs. Most recently, the school was struggling to buy enrichment books.

At the same time, the school has improved, going from a Level 3 in 2008 to a Level 1+ school in 2017, the highest rating in the district's system.

About 10 years ago, when it came time for longtime Logan Square resident Pete Doyle to send his oldest daughter to school, he chose St. James Lutheran School, a private school in Lincoln Park, rather than Chase, his neighborhood school. His daughter has autism and needed specialized care, he said.

"We toured [Chase], we had her do a sit-in day. I wanna say it was 32 kids to a teacher. With our daughter's delays at that point in her life, we were like, 'There's no way,'" Doyle said.

A couple years later, Doyle sent his youngest daughter to St. James there, too. He said he's happy with the school, but wonders if he would've made the same decisions today, given how much the school has improved.

"It's different now — the narrative is different," Doyle said of the perception surrounding public schools in Logan Square.
"We weren't against trying to find a public school [back then], but because of my daughter's autism we went down this different path of having a smaller teacher-to-student ratio. … I wonder what Chase is like now. We're all about diversity."

Dussault said her administration is always looking for ways to attract prospective parents like Doyle. Right now, they're in the middle of launching a dual language program, which means students will be taught in Spanish for about 80 percent of the day.

Enrollment numbers don't tell the whole story, and Chase is on the rise, according to Dussault.

"I'm biased because it's my own school, but I think there's an incredible teaching staff here," she said.
All of the improvements make it that much more difficult to watch Chase families get pushed out of the neighborhood, she added.
"The thing that's most heartbreaking to me is when I'm hearing about families and all they have to go through to get their children to Chase school," Dussault said.
"Whether they've been forced out of their apartments, they go to great extremes to get here, but sometimes they just can't anymore."
'If you can't call any place home, that's a problem'

The only elementary school in Logan Square that has lost more students than Chase over the last 15 years is Yates Elementary, 1839 N. Richmond St.

Declining enrollment, plus constant shakeups in leadership, has had a profound effect on the school, according to special education teacher Jhoanna Maldonado.

Because of the school's financial constraints, the bilingual and non-bilingual students are mixed together in one classroom, Maldonado said. The school also lost its bilingual coordinator.

"It's a mess," said Maldonado, who has been teaching at the school for five years and is also on the Local School Council.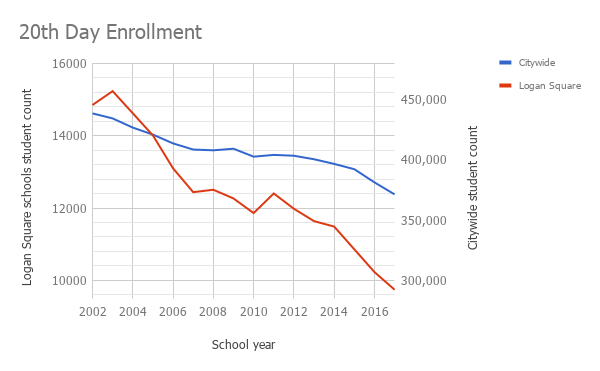 Maldonado said she and her peers are putting their heads together to determine how to set their school apart so it can better compete with other public schools in the neighborhood and beyond. It's a common tactic at struggling public schools — not just in Chicago, but across the country.

"Do we want to be another [Science, Technology, Engineering and Mathematics] school, another [International Baccalaureate] school? We feel like the neighborhood is saturated with that," Maldonado said.
"What our parents support is arts programming. It's really important to the [Local School Council] members that we are pushing that. Here's a neighborhood that's disappearing and looking a lot different, and we could be one of those place that instills a sense of pride in the students."

In her time at Yates, Maldonado said all but one or two of her students have been forced to move away due to rising housing costs, which hurts the school in more ways than one.

"People who live in the neighborhood — within walking distance — should attend their neighborhood school. That is the only way that we build community and people grow roots," she said. "If people continue to move away, and send their kids away, and especially in an immigrant community if you can't call any place home, that's a problem."

The demographics at Chase and Yates haven't changed much in the last 15 years. Both schools are still majority-Hispanic with small white and black student populations. Yates, unlike Chase, has not improved by the district's standards, remaining a Level 2 school.

'When the white kids came in, their school changed'

Brentano was the only Logan Square school to make the district's short list for closure in 2013. The school was ultimately spared, but leaders had to fight to keep it open.

Five years after hitting rock bottom, Brentano is on an upward trajectory. The school has seen a dramatic increase in lottery applications for kindergarten spots, which has translated into small enrollment gains each year over the last few years. It's improved academically, climbing from a Level 2 to a Level 1+, the district's highest ranking. It's also become the most diverse school in the neighborhood, with the highest percentage of white students enrolled at 18 percent.
Lavin, Brentano's principal for the last three years, said he passionately believes that school integration should honor the history of the neighborhood.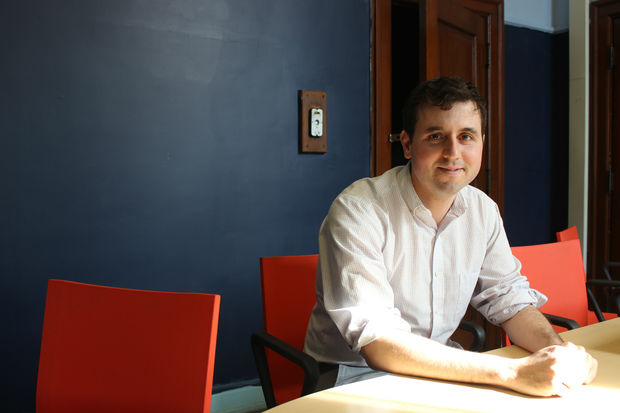 "One thing I make a point of saying on tours now is that this is a majority-minority school, and want it to stay who we are," Lavin said.
"Everybody is welcome, but you have to want to be a part of a diverse school, and a diverse school doesn't mean a school where most people are white, but some people aren't."

Prior to landing at Brentano, Lavin recalls teaching at a high school in Humboldt Park, where his students had gone to elementary schools in Wicker Park as it was gentrifying. Lavin said he carries those conversations with him in his new role as principal.

"They went from going to schools with all black and Latino students to majority white student populations. These kids I taught felt a great sense of losing their school. They felt like when the white kids came in, their school changed, and those kids got everything and they didn't," he said.

"I think about that a lot. I work very hard to make sure that doesn't happen."

It hasn't happened at Brentano — at least not according to Yolanda Vazquez, who has been a parent at the school since 1997.
"I'm 55 and a lot of our new parents are really young. We say, 'Good morning,' to each other. When there are different assemblies or special events, they come in and we associate. It's pretty positive," Vazquez said.
As a child, Vazquez jumped from one elementary school to another, so she made it a point to send all five of her children to Brentano to give them a sense of stability.

"When I moved here and didn't know anyone in the area, I was welcomed [at Brentano]. I found this as home," said Vazquez, who is also on the Local School Council.

Vazquez doesn't live in Brentano's attendance boundaries anymore. In recent years, she moved to a place near Darwin Elementary because housing near Brentano became too expensive. But she kept her youngest child enrolled there despite the move.

"For a while there, it was a big school with very little students. But now every year we get more students. To me, that is very important," she said.

Brentano has earned enough of a positive reputation in a few short years that Logan Square parents like Joan Cinquegrani are applying to the school even though they don't live within the attendance boundaries.

"We're in the Darwin [Elementary] area, which is also making great strides, but we didn't feel like it was the right fit for our family as it stood right now. Brentano is a couple years ahead," Cinquegrani said.

But Cinquegrani, who has lived in the neighborhood for nine years, didn't end up sending her daughter to Brentano. About 10 days before school was set to start, she got a call from Franklin Fine Arts Center, a magnet school in Old Town, saying her daughter had been accepted off the wait list. She sent her to Franklin instead.

"I can't overstate how agonizing this decision was," she said. "We were excited and happy to be sending her to a neighborhood school. It was important to us. But we decided to accept the position at Franklin. Number one because I'm a singer and the fine arts aspect was an important element."

The secondary reason is a common refrain among Chicago parents.

"With a neighborhood school, when budget crunches come, the things that aren't required by the state get cut," she said. "That was part of the consideration."