NOBLE SQUARE — "There is no place just like this place anywhere near this place, so this must be the place."
The hand-painted sign on the wall of Podhalanka, a cozy neighborhood restaurant at Ashland Avenue and Division Street known for its home-cooked Polish dishes does not lie: there is no place like it. 
Helena Madej's restaurant has somehow remained unchanged over more than three decades in a neighborhood that has radically transformed around it. 
Podhalanka Polska Restauracja, 1549 W. Division St., is sandwiched between a currency exchange and evilOlive nightclub. Arguably it's the only authentic Polish business still standing at the busy "Polonia Triangle" intersection.
It's the only spot in the neighborhood to indulge in Eastern European classics like pierogi topped with onions and a dollop of applesauce or sour cream and wash it down with homemade beet juice, like Moline residents Sue Lerschen-Cassa, and her sister Lorie Green-Francis were doing on a recent Monday afternoon.
Earlier in the day, the Quad City sisters had driven up to Chicago for Green-Francis' doctor appointment at UIC-Medical Center. Green-Francis was craving home-cooked food before the long ride home.
It was Green-Francis' first visit to Podhalanka. Lerschen-Cassa hosted an exchange student from Poland a few years ago and says she made it a point to take the student to Podhalanka when they visited Chicago. She wanted her sister to experience Podhalanka too.
"This is delicious; we will be back," Green-Francis said.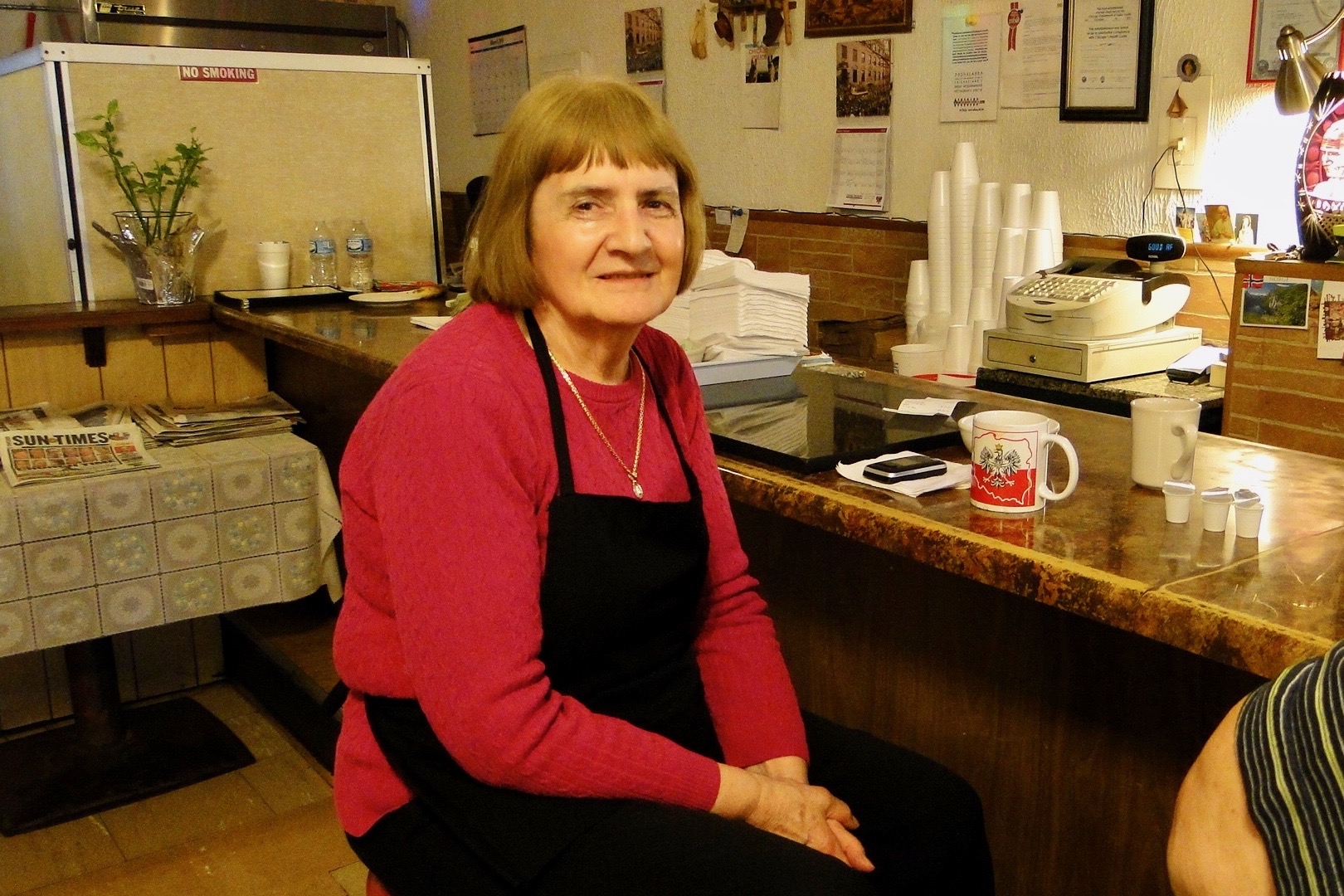 Owner Madej and her nephew Greg Jamka, who joined his aunt at Podhalanka about 15 years ago, credit their eatery's longevity to loyal customers in the Polish community, catering orders for events like Wigilia, a Polish multi-course Christmas-time feast and word-of-mouth from American fans.
"My business [then] was only Polish. My business grew because after Polish people leaving, people bring in more friends, American friends," Madej says.
Born in Głogów, an industrial town about 25 miles south of Kraków, Madej stayed briefly in Chicago in the early 1970s with relatives and returned in the early 80s to live here permanently.
On July 1, 1986, Madej took over a five-year-old Polish restaurant at the corner run by her older brother, then the only sustenance on a block packed with five neighboring bars. 
"I'm very strong woman. The restaurant business is hard work but I like it," Madej said, adding that she gets her strength in part from her father who was a carpenter and also "a strong character."
She can't recall the name of her brother's restaurant but she renamed it "Podhalanka," originating from the southern Poland region of Podhale which literally means "under the mountain meadows."
Years ago, there was a brown mountain range painted on the sign in front of Podhalanka. Most of the mountain has faded but the peaks are still visible. Podhale's famous mountain resort, Zakopane, coincidentally is also the name of a nearby bar at 1734 W. Division St.
Madej says Podhalanka is an informal name for a "village girl" from the hills of Podhale, a region she vacationed in growing up and less frequently as a busy small business owner.
Madej's homey restaurant is adorned with strings of holiday lights year-round. The dining tables are covered in vinyl tablecloths patterned with tree leaves. There is a white leather loveseat for those who just want to hang out and a rack of Polish language holiday cards for sale. The front window is crammed with houseplants that are older than many of Madej's Millennial customers.
Portraits of deceased Congressman Dan Rostenkowski and Pope John Paul II watch over diners. Dozens of postcards from vacationing friends of Madej's line the wall behind the counter.
In the mid-1990s, about seven years after she took over the restaurant, Madej said many of "the Polish neighborhood people" sold their homes and moved to the suburbs.
"There were Polish businesses everywhere [in Wicker Park] at that time," she says.
There was Polish butcher Andy's Deli at 1741 W. Division St., which ended up relocating to Jefferson Park. A fancy restaurant named Mareva's at 1250 N. Milwaukee Ave., which Madej said might have lasted longer but the prices were "too high for Wicker Park."
The Busy Bee next to the Damen Blue line — one "L" stop west and run by Sophie Madej (no relation,) — also attracted a lot of Polish customers. Sophie Madej was well known in the Polish community, Helena Madej says.
What People Say about Podhalanka
The more than 400 reviews on Yelp for Podhalanka are overwhelmingly positive, with many describing Podhalanka as a "hidden gem" and comparing Madej to their own Polish grandma.
One recent account says, "If you don't love this place, you don't have a soul," while another reviewer was affronted by Jamka's too-pushy style.
Jamka likely learned from his aunt. In a 2011 Tribune story,  "When the Polish lady says soup, you say yes," writer Kevin Pang recounts Madej's habit of ordering food for customers before they've had time to marinate over the menu.
Roman Bach, a second-generation newsstand owner who sells papers and magazines out of a kiosk on the sidewalk outside the eatery, said he often eats lunch at Podhalanka.
"Just good food, simple food. No superlative adjectives needed," Bach recently said. "It's the common man's cuisine, very utilitarian good food. When it comes to food nowadays everyone is looking for superlative. It's European farm food, peasant food, you know, the potato, the meat, the stuffed cabbage, nothing fancy or French or superlative about it."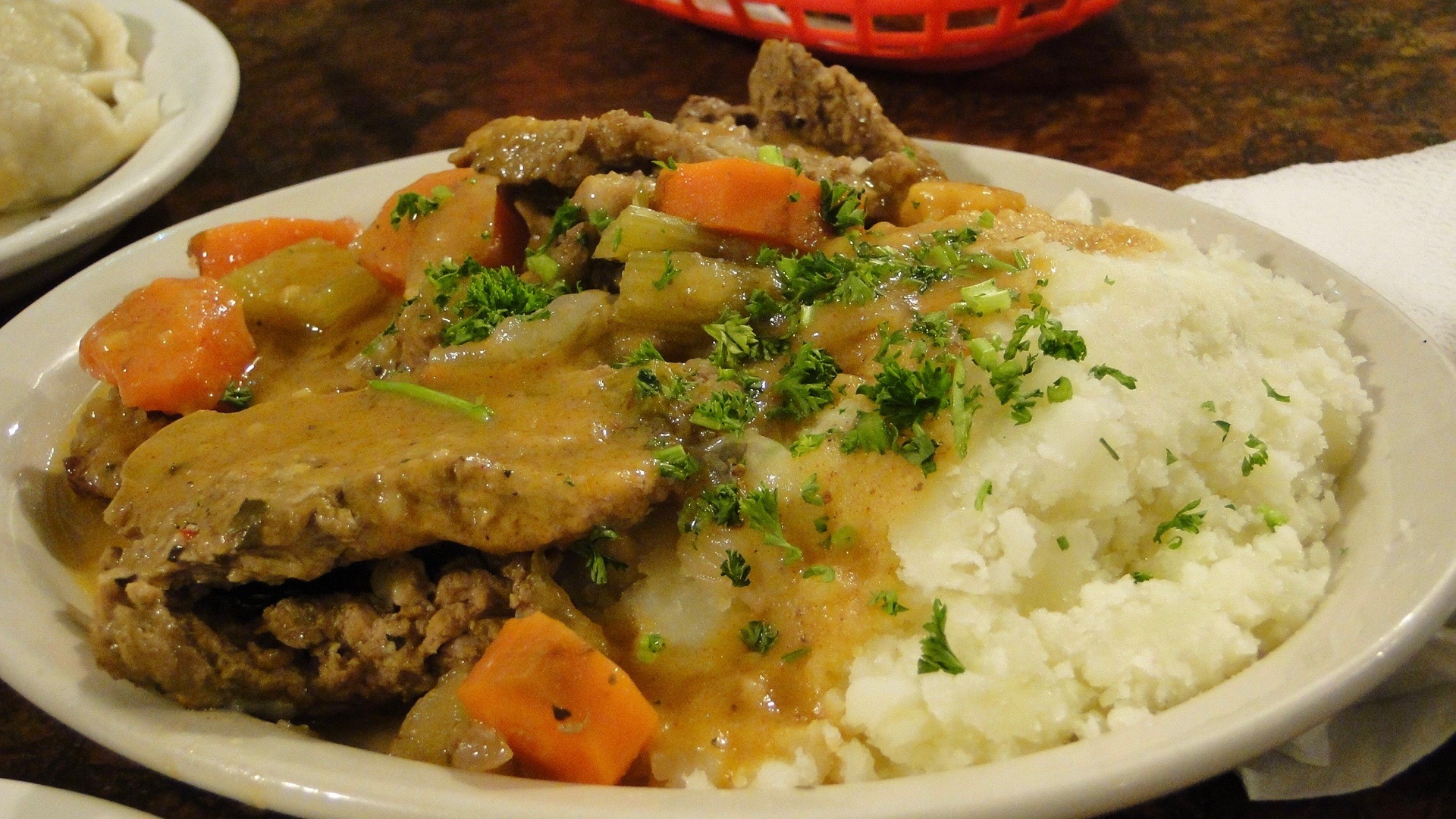 The menu offers six different kinds of soup, three varieties of pierogi and several classics like stuffed cabbage and potato pancakes. Prices start at $1.50 for Zupa Mleczna, hot cereal and milk, and top out at $12.75 for a bitki wolowe, or beef tenderloin.
Madej says she strives to cook "home-cooked food" and her best sellers are pierogies and potato pancakes.
Along with Jamka and a longtime friend of Madej's who helps out in the kitchen, the staff of three keep the restaurant going. They have no plans of stopping.
Asked how she has managed to stay put when so many other businesses have closed or relocated, Madej said: "I like people. The customers change and I change. I needed to change my mind to the American people, the different people [who eat here] now."
There is another hand-painted sign hanging on the wall.
It says, "Keep this place in mind, for a better one is hard to find!" 
Podhalanka, 1549 W. Division St.  Hours are 9 a.m.- 8 p.m.  Monday-Saturday; 10 a.m. – 7 p.m. Sunday. Ph: 773-486-6655.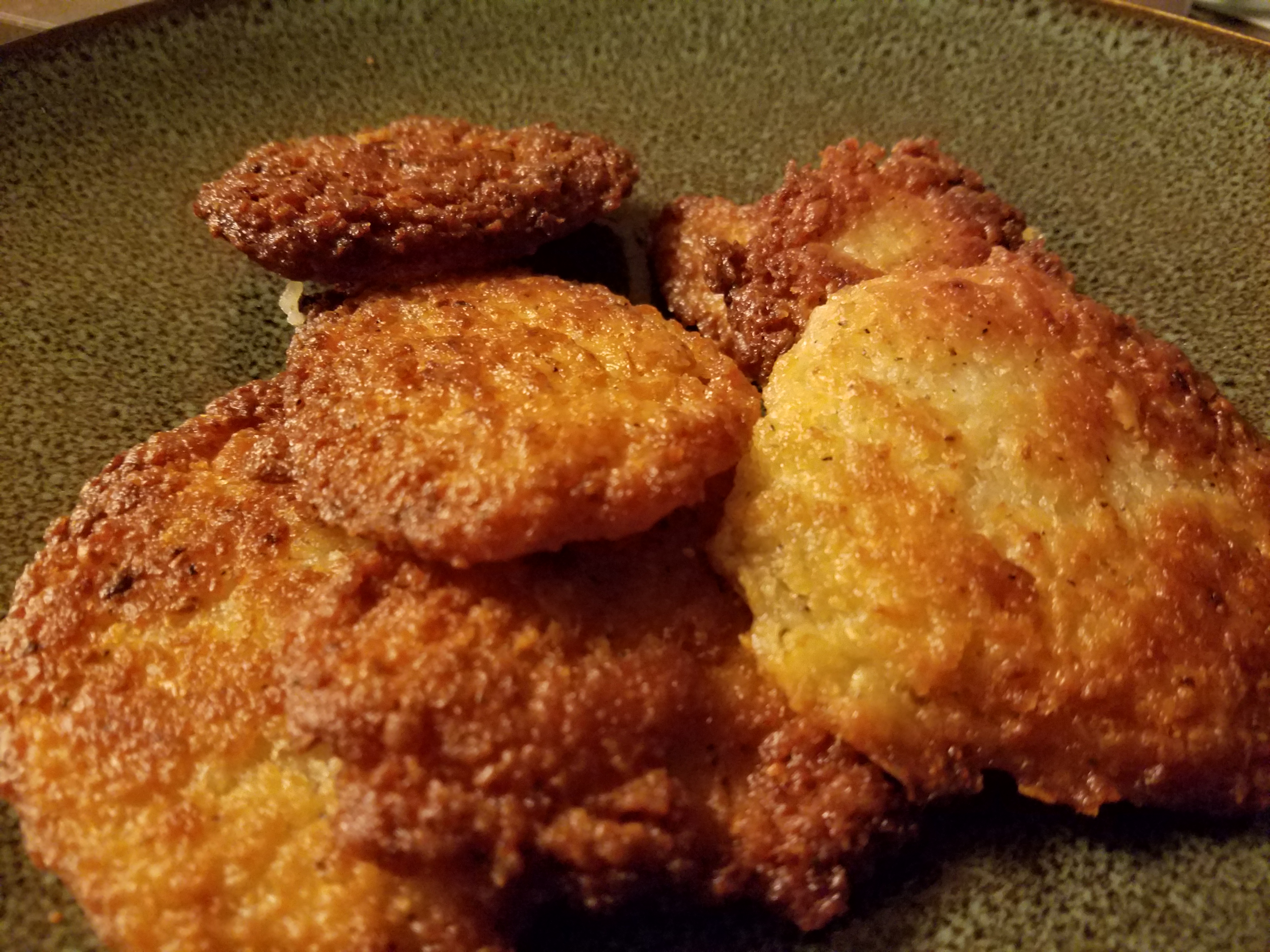 Helena Madej's Potato Pancakes, makes 24, serves 6:
4 large whole Idaho potatoes
3 eggs
One half of a large yellow onion
Two cloves of garlic
1/2 cup of flour
Salt and pepper to taste
Vegetable oil
Clean and peel the potato skins. If you do not have an industrial strength machine that can mash raw potatoes (like Madej does), we suggest boiling the potatoes until soft, and then mashing the taters with a hand-held masher.**
In a small bowl, beat the eggs with a fork.
Chop the onion.
Mince the garlic.
Stir the chopped onion and minced garlic into the beaten eggs.
In a large bowl, combine all ingredients with the potatoes and mix thoroughly.
If the mixture is too runny add more flour; if it's too thick add another beaten egg.
Pour a half-inch of vegetable oil in a frying pan on medium heat and wait until it heats up.
Take a spoonful of batter. Put in into the hot oil. Be patient and wait for it to brown at the edges before flipping with a spatula.
Refrigerate any leftover batter. The longest it can stay refrigerated is 1-day or 2 days maximum due to raw eggs. Madej says don't worry when the top of the batter gets brown after a few hours, just remove the brown film with a spoon and discard it.