RIVER NORTH — Starting this weekend, you can legally gamble on Blackjack and craps in Chicago.
Chicago's first casino, Bally's temporary gaming hall at Medinah Temple, 600 N. Wabash Ave., will open 8 a.m. Saturday and will be open 8 a.m.-5 a.m. seven days a week, officials confirmed. It will eventually be open 24 hours, officials said.
It will operate for at least two years while a permanent casino is being constructed at the Chicago Tribune's publishing plant in River West.
The casino features 750 slot machines, 55 table games, two restaurants and a cafe. Table minimums are $15-$25 depending on the game and time of day, casino leaders said.
The opening comes after state regulators staged "dry runs" at the casino Wednesday and Thursday, with 350 pre-approved guests betting with their own money. A temporary gaming permit was expected to be issued as early as Saturday, which allows the casino to open immediately, officials previously said.
All the proceeds from those rehearsal sessions will be donated to local charities during a ribbon cutting later in September, officials said.
"It is an honor to present our guests with a first-class gaming experience and accomplish the goal of opening a casino within the city limits," Mark Wong, Bally's vice president and general manager, said in a statement. "We look forward to opening our doors and allowing patrons to enjoy every aspect of the latest entertainment destination in this beautiful city." 
Bally's was chosen in May 2022 from three finalists to be Chicago's first casino.
The $1.7 billion permanent site will be built at the Tribune Publishing site, 700 W. Chicago Ave., and double as a resort with 3,400 slots and 173 table games in addition to an exhibition hall, 500-room hotel, a 3,000-seat theater and 11 restaurants.
The city tax revenue from both the temporary and permanent sites are earmarked for its underfunded police and firefighter pensions.
The temporary casino also was supposed to be at the Tribune site, but city leaders switched location to Medinah Temple after concerns were raised about traffic on Chicago Avenue location during construction of the permanent site.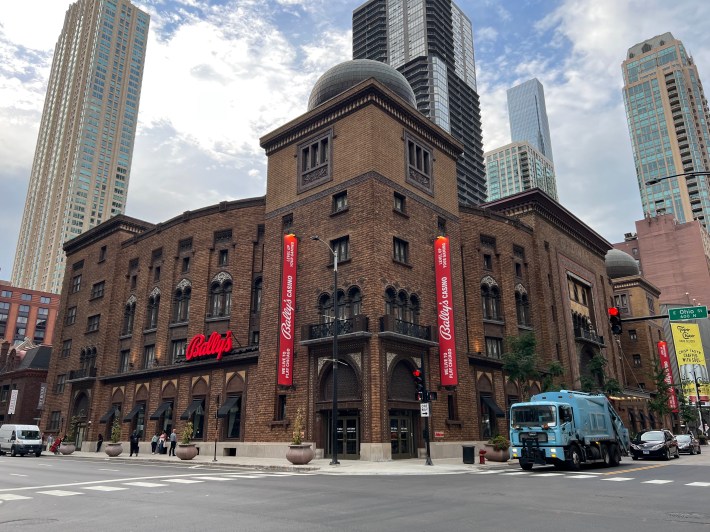 Entering the first floor, guests are welcomed by 400 slot machines that can be seen glimmering through the casino's entrance along Wabash. Some of the slots available include Cash Falls, Butterfly Rise, Queenie and Ocean Spin.
A large circular bar is in the center of the first floor, complete with granite countertops and red leather chairs. Each slot has its own brown leather chair, complete with a red embroidered "B" on the back.
Wabash Cafe, located on the main floor, will offer to-go items like juices, coffee sandwiches and hot dogs. Prices for various items range from $9-$12, according to a menu displayed Tuesday.
The other two restaurants are on the third floor and include an Asian fusion spot seating 54 people and a bistro, serving 65 people.
Table games are located on the second and third floors and include craps, blackjack, baccarat, roulette and other games. Table minimums will vary based on the time of day, but players can expect $15-$25 or higher if playing on the VIP tables on the top floor, said Ameet Patel, a senior vice president at Bally's.
Medinah Temple is fully staffed with 700 employees, all certified with the Illinois Gaming Board, Bally's officials said.
Dealers can start at $9.50 an hour, with the opportunity to earn 25-50 cents more an hour for each additional table game they learn. Tips are pooled and can average another $25-$45 an hour, company officials have said.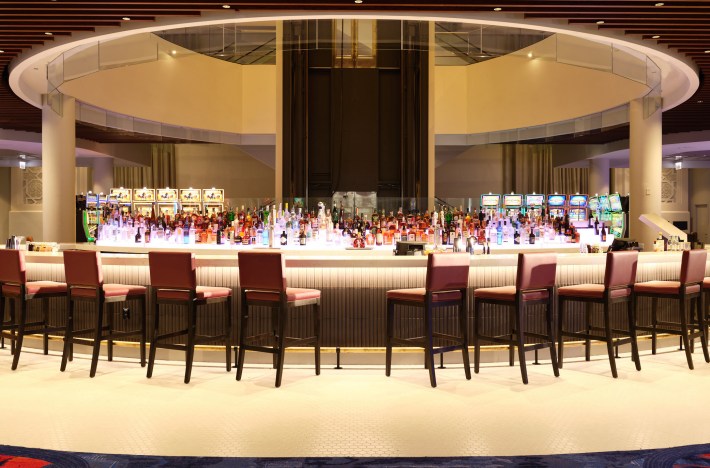 Ahead of the casino's opening, Bally's made adjustments to its operating plan. Previous plans show the company had planned to have valet parking, but that has since been eliminated.
Bally's has also said it won't be contracting with any charter buses to bring people to Medinah Temple, a common and controversial casino practice. Patel said Bally's eliminated that service because of the potential to worsen traffic congestion, which has been a concern for neighbors.
Still, Bally's does not have the backing of local Ald. Brendan Reilly (42nd), who has fiercely pushed back against casino plans and told Block Club Chicago he is still "vehemently opposed to the casino opening at Medinah Temple."
Reilly blasted the Medinah Temple's traffic study last year, labeling it "seriously flawed" and calling for an independent analysis that never happened.
"For many months I have been asking for detailed traffic and safety plans for the temporary casino — I still have not received detailed plans with firm commitments on police force levels within the radius of the casino and nearby parking garages; traffic management aides; or external private security deployments," Reilly said in an email.
Brian Israel, director emeritus of the River North Residents Association, told Block Club Chicago he and others are worried about potential crime in the immediate vicinity.
Israel and the neighbors group organized against the casino, saying it would disrupt traffic and the overall livelihoods of people who live Downtown. Now that it's official, the organization has shifted focus to maintaining quality of life for neighbors.
"These areas have experienced a significant increase in levels of serious crime in the past few years …i f you think about thousands of casino patrons moving through the area at all hours to gamble, it's just hard to imagine how that makes the situation better," Israel said.
The Medinah Temple temporary casino is expected to bring in $55 million in tax revenue each year, according to the Sun-Times.
The permanent Bally's casino at Tribune Publishing, 700 W. Chicago Ave., will include 3,400 slots, 173 table games, 500 hotel rooms, a 3,000-seat entertainment venue, six restaurants, a food hall and three bars.
The company has committed to $75 million in infrastructure improvement projects around the casino site, which include projects ranging from synchronized traffic signals to reconstruction and widening of nearby roads.
Tribune Publishing has agreed to leave the building by July 2024, paving the way for construction of the permanent site to start next year and be completed in 2026.
Watch our "On The Block" TV show on The U, CW26 and MeTV.
Listen to "It's All Good: A Block Club Chicago Podcast":