RIVER WEST — A popular River West bookstore is reopening this weekend with a renovated storefront and new business model that its owner hopes will bolster its mission of supporting literacy efforts across Chicago.
Semicolon Bookstore, 515 N. Halsted St., will open its doors Saturday for the first time in almost three months.
Owner Danielle Mullen spent the summer renovating the shop and putting the final touches on transitioning her business to a nonprofit, which means it can now receive grants and other funding it wasn't previously eligible for.
She said all the changes will help her advance the bookstore's founding goal: to "bridge the literacy gap" in Chicago's Black and Brown communities.
"We find that a lot of the kids disinterested in literacy is because they have some issues with reading. And we want to make them feel safe, like OK, you're 16 reading at a fourth-grade reading level; let's find something that you're going to like at that level," she said. "I needed to be in a space where we can focus on the mission of providing that accessibility without having to force you to buy things to do that."
During the renovation, Mullen removed an interior wall and added more seating, a more prominent children's section and a reading room in the back.
Semicolon will also now sell only about 30 percent of its books at full price to ensure more people can access its inventory, Mullen said.
"Bookstores are built so that you're constantly pushing books. Like, you see books here, books here, books here. And for us, it has to be more about the conversation," Mullen said. "I wanted to get off of that hamster wheel."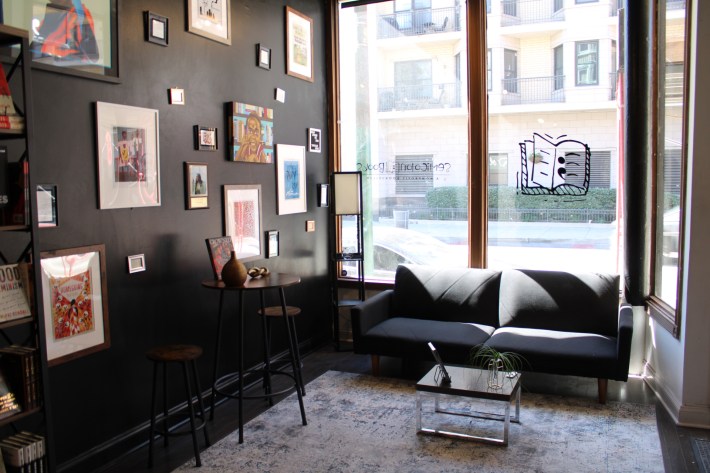 Mullen opened Semicolon at its River West location in 2019, garnering attention for being Chicago's only brick-and-mortar bookstore owned by a Black woman.
Sales surged in the summer 2020 when the social justice protests following the murder of George Floyd inspired more people to support Black-owned businesses. The following year, Mullen moved the store into a larger space on Division Street in Wicker Park.
While business at the store was solid, the rent was higher and there was less of a community feel than in River West, Mullen said. Last year, she moved Semicolon back to its original space with plans to buy the building, a process she said is still ongoing.
When it reopens this weekend, the bookstore will only be open to the public Thursday-Saturday so Mullen and her team can focus more on hosting school visits and organizing book donations.
In addition to working with Chicago Public Schools, Mullen also supplies books to Chicago rapper Vic Mensa's Books Before Bars program, which sends books to incarcerated people across Illinois.
Mullen said Thursday the new version of Semicolon feels as much like a community organization as it does a bookstore. Still, she doesn't want people to forget it's still a great place to find something to read.
"I'm excited to have people back in the space. I'm excited to be able to talk about books. This is so much space to just be like, 'Have you read that book already?' I love that," she said.
Mullen is in the midst of planning her next project, too.
For the past eight months, she's been working out details to open a Semicolon branch in Fifth City Commons, an affordable housing complex under construction in East Garfield Park.
The location will include not only a bookstore but also a restaurant, with a similar vibe to the Busboys and Poets chain in the Washington, D.C. area, Mullen said.
In the meantime, Mullen said she can't wait to see her regular customers and show off Semicolon's new digs this weekend.
"We took our time and it feels like home again, and not like a business," Mullen said. "I love that. I'm so grateful."
Semicolon will be open noon-6 p.m. Thursday-Saturday.
Watch our "On The Block" TV show on The U, CW26 and MeTV.
Listen to "It's All Good: A Block Club Chicago Podcast":