CHICAGO — For many lifelong Illinois residents, it's a point of pride: There is no Department of Motor Vehicles, or DMV, in the state.
Instead, Secretary of State driver facilities fulfill all the typical services and requirements of what people in other states call a DMV.
But in recent press releases and on its website, the Secretary of State's office has been using "DMV" to refer to its dozens of locations where people can get their drivers license renewed, take a driving test or register their car.
And as Secretary of State Alexi Giannoulias rolled out his Skip-The-Line initiative Thursday — which, starting Friday, will require appointments at most Chicago-area driver facilities — he used the term numerous times.
"In the past, when a customer had to visit a DMV, it was impossible to know how long they would be stuck waiting in line," Giannoulias said. "If you are required to visit a DMV, starting tomorrow, Sept. 1, all Chicago and suburban DMVs will now require an appointment."
So, has Illinois created a new Department of Motor Vehicles to oversee how they give out drivers licenses?
Not quite, Giannoulias said.
"When we say 'DMVs,' we mean drivers and motor vehicle services. I'm not here to talk about other people's confusions, but I think the confusion has been that other DMVs are called Department of Motor Vehicle," Giannoulias said. "It's drivers and motor vehicle services [in Illinois]."
Asked Thursday if "DMV" was part of an official change in terminology by his office, Giannoulias joked that he's "not creative enough" to launch a rebrand. Instead, the acronym is just a way to specifically refer to the services offered at each location, he said.
The "DMVs" in Illinois remain firmly under the Secretary of State, a department Giannoulias took over in January from longtime Secretary of State Jesse White.
In an email to Block Club this week, Secretary of State spokesperson Henry Haupt said "DMV" is the "accurate acronym" for the state's driver facilities.
"Utilizing the Secretary of State's office — or even the acronym SOS — would be too broad to describe a DMV facility location because of the office's variety of programs and services," Haupt said in the email. "The Secretary of State's office features departments that are described according to the services they provide. For instance, Business Services, Archives and the State Library are all described independently and not just labeled Office of the Secretary of State."
Since coming into office, Giannoulias has launched a series of initiatives to modernize the office. The Skip-The-Line program aims to reduce wait times and streamline operations at the state's busiest driver facilities, while giving residents more predictability.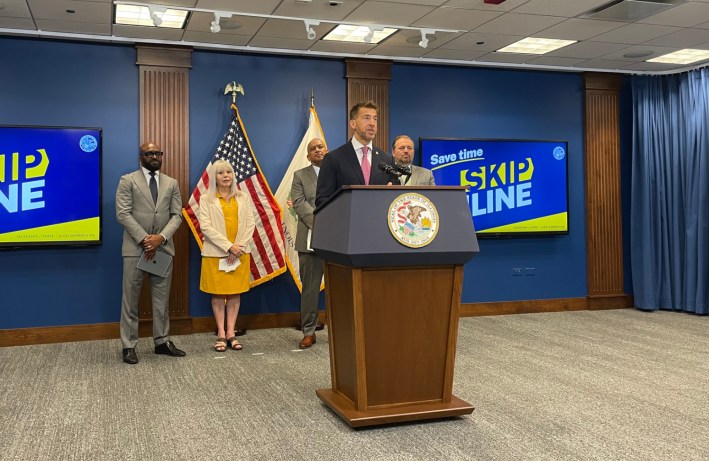 Starting Friday, in-person visits at the state's 44 busiest facilities will require appointments to be made ahead of time.
That includes almost every facility in Chicago and the suburbs, with the exception of the Secretary of State's Loop site, which will still accept walk-ins. A full list of impacted facilities is available here.
Appointments can be made online or via phone at (844) 817-4649. Vehicle-related services like title and registration or license plate renewal do not require appointments.
The Secretary of State began requiring appointments at certain driver facilities in 2021. The Skip-The-Line program expands that number and does away with all walk-ins at the busiest locations.
If someone does show up without an appointment, staff will help them schedule one for as soon as possible, Giannoulias said.
"We have tablets there, we will try and get them an appointment at that time, if there's one available, we'll try and get them one that day," he said. "The challenge we've had in the past is we try to straddle both, taking walk-ins and appointments, and it was the worst of both worlds … People made appointments and ended up waiting for their appointment time. It put way too much strain on our folks."
In addition to the new appointment requirements, every driver facility will now be open on Mondays, and some on Saturday mornings. The Secretary of State's office is also encouraging residents to access routine services online, like renewing their license or license plate sticker.
Watch our "On The Block" TV show on The U, CW26 and MeTV.
Listen to "It's All Good: A Block Club Chicago Podcast":