WEST GARFIELD PARK — Malcolm X College is expanding its West Garfield Park campus to provide a new community center and grow its student base.
The Community Center for Teaching and Learning will be a 3,000-square-foot expansion to the West Side Learning Center, the school's satellite campus at 4624 W. Madison St. The campus hosts programs in nursing, health science, adult education, and community and continuing education, according to its website.
The primary campus is on Near West Side.
A previous phase of the work renovated the building to create new biology labs.
This second phase will offer additional learning spaces for the campus' predominantly nursing and health science student body and also serve as a rentable event space, school officials said. Crews also will continue renovations on the existing building, according to a press release.
The expansion will cost around $9.5 million, Malcolm X College President David Sanders said in a statement. Construction is scheduled to start in fall 2024, officials said.
The expansion was necessary due to the growth of the nursing and medical assistant programs, Sanders said. There were once 30 students in those fields, but now there are more than 600 students, he said. 
The finished area will boost the capacity to 2,000 students across all majors when the expansion is completed by 2026, Sanders said.
"We believe that this is going to be a catalyst for the community," Sanders said. "We want the community to thrive and show that every person is capable of learning. The opportunity is tremendous."
The timeline for the third phase, which could include a lab for health science students, is not yet known.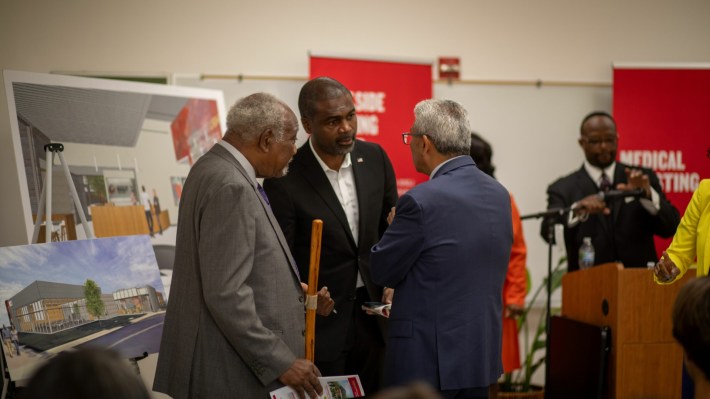 The plans for the expansion have been in the works since 2017. Legislative efforts from Rep. La Shawn Ford secured $5 million in state funding this year for the work with the City Colleges putting up the rest of the money.
A lifelong West Sider, Ford said he believes students getting careers in the medical field will benefit the economic potential of the community and health outcomes for neighbors.
Both Ford and Sanders said mistrust in doctors and nurses is common in Black communities, and having more Black health care providers could provide a sense of trust and familiarity.
Investing in Garfield Park's economic future is equally important as the medical industry grows, Ford said.
"When you look at healthcare disparities, we need more competent people who understand our health," Ford said. "Having people from the neighborhood going into the healthcare sector is major."
Watch our "On The Block" TV show on The U, CW26 and MeTV.
Listen to "It's All Good: A Block Club Chicago Podcast":