AUSTIN — A credit union is coming to Austin, a neighborhood that has long been devoid of banking access.
Local officials and representatives of Great Lakes Credit Union on Monday announced a partnership with the Leaders Network, a coalition of church leaders that will bring the Leaders Network Financial Credit Union to the West Side.
The groups made the announcement at the future home of the Leaders Network Financial Credit Union, 5600 W. Madison St., formerly a shoe store. Two years in the making, the credit union is expected to open in late February, according to Great Lakes representatives.
State regulators had approved the partnership between Great Lakes and the Leaders Network in the spring, according to the Sun-Times.
The Leaders Network, which focuses on economic empowerment on Chicago's West Side, raised $250,000 to bring a Great Lakes branch to the neighborhood and will invest that money back into the credit union, its leaders said. Great Lakes has committed about $600,000 to the project, according to a press release.
When the Leaders Network Financial Credit Union opens, it will have a full-time financial counselor on-site accessible to the entire community, regardless of their membership in the credit union, according to Steven Bugg, president and CEO of Great Lakes Credit Union. While banks are for-profit entities, a credit union is a nonprofit financial institution owned by its members — the people who bank there.
"Our purpose is to empower Austin to economically grow as a community, and this is that first step in the right direction," Bugg said.
Monday's announcement came on the 60th anniversary of Dr. Martin Luther King Jr.'s landmark "I Have a Dream" speech. Rev. Marshall Hatch, co-chair of the Leaders Network, said the new credit union will enable West Siders to "cash their check," as King mentioned.
"We are continuing that tradition and dream," Hatch said. "We did not get our 40 acres and a mule, but that does not stop us from coming together."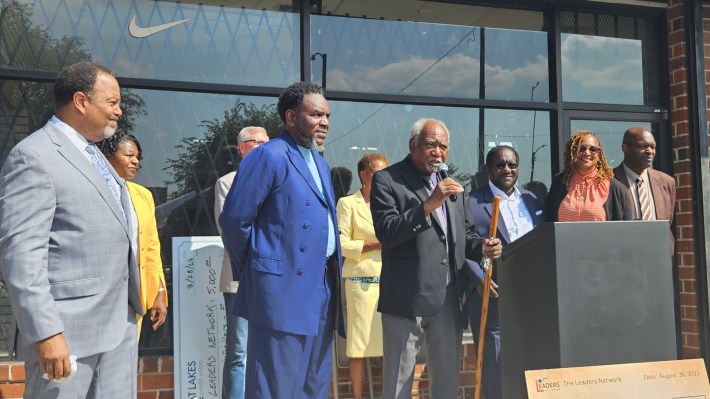 Great Lakes Credit Union has 12 suburban locations, but this is its second branch within city limits. The other Chicago location is at 1011 W. Lawrence Ave. in Uptown.
Despite Austin being Chicago's second most populous community area, there is a scarcity of banks and credit unions in the neighborhood compared to currency exchanges and payday loan operators.
According to a 2021 study by the Brookings Institute, the number of banks in the U.S. in majority-Black neighborhoods such as Austin decreased 14.6 percent since 2010. And data from the Chicago Health Atlas shows that one out of five adults in Austin do not have a checking or savings account.
The Brookings study and Leaders Network members pointed to decades-old discriminatory practices such as redlining as a reason for the lack of bank access. Redlining is the practice of withholding bank loans and services from people in neighborhoods deemed risky for investment.
The lack of banking access has led to a stark disparity of investment in the community as well. A report by WBEZ in 2020 found that for every dollar banks loaned to Chicago's white neighborhoods, they invested 13 cents in the city's Latino neighborhoods and 12 cents in Black neighborhoods.
The Leaders Network Financial Credit Union aims to address that disparity by providing Austin neighbors with financial literacy resources and access to capital through loans, lines of credit, mortgages and more, officials said.
"We don't truly understand our value," Leaders Network member Patty Ringo said. "When we understand who we are and get the foundational teachings we need, we can [economically] engage on a bigger level. We cannot lift each other up alone."
Bugg said Great Lakes is considering opening branches in other nearby communities as well.
"We hope that other small businesses will come back to the community. We need more local businesses so that residents don't have to leave the area [to find opportunities]," Bugg said.
Watch our "On The Block" TV show on The U, CW26 and MeTV.
Listen to "It's All Good: A Block Club Chicago Podcast":