JEFFERSON PARK — What used to be a simple green lawn is now an oasis of colorful native plants and pollinators that stands out on one Jefferson Park bungalow block.
The garden belongs to Jessica Grzegorski and Bradon Webb, who transformed their front lawn into a pollinator pit stop with 40 plant species. The plot has become an attraction for neighbors, butterflies, bees, birds and even cats — and it won them first place in a Chicago Bungalow Association contest.
Voters in the seventh annual contest chose the Grzegorski-Webb garden last month out of 96 entries that included side, rear and planter boxes submissions, said Angela Pauldine, director of communications for the association.
"I feel amazed. I never thought our little yard would get chosen," Webb said.
The Jefferson Park homeowners moved into their bungalow near St. Constance Church, 5843 W. Strong St., in 2019 and spent about two years fixing the front garden, they said.
The couple stripped the grass and found compact shrubs that better fit the space and contributed to the environment. Their garden was completed in 2021 and finally resembled a pollinator-friendly "cottage garden," Grzegorski said.
"We kind of wanted to modernize how the front yard looked and do something that's also easier to maintain … and I liked the idea of having a space that was pollinator-friendly that is easier on the environment," Grzegorski said. "Native plants are really beautiful. It doesn't have to look like a prairie."
They also wanted to create a space that grew year-round, which required monthly trips to a Wisconsin nursery for the plants they needed, Webb said.
The garden requires minimal watering because of the native species and feels more casual and organic than a manicured green lawn, Grzegorski said.
The couple applied to the association's garden contest on a whim and did not expect to be the front-runners, they said.
As part of the award, garden winners received $500 from the Chicago Bungalow Association, a handcrafted plaque, a stained glass sun catcher made by Baltic Art Studio and a handmade birdhouse from Prairie Godmothers. 
Grzegorski and Webb used the money for travel — and to buy new plants. They plan to slowly expand their native garden to their rear yard, they said.
"It is integrating our space into the overall community, both from a neighborhood sense and just a general environment … it is kind of a shared space," Grzegorski said. "Everyone is kind of walking in the yards, and it just brings a pleasant experience to the whole neighborhood."
Grzegorski and Webb work as a librarian and designer, respectively, so their analytical minds complemented each other to create a garden with different textures and colors, they said.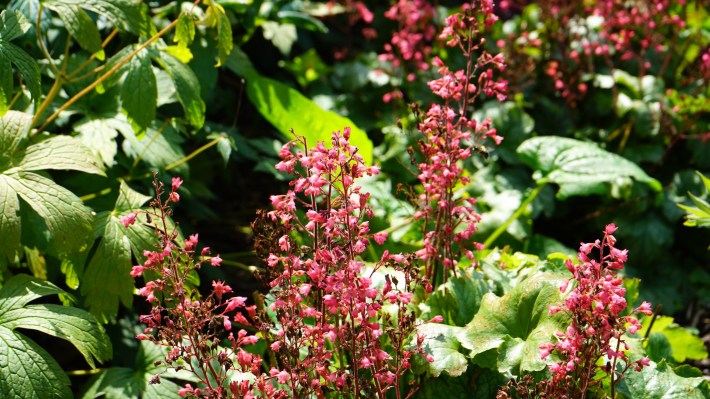 The garden project was the couple's first big native plant endeavor, and it further developed their green thumbs. They encourage others who may want to build their own pollinator garden to start small and get inspired by other gardens in the community.
"Work on one section at a time … you don't need to have a master plan," Webb said. "Look for variety [and] see what's in season."
As prairies and pollinators decline in Illinois, the couple said it's important to do their part to support the ecosystem while beautifying their block.
"… Just seeing a pretty large number of these pollinators that are attracted to this one space, I think the more of this that happens, the better for the overall environment," Grzegorski said. "And just from a sensory experience, I think it's pretty delightful to have these living things in your space."
Watch our "On The Block" TV show on The U, CW26 and MeTV.
Listen to "It's All Good: A Block Club Chicago Podcast":