THE LOOP — Between the trees of a bustling plaza on a hot Chicago summer day, poppy reggeaton music plays from a portable speaker while friends hum along and hang out near a small table covered with barber tools and soft drinks.
Focused and controlled, 30-year-old Gregori trims his friend's hair, who sits in a tall chair with a cape draped over his body, his eyes closed.
The setup is a pop-up barber shop that migrants seeking asylum created two months ago as a way to pass the time, show off their skills, provide a necessary service and create a sense of community and support.
Gregori, who is from Venezuela and started cutting hair when he was 13, is one of seven barbers who started the effort. He offers haircuts, undercuts and designed line cuts to other migrants and passersby, he said.
"I've always liked it and had a passion for it. It runs in my family," Gregori said in Spanish. "I like to do all of it, and being out here, we can keep getting better and teach others who want to learn."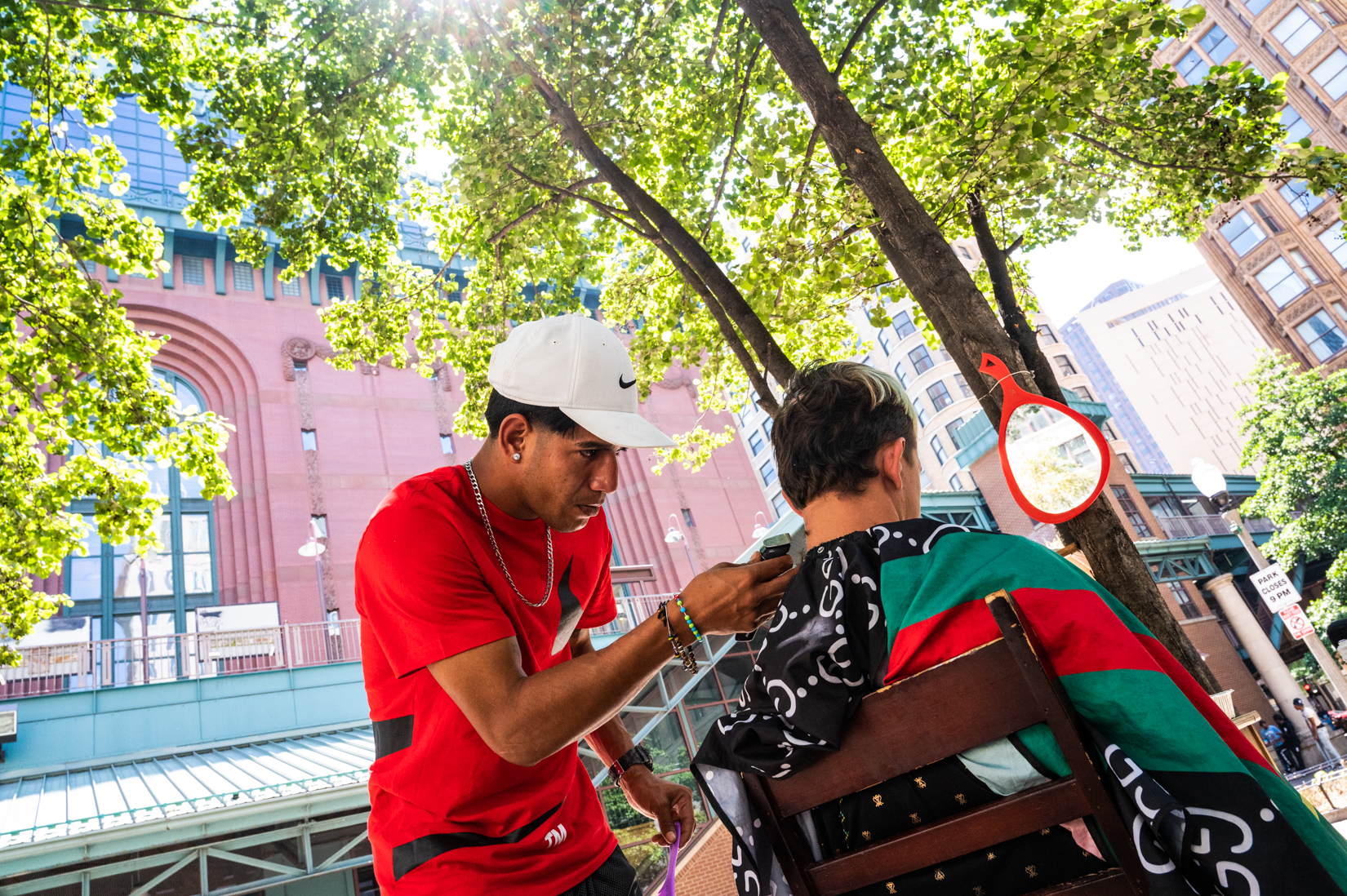 'We Give Each Other Support'
Migrants from Central and South America have come to Chicago in large numbers since Texas Gov. Greg Abbott and other Republican governors near the border started sending families to Democratic-led cities in protest of federal immigration laws.
Nearly 12,000 asylum seekers have arrived in Chicago since last summer. Many migrants arriving in Chicago on buses are from Venezuela, which has struggled with political upheaval and an economic crisis resulting in severe food and medicine shortages, surging inflation and rising unemployment and violent crime. 
Chicago long has been a sanctuary city, meaning the city does not cooperate with the U.S. Immigration and Customs Enforcement. The local Welcoming City ordinance means officials will not ask immigrants about their legal status, deny services based on that or disclose that information to federal authorities.
Some of the Loop barbers, who all stay at a nearby city shelter, have been in Chicago for months, others just a few days.
Frank, another barber, said the group scraped together money to buy the tools and got some donated to them from volunteers.
With two tables, tools, cologne, a mirror hanging upside down on a tree and a steady cacophony of different Spanish dialects, the pop-up attracts other migrants, strangers wanting to get a fade or line cut, or stops from commuters.
The group sees around 15-20 people a day, depending on weather, Gregori said. The barbers are outside from daylight to nighttime, and if it's raining, they set up shop under the cover near the entrance to the Orange, Brown and Purple Lines, he said.
Most of the men used to be professional barbers in Venezuela and Colombia, so the pop-up is a way to still practice their craft and teach others who might want to pursue it professionally, said Steven, another barber.
He arrived in Chicago last week and used to work at a barber shop in Bogotá, Colombia, he said.
"We give each other support and have made a lot of new friends," Steven said in Spanish. "I lost my barbershop, so it's nice to spend my days here with the guys."
Each haircut is $20, though the barbers give free cuts for customers who don't have the money, the barbers said. Whatever added cash they receive helps the men send money back to their families, and buy food and other treats, since they are still waiting to get work permits.
Frank said he's happy to bring his professional skills "from Venezuela to Chicago." Giving men haircuts is also a way to keep them looking good and sharp, he said with a laugh.
"Whatever design or cut people we want, don't worry, we can do it," Frank said in Spanish. "We also want to send some money back home … I have a kid and family in Venezuela and need to help them."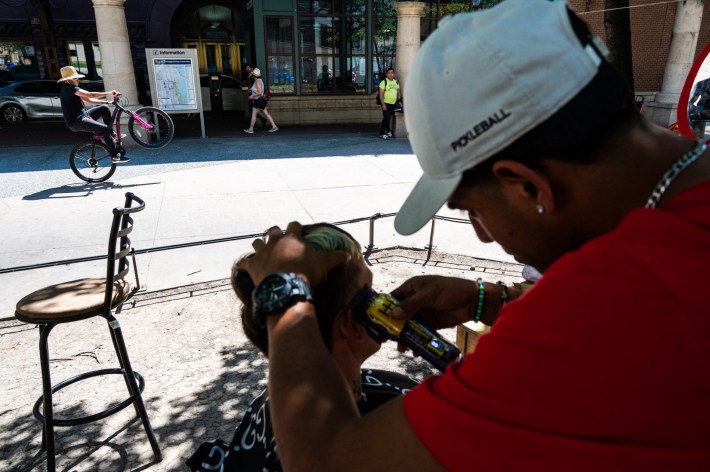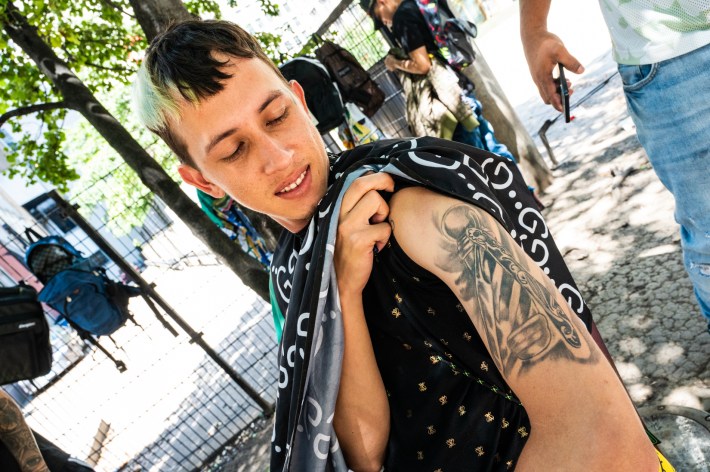 As the group grows and gets more customers through word of mouth, they hope it's the beginning of a promising livelihood in Chicago, the migrants said.
Once they can secure work permits, many barbers at the makeshift shop said they want to find a job at a local barbershop and again work professionally.
Jordi, another barber, has two tattoos that show his love for the craft: a razor near his left eye and a large barber pole and razor on his left bicep.
"I have four years of experience [in Venezuela] ,but yes, obviously want to do it here as a career," Jordi said. "It's my dream … it's an art."
Watch our "On The Block" TV show on The U, CW26 and MeTV.
Listen to "It's All Good: A Block Club Chicago Podcast":