BUCKTOWN — The Bloomingdale Trail is finally being extended eastward, but the project won't be finished until at least the end of 2026, officials said Wednesday.
For years, plans have called for extending the popular 2.7-mile elevated bike and walking trail — commonly known as The 606 — underneath the Kennedy Expressway to connect with Elston Avenue, the Lincoln Yards megadevelopment and the Chicago River.
Trail users currently have to exit the eastern end of trail in Walsh Park at Marshfield Avenue, then travel through the hectic Cortland/Ashland intersection to reach Elston.
The extension was one of the public benefits proposed as part of developer Sterling Bay's $6 billion Lincoln Yards megadevelopment between Bucktown and Lincoln Park.
After years of planning, preliminary engineering work on the first phase of the project is underway, city officials told neighbors at a meeting Wednesday night at Lincoln Yard's life sciences center, 1229 W. Concord Place.
According to plans shared Wednesday, a bridge will extend the trail over Ashland Avenue. The trail will then dip underneath the expressway and adjacent Union Pacific Railroad tracks before rising again to cross a currently abandoned rail bridge over Elston Avenue.
Users will be able to access the extension on either side of Elston, where this section of the trail will end. The first part of the extension falls under city jurisdiction, although initial funds are being provided by Sterling Bay, officials said.
Specifics of the plans are still subject to change. But basic details like the route and width of the trail — which will be the same as the existing path — are mostly nailed down, Chicago Department of Transportation planner Soliman Khudeira told neighbors Wednesday.
The project is in its first phase, which includes preliminary design work and environmental review. It will be followed by a "detailed engineering" phase and finally, construction.
City planner Max Lyon on Wednesday stressed the importance of the trail extension to ongoing development initiatives along Elston Avenue and the Chicago River, which fall under the city's "North Branch Framework Plan."
"There's a lot of possibility that could develop in this corridor in the near future in terms of mixed-use development, and the whole thing that that hinges on is The 606," said Lyon, who works in the city's Department of Planning and Development. "Getting that multimodal connection to this part of the city would be critical to furthering these sorts of planning initiatives."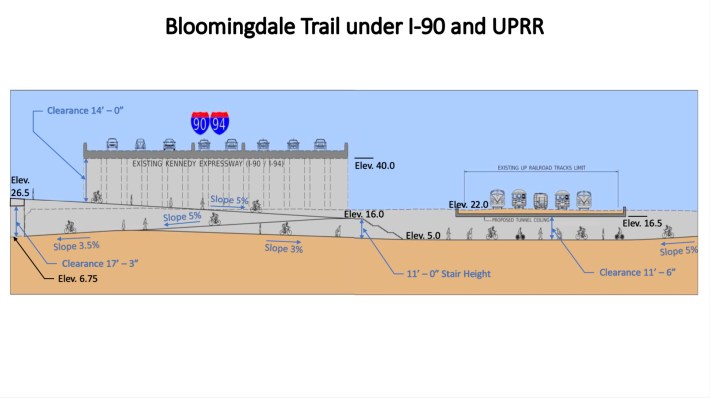 But while preliminary engineering has begun, it will be at least three years until cyclists and pedestrians can use the trail extension.
According to a timeline shared at Wednesday's meeting, the first phase of planning is expected to wrap up this year. Detailed engineering — phase two — will follow from mid-2024 to the first part of 2025.
Khudeira said additional details like public art and landscaping will be determined during that phase of the project.
Construction could finally begin in the second half of 2025, and be completed by the end of 2026.
"When phase one is complete, then and only then we can start phase two," Khudeira said. "That's the final detailed engineering, that's where the details are worked out. And then when phase two is complete, then and only then we can go to public bidding for construction bids."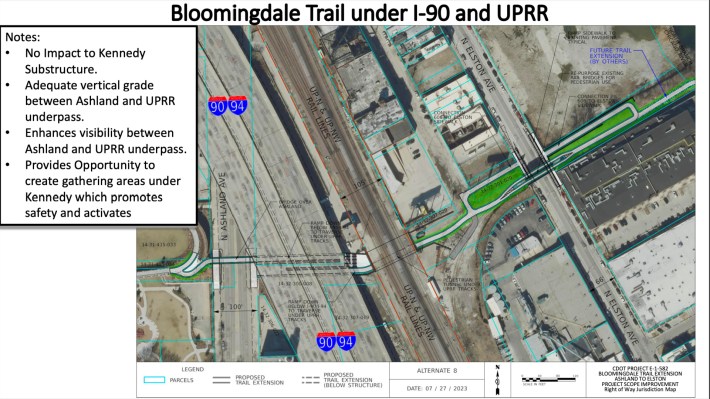 That timeline is also dependent on the city receiving additional funding for the project, Khudeira said.
Phase one is expected to cost approximately $750,000, which has been paid for by Sterling Bay, Khudeira said.
Partial funding has been acquired for phase two, but more funds are being sought out, he said. Khudeira estimated construction could cost $30-$40 million.
Overall, funding sources for the project are "anticipated to be a combination of federal grant, state, Cook County and [city] funds," CDOT spokesperson Erica Schroeder told Block Club last month.
The city will not have to purchase any new property from private owners to complete the trail extension, which Khudeira said will help lower costs.
"There is no right-of-way acquisition. That saves a lot of time, money, effort and negotiation," he said.
Neighbors, business owners and other stakeholders asked questions and gave feedback on the plans at Wednesday's meeting. Some raised concerns about the width and grade of the trail, while others asked about access points and financing challenges.
Ben Helphand, a co-founder of the Friends of the Bloomingdale Trail organization, mostly praised the plans. He said his group will help facilitate future community meetings to fine-tune designs and respond to any concerns as they come up.
"I feel like we're in good hands to get to Elston, it will increase the convenience of the trail incredibly, make it possible to go east-west a lot more quickly and safely," Helphand said. "I think the robust question and answer period will make it even better than what they've shown us today."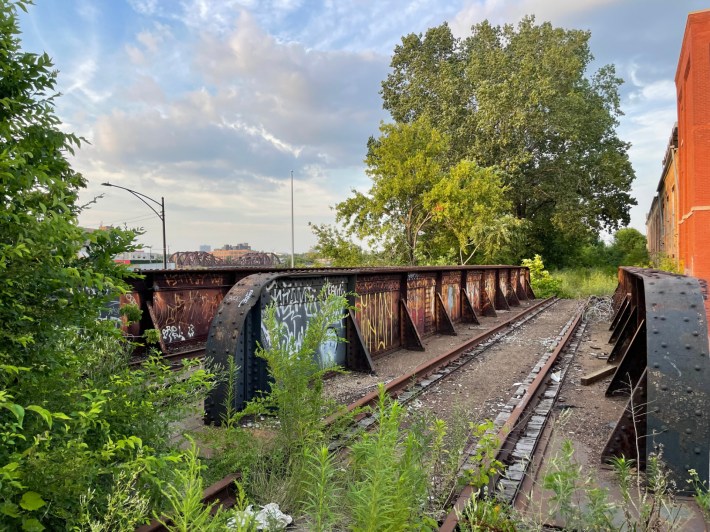 While current plans call for trail extension to end on the eastern side of Elston Avenue, it could one day be extended into Lincoln Yards and across the Chicago River.
That section of the trail would be paid for by Sterling Bay, who would then be reimbursed through the $1.3 billion Cortland and Chicago River tax-increment financing district created in 2019.
But the megadevelopment is currently mired in uncertainty, as both Lincoln Yards and its developer face a series of financial challenges.
To date, Sterling Bay's life sciences building, where Wednesday's meeting was held, is the only Lincoln Yards project to be constructed.
In May, the company's CEO Andy Gloor told Bloomberg News that construction on the development had been held up after Mayor Lori Lightfoot's administration "put a brake on our entire project," leading to a three-year delay.
And Sterling Bay is now actively seeking new investors for Lincoln Yards, a company spokesperson confirmed to Block Club last month.
CDOT will accept feedback on The Bloomingdale Trail extension plans until Aug. 16. Emails can be sent to Khudeira at soliman.khudeira@cityofchicago.org.
Watch our "On The Block" TV show on The U, CW26 and MeTV.
Listen to "It's All Good: A Block Club Chicago Podcast":