DOWNTOWN — Work to convert a beloved Chicago landmark into a temporary world-class casino is nearing completion as Bally's prepares to open in Medinah Temple later this summer.
Casino officials took several media outlets on a tour of the facility at 600 N. Wabash Ave. Tuesday, where slot machines and gaming tables scattered across three levels await installation.
Bally's teamed up with local architectural firm STL Architects to renovate the 111-year-old building. The firm worked under a leasing agreement that calls for the exterior to remain untouched, save for the swapping out of the Bloomingdale's signage for the casino, officials said.
The stained glass windows and atrium adorning Medinah Temple will remain untouched as well, with a glass partition separating visitors from the windows.
The original presidium and stage are also intact. The space is now reserved for "back of the house" operations, officials said.
To alleviate parking concerns, Bally's will partner with a trio of parking garage owners who will be able to accommodate guests, officials said. Which garages the company will use was not clear.
The bulk of the 750 slot machines will be on the main floor, where guests will be greeted with a view of a giant backlit bar as they enter the lobby. A cafe will be on the first floor as well.
Mark Wong, Bally's vice president and general manager, told Block Club the casino is currently in talks with a local vendor to provide coffee and quick bites. He didn't disclose more specifics.
Escalators to the second floor lead to the rest of the slot machines, along with a first level of table games: blackjack, Mississippi stud, craps and baccarat. Gamers will be able to cash out or receive credit card advances from cashier's cages located near the near the escalators.
RELATED: Feeling Lucky? Bally's Opens School To Train Dealers For Chicago Casino: 'I Love The Controlled Chaos'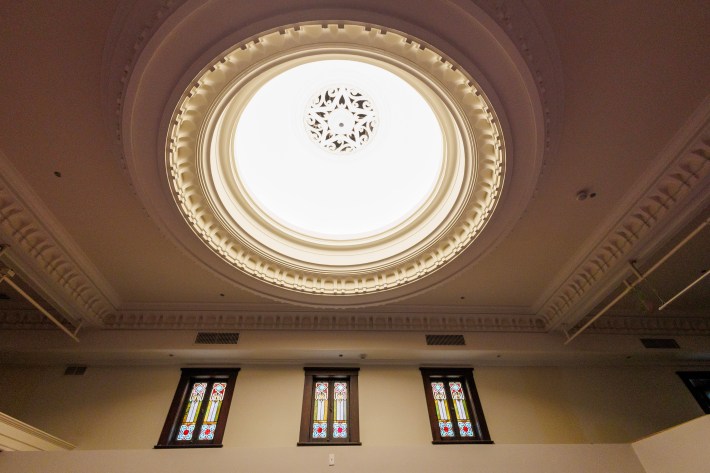 The third and final level is reserved for high rollers and VIPs looking for an "elevated" gaming experience with higher stakes and higher payoffs, officials said.
Visitors can play any of the 26 table games or 200 slot machines as they enjoy drinks from the bar. Two additional restaurants will be on this level as well, one offering Asian cuisine and the other a casual American concept. Both will be operated by Bally's, executives confirmed.
The temporary casino can accommodate 3,500 guests, and the Bally's team expects to have 700 employees to help with operations. That number is subject to change depending on the daily foot traffic, officials said.
There also will be six multiple-stall restrooms throughout the space.
"In our experience a customer will stay to play for an hour, maybe an hour and 30 minutes. With this being a destination location and Chicago having 30 to 40 million visitors each year we're anticipating higher volumes, in addition to longer stays," Wong said.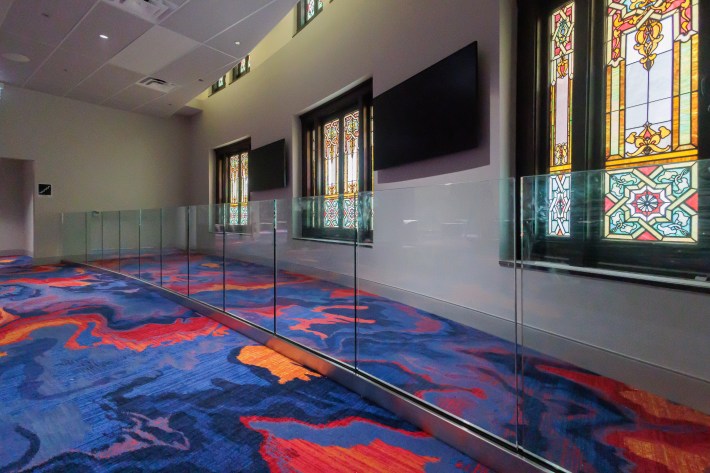 The casino is also in the early process of possibly installing game machines at Midway and O'Hare airports. Bally's has been granted exclusive rights for that, but the move will require a separate approval process. In the meantime, the team is singularly focused on getting the temporary site off the ground, Wong said.
While the plan to bring a casino to the city hasn't been well received by some residents and local leaders, the Bally's team said they plan to keep the lines of communication open.
"I think it's really talking with our partners or neighbors or to communicate what plans can and should be shared. Obviously, some of our plans are a little more confidential than others. So we're making sure that that is communicated appropriately," said Chris Jewett, vice president of corporate development for Bally's.
Once open, the casino at Medinah Temple will operate 24/7, officials previously said.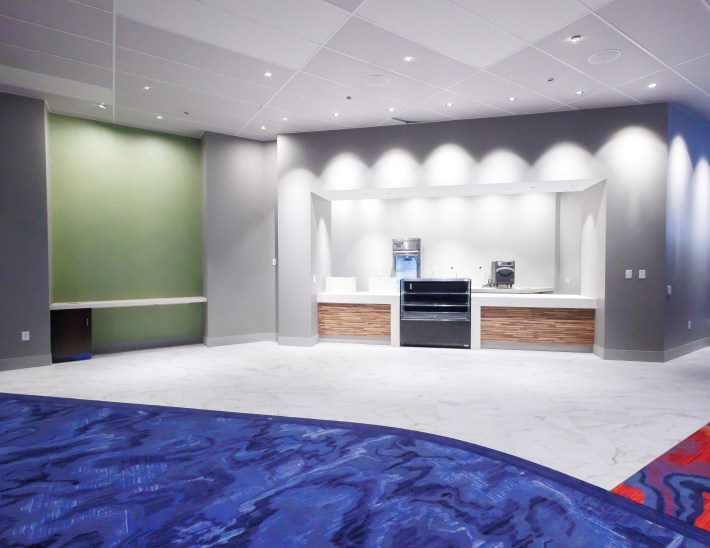 Bally's submitted its gaming application in August once city officials announced the casino operator as their frontrunner in May 2022. The $1.7 billion casino and resort will be built on the former Tribune Publishing site at Chicago Avenue and Halsted Street in neighboring River West.
The Illinois Gaming Board approved licenses for the River North landmark in February, clearing another hurdle for the casino operator to set up shop. Supplier licenses for Medinah Building LLC and Medinah Holdings LLC were granted around that time as well to cover the building and the land it occupies.
State regulators granted another key approval last week, enabling Bally's to plan operations for Medinah Temple and the $1.7 billion permanent casino and resort at the Tribune Publishing site at Chicago Avenue and Halsted Street in River West.
Bally's still needs the state gaming board to approve its gaming license, which remains under review. Bally's officials said they hope the license will be granted by the end of the summer.
The final regulatory steps also include a test run of Bally's slots and table games, the Sun-Times reported. Bally's chairman Soo Kim told regulators last week the games are ready to go and the company wants "to move as quickly as we can," according to the Sun-Times.
City officials expect the temporary casino to generate $55 million in tax dollars.
The Illinois Gaming Board limits the operation of a temporary facility to two years. Bally's may have an option to extend for an additional 12 months, allowing the casino operator to stay up to three years in Medinah Temple.
Watch our "On The Block" TV show on The U, CW26 and MeTV.
Listen to "It's All Good: A Block Club Chicago Podcast":