CHICAGO — Neighborhood walking tours, Midsommarfest, a puzzle exchange, street markets and so much more are all on tap.
Here's a roundup of 22 things to do in Chicago this weekend:
10 a.m. Saturday
Along Manor Avenue, from Buffalo to Manor Park
Decorate your bikes, trikes and wagons and get out your lawn chairs for a community ride along Manor Avenue. After the bike parade, neighbors can meet at Manor Park for popsicles and socializing.
11 a.m.-8 p.m. Saturday
Grant Park, 331 E. Randolph St.
This vegan food fest is returning to Chicago with more than 120 food and lifestyle vendors and Grammy-nominated rapper Rick Ross as headliner. Buy and sample vegan products, enjoy live performances, dance and take photos with art installations. Tickets are $21 per person or $50 for a group of 4. Get yours online.
1-3 p.m. Sunday
Logan Square Library, 3030 W. Fullerton Ave.
Grab new or gently used 500-plus-piece puzzles to trade with neighbors at Logan Square's first-ever puzzle swap. Puzzles should be brought in a resealable plastic bag in the original box with no missing pieces.
10 a.m.-9 p.m. Saturday, 11 a.m.-7 p.m. Sunday
Thorek Hospital's parking lot, 851 W. Irving Park Road.
This festival celebrating Thai culture returns with over 30 food, merchandise and craft vendors, a beer tent, drum parade, live music, traditional dance performances, martial arts demonstrations and more. The festival is free with a suggested donation of $5 to support organizers. Find more information on Thai Festival Chicago here.
1-6 p.m. Sunday
Vinyl & Vittles, 5800 S. Halsted St.
Shop local record vendors, sample food from local businesses and listen to DJs spin vinyl all afternoon at this record fair and food market collective. The event is celebrating its one-year anniversary.
Noon-4 p.m. Sunday
Hyde Park Art Center, 5020 S. Cornell Ave.
There will be vendors, performances, live DJ sets and more at this outdoor Pride event with LGBTQ+ artists. You can also bring your own shirts, totes, patches or other clothing item to upcycle. Find a list of artists and vendors here. Admission is free, and you can register online.
Noon-4 p.m. Saturday
Dovetail Brewery, 1800 W. Belle Plaine Ave.
Stop by Dovetail Brewery this weekend for an adoption pop-up hosted with Chicago Canine Rescue. Adopt a dog or pup and enjoy beers like Mai-Bark and Good-Dog-Skie. $1 per draft pour will be donated to Chicago Canine Rescue.
2-3 p.m. Sunday
3024 W. Logan Blvd.
Explore the history and beauty of Logan Square's workers cottages with the Chicago Workers Cottage Initiative, which advocates for the use of this historic and affordable house type in the city. You'll learn more about the homes and the need to preserve them, plus hear colorful stories of former residents. This is a pay-what-you-can walking tour, with a suggested donation of $5-20 to help support cottage preservation efforts. You can donate and get your ticket online.
10 a.m.-dusk Saturday-Sunday
On Wells Street between North Avenue and Division Street
Check out artist booths displaying everything from traditional paintings to digital arts, and sing and dance to local musicians, performance artists and tribute bands. There will be food and drink vendors and a children's play area with arts and crafts. There is a suggested $10 donation upon admission to help support community organizations. You can learn more about the fest here.
10-11:30 a.m. Sunday
Chinatown Public Library, 2100 S. Wentworth Ave.
Lifelong Chinatown community member and urban planner Debbie Liu is leading a walking tour through the second oldest Chinatown in the country. The tour will explore the neighborhood's history, buildings and developments and its modern struggles against urban renewal, resident displacement and gentrification. The afternoon will end in Chinatown Square for drinks, snacks or a meal with fellow tour-takers. You can get your ticket for free online; a $10-20 donation is appreciated. All proceeds will go toward ​Chicago for Chicagoans, a nonprofit "pay-what-you-can" tour service created by and for Chicagoans.
2-8 p.m. Saturday
The White Room, 2522 W. Fullerton Ave.
Close Friends Pop-Up is all about celebrating community and supporting local small businesses. You can shop fashion, handmade crafts, artisanal foods and more from Chicago-based vendors that value sustainability and ethical production. RSVP for free online.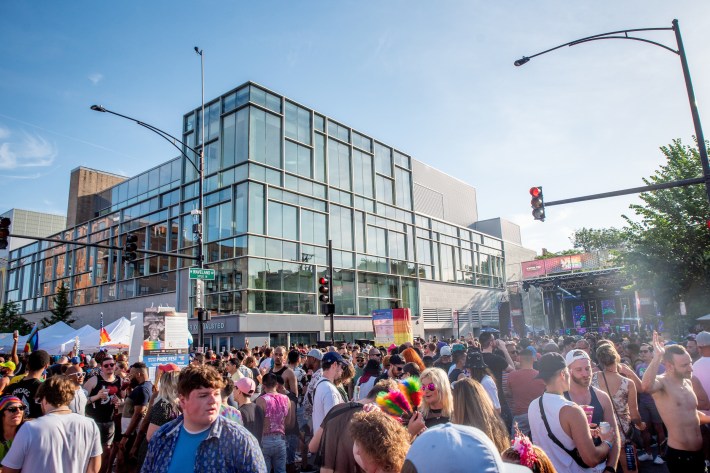 4-11:59 p.m. Saturday
The North End, 3733 N. Halsted St.
Show your pride at this 6th annual Pride Bar Crawl. Tickets include 1-2 complimentary drinks, a party cup, food and drink specials, waived cover charge, an afterparty, a custom pride badge and more. You can buy yours for $20-25 online. Twenty percent of all event proceeds go to Center on Halsted, a comprehensive community center that provides health and wellness care to LGBTQ+ people.
10 a.m.-2 p.m. Saturday
BMO Tower, 320 S. Canal St.
The Chicago Housing Authority is hosting its 1st annual Homeowner Fair, with giveaways, homeowner tips and a chance to win $250 in home improvement gift cards. You can learn about estate planning, financial literacy, home repair practices, home weatherization assistance and more. Lunch will be served and free parking is available upon request. RSVP for free online.
9-11:30 a.m. Sunday
Montrose Harbor, 601 W. Montrose Ave.
Over 20 Chicago-area run clubs are meeting up this weekend for a 5-mile run or 2.35-mile walk. Families and friends are encouraged to come and gather in the park with picnic items and games. There is free and paid parking available around the Montrose Harbor and Montrose Beach area. You can sign up for free, find the full schedule and check out the run/walk routes online.
11 a.m.-5 p.m. Saturday
3506 N. Clark St.
This bar crawl is all about one of the most polarizing alcoholic beverages, but also one that has defined the Chicago bar experience: Malört. Tickets are $10-20 online. They include admission, a free brunch buffet, gift cards to use on the crawl, access to Malört drink specials and more.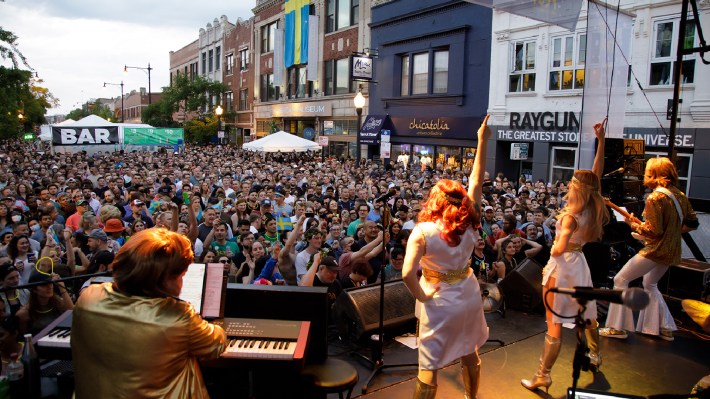 5-10 p.m. Friday, noon-10 p.m. Saturday-Sunday
On Clark Street north of Foster Avenue
The 57th edition of Midsommarfest returns this weekend, with five stages of performers, dozens of food vendors and merchants, a roller skating rink, a drag show, dance party, a kids area and more. There is a $10 suggested donation to support groups including the Andersonville Chamber of Commerce, Care For Real and Helix Education. For more on the fest and its full lineup, click here.
9:30-10:30 a.m. Sunday
Jefferson Memorial Park, 4822 N. Long Ave.
Get some fresh air while you stretch at this free outdoor yoga session hosted by Wildlight Yoga. Afterward, explore the Jefferson Park Sunday Market. Students should bring their own mats and will be asked to sign a waiver before class. You can also make a cash donation to benefit the market.
2-11 p.m. Sunday
The Hideout, 1354 W. Wabansia Ave.
A Day In The Country returns for its 15th year with country and Americana music, barbecue, beers and homemade pie. The lineup includes Brennen Leigh, Reilly Downes & The Acid Cowboys, Annalee Koehn & Chuck Cox, Brandon Good, Country Doctors, Northside Southpaws, James Dean Joint, Rachel Drew and more. Admission at the door is $20 for adults and $10 for anyone ages 10-20. Attendees under 21 will only be admitted with a parent or legal guardian. $50 VIP tickets — which include Hideout swag, tote bags, a complimentary drink and more — are also available online.
4-9 p.m. Sunday
Chicago Athletic Association Hotel, 12 S. Michigan Ave.
There will be artists, vendors, henna, music and more at this community event hosted by the Chicago Athletic Association and Chicago Mehfil, a group of creators and lovers of the performing arts with a focus on South Asian music. There is a $5 suggested donation at the door or online. RSVP here.
Noon Sunday
5374 W. Lawrence Ave.
The Chicago Art Center, in collaboration with the Ed Paschke Art Center and the National Veterans Art Museum, will unveil its sculpture garden featuring Dr.
Charles Smith's artwork this weekend. The event will also celebrate what would have been Paschke's 84th birthday, and leaders will share updates to the art renovation project. The kid-friendly event will also have art stations, a bounce house, games and more. RSVP online.
2-4 p.m. Saturday
Eckhart Park Field House, 1330 W. Chicago Ave.
Painter, mom and lover of history Maria Avila Risolute is leading a walking tour through West Town this weekend. The tour kicks off at Eckhart Park and covers the architecture, landmarks and community history of the area, from its role as a home for Ukrainian and Polish immigrants to its current struggles with gentrification. You can join fellow tour-takers for a drink afterward at Tuman's Tap and Grill, 2159 W. Chicago Ave. You can get your ticket for free online, and a $10-20 donation is appreciated. All proceeds will go toward ​Chicago for Chicagoans, a nonprofit "pay-what-you-can" tour service created by and for Chicagoans.
2-8 p.m. Sunday
Republic Bank parking lot, 2720 W. Devon Ave.
This street festival is all about celebrating South Asian performing arts, from South Asian folk, jazz and rock to Bollywood and contemporary Indian dance. The fest is on Devon Avenue, a hub for immigrants and the South Asian diaspora. RSVP for free online.
Watch our "On The Block" TV show on The U, CW26 and MeTV.
Listen to "It's All Good: A Block Club Chicago Podcast":