UPTOWN — A family-owned Mexican restaurant famous for its slow-cooked goat has come to Uptown, taking over the spot of a prominent diner that closed after decades in business.
Birrieria Zaragoza opened May 13 at 4800 N. Broadway, taking over the Broadway Grill & Chicken space next to the Green Mill. It is the second location for family-owned restaurant following their longtime spot in Archer Heights.
Broadway Grill & Chicken's owner was a business partner of Birrieria founder John Zaragoza. When the Broadway Grill owner decided to retire after over 20 years, he asked Zaragoza if he was interested in taking over the Uptown storefront.
"We said, we'll do some pop-ups and go from there," Zaragoza said. "The neighbors responded really positively."
After over 15 years of business on the Southwest Side — and after the Zaragoza family has helped launch other acclaimed local eateries — the family decided the Uptown opportunity was the right time to open a second Birrieria Zaragoza, the founder said. (The family had a Melrose Park outpost of Birriera Zaragoza for a brief period in 2012.)
"This corner has something special," Zaragoza said of his new spot in the heart of Uptown's entertainment district. "I'm a Cubs fan and I love jazz music. This opportunity opened up, I looked at it as potential."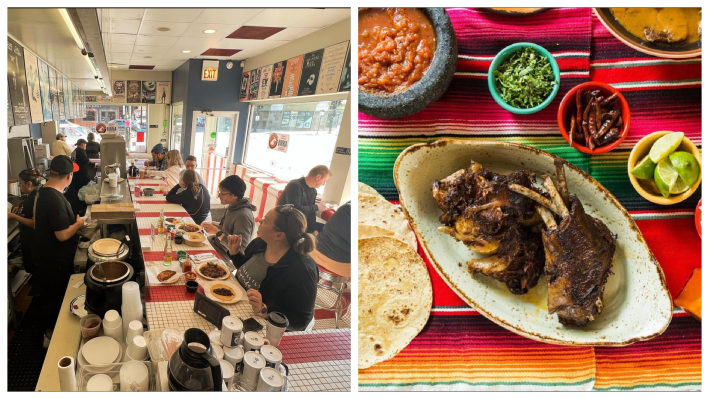 Zaragoza opened the original Birrieria Zaragoza in 2007 at 4852 S. Pulaski Road. The business specializes in birria, a stew of marinated goat native to Jalisco, Mexico, where Zaragoza is from. The restaurant's slow-roasted, adobo-marinated goat has won over neighbors and restaurant critics alike.
Birrieria Zaragoza has been named one of Food Network's 13 best tacos in the country and was featured in Netflix's most recent season of "Taco Chronicles," among many other accolades.
Zaragoza's son, Jonathan Zaragoza, is a well-known chef in his own right. On top of being executive chef at the family restaurant, Jonathan Zaragoza was a chef at Masa Azul and helped launch the short-lived Con Todo Cantina y Cocina in Logan Square.
Jonathan Zaragoza also just opened his new restaurant, Čálli, inside Soho House Chicago.
With his son involved in the family business, Zaragoza began thinking more about a second location now that he had help running the original outpost. Family matriarch Norma Zaragoza works on the operations side.
So when the opportunity in Uptown opened up, Zaragoza jumped at the chance, he said.
Not much has changed at the former Broadway Grill space. Birrieria Zaragoza is using the space's diner seating and offering table service, as well. The permanent sign went up Friday.
Zaragoza said he is very happy with his new North Side location so far. He said he now frequents the neighboring Green Mill and eats at Fiesta Mexicana and Carmela's Taqueria, two Uptown staples in the same building.
Zaragoza said he thinks all three restaurants can coincide, especially since his restaurant specializes in goat.
Having a North Side presence has already paid dividends. Birrieria Zaragoza was chosen to cater an event for the James Beard Foundation at Wrigley Field on the eve of this week's James Beard awards, the Oscars of the food world.
"I've never been on Wrigley Field," Zaragoza said. "It was pretty cool. … I'm really excited to be here on the North Side."
Birrieria Zaragoza's Uptown location is open 11 a.m.-7 p.m. Monday-Thursday, 11 a.m.-10 p.m. Friday-Saturday and 11 a.m.-9 p.m. Sunday.
Watch our "On The Block" TV show on The U, CW26 and MeTV.
Listen to "It's All Good: A Block Club Chicago Podcast":