WEST TOWN — A cafe serving empanadas, coffee drinks, rum cocktails and more is now open in West Town.
Chicago Empanada Mama, 1703 W. Chicago Ave., opened this week in a space designed and outfitted by owner Inez Melendez, a West Town resident who has lived nearby her entire life.
The restaurant sells a range of homemade empanadas like the El Coqui — a blend of chicken and chorizo — and La Gallina, with red pepper, egg and gruyere cheese.
The restaurant also serves shrimp ceviche, Puerto Rican rice and potato salad, among other items.
Melendez said her passion for cooking, and the restaurant's menu, was inspired by her Puerto Rican family, especially her mom, Rosita.
Growing up, Rosita was a fixture in the kitchen and brought together her family and all kinds of friends, Melendez said. That's the same type of atmosphere she wants to create at Chicago Empanada Mama.
"She just loved feeding people and bringing people together, and that is where my joy is," Melendez said. "If you ask any of my friends, all the birthday parties are all hosted at my house. I just I love it. I think that there's something really special that happens when people share meals together."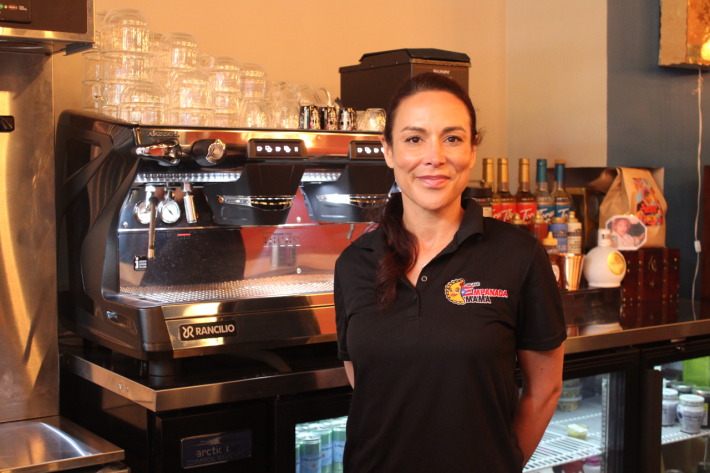 Melendez started selling empanadas in 2018 out of a food truck, working at outdoor festivals before the COVID-19 pandemic put a pause on the operation.
As the pandemic took hold in March 2020, she still had a lease for shared kitchen space at The Hatchery, 135 N. Kedzie Ave., and decided to start taking orders from customers all over the Chicago area.
"We had such positive feedback and so many regular customers that were coming from Glenview, from Evanston. I just thought, I have to take this as a learning experience and grow from it. I can't let it just completely defeat me," she said.
But Melendez was determined to land a more permanent location, ideally somewhere in the larger West Town area where she lives.
She finally moved into the current Chicago Empanada Mama space last summer and completed an extended buildout.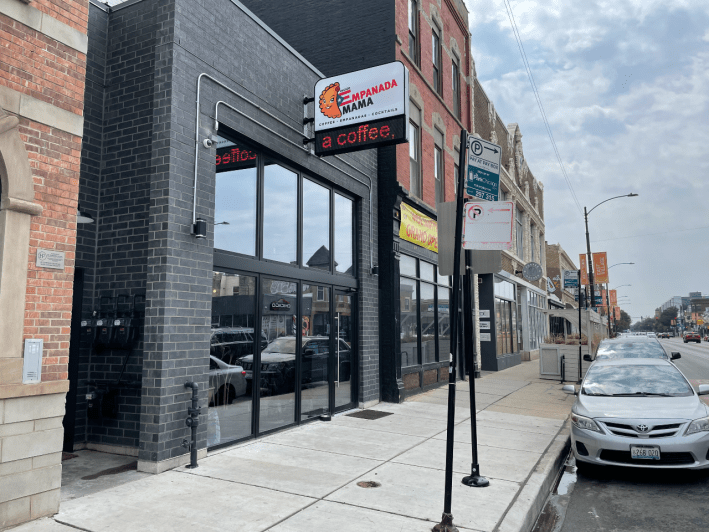 The space is filled with hanging plants and lights, plus paintings of peacocks and other brightly colored art. Melendez said the design was inspired by Aibonito, her father's hometown in Puerto Rico known for its plants and flowers.
"There's so much greenery. It's so beautiful. And that's the inspiration for a lot of [the] decor," she said.
Melendez held a soft opening Monday and is in the process of getting the final paperwork for her liquor license.
She plans to offer rum cocktails like piña coladas and mojitos, plus tastings of various Caribbean rums. She's sourcing her beer and coffee locally, including from Forbidden Root Brewery and Dark Matter Coffee, respectively.
Chicago Empanada Mama is open for breakfast and lunch 6 a.m.- 3 p.m. Monday-Saturday and for dinner 5 p.m.-10 p.m. Wednesday-Sunday.
By starting early and staying open late, Melendez said she hopes her cafe becomes a "neighborhood hangout" where people feel comfortable doing work or meeting friends.
"We want this to be the neighborhood place where people feel like they're welcome and feel taken care of," Melendez said. "I want people to feel like they can come in here, get some work done, get some good coffee, some good food, and just hang out."
Watch our "On The Block" TV show on The U, CW26 and MeTV.
Listen to "It's All Good: A Block Club Chicago Podcast":