WEST HUMBOLDT PARK — A man with a gun, a flamethrower and a Nazi flag was found dead after an all day standoff with police Friday in Humboldt Park, police said.
For weeks, neighbors have complained of a swastika flag being hung on scaffolding on the roof of a building in the 4100 block of West Chicago Avenue, according to the Chicago Tribune.
The swastika flag was up again Friday morning, when police responded to the scene of a man on the roof with a gun, a flamethrower and other weapons.
Police closed off a portion of Chicago Avenue near Pulaski Road, where the man could be heard either saying or playing a recording saying, "F– you, Chicago Police … I'm gonna kill you!" while blasting audio with the words "F– you" and a recording of "Eye of the Tiger."
Around 3 p.m., Block Club reporters saw the man wielding a gun and pointing it around the rooftop as police and SWAT teams below attempted to communicate with him. The man blasted a loud siren in an apparent effort to drown out the officers.
Around 4 p.m., the door to the building was breached by authorities and two loud bangs were heard.
Authorities attempted to negotiate with the man, who had moved inside the building, but found him deceased inside, police said in a statement.
The man's identity or cause of death had not been released by the Cook County Medical Examiner's office as of Saturday morning.
Neighbors gathered around the block Friday said the man regularly goes onto the building's roof and uses his flamethrower at night, and he would blast recordings for hours that say, "F– police" and "F– Joe Biden," among other things. The Tribune reported that neighbors have heard the man make antisemitic commentary.
Police have been called to the building twice in recent months for similar situations, a neighbor said. He asked that his name not be used out of concern for his safety.
"He plays this every day," the neighbor said as the man, who could be seen walking around the roof, played one of the recordings. "Nothing's gonna happen."
The man will sit on his roof and fire his gun sometimes, and he'll scream, "I'm gonna kill you," the neighbor said.
"At this point, it's like we don't feel safe here," the neighbor said.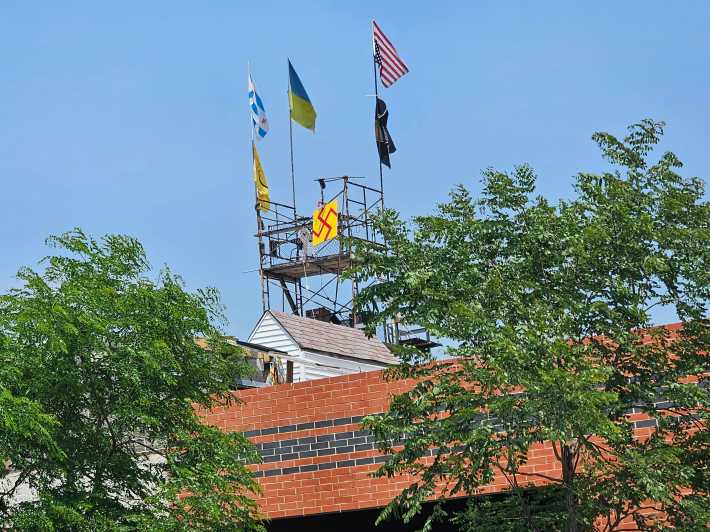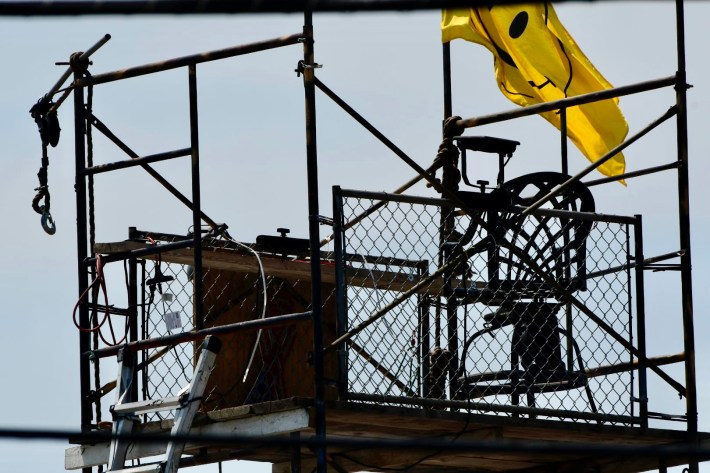 Many residents on the block are Black, and there's a Latino-owned business nearby, while the man making threats is white, the neighbor said.
The neighbor said he used to be able to talk to the man, but the man changed in recent years and started playing the recording and using weapons — and he's scared to say anything to him now.
"Before, he wasn't this type of guy," the neighbor said. "But lately, it's like he went over the edge."