HYDE PARK — Taking clothes to the laundromat can be a daunting chore, particularly if the thought of lugging it on one's back or the bus has led to procrastination — and a growing mass of clothes — in a feedback loop of stank.
Sylvia and Augie Emuwa, the wife and husband who co-founded the plant-based Dinobi Detergent company, aim to "bring something fresh and new" to the laundromat concept with their Dirty Laundry pop-up in Hyde Park.
Dirty Laundry is located at the former Launder Koin, 5230 S. Harper Ave., which closed in February, leaving Hyde Park without a laundromat.
The pop-up will offer 37 self-serve, coin-operated machines and wash-and-fold services alongside "a little bit of music, coffee [and] self-healing work — all things people like when they get out," Sylvia Emuwa said.
Its soft opening is 6:30 a.m.-2 p.m. Saturday, where the Emuwas will seek feedback from a focus group of 50 neighbors on their plans for the space.
To participate and receive a free bottle of Dinobi detergent, click here.
After Saturday's soft opening, Dirty Laundry will be open for self-service only from 9 a.m.-7 p.m. daily, though those hours could expand as needed, Sylvia Emuwa said.
The laundromat fully opens with wash-and-fold service June 24. A grand opening ceremony that day will feature a drum circle, in which the community is invited to participate. The pop-up is tentatively expected to close at the end of October.
"Our desire to keep it at the same location [after October], but if not … we would definitely look for another space, hopefully within the same neighborhood, in a one-mile radius from that place," Sylvia Emuwa said.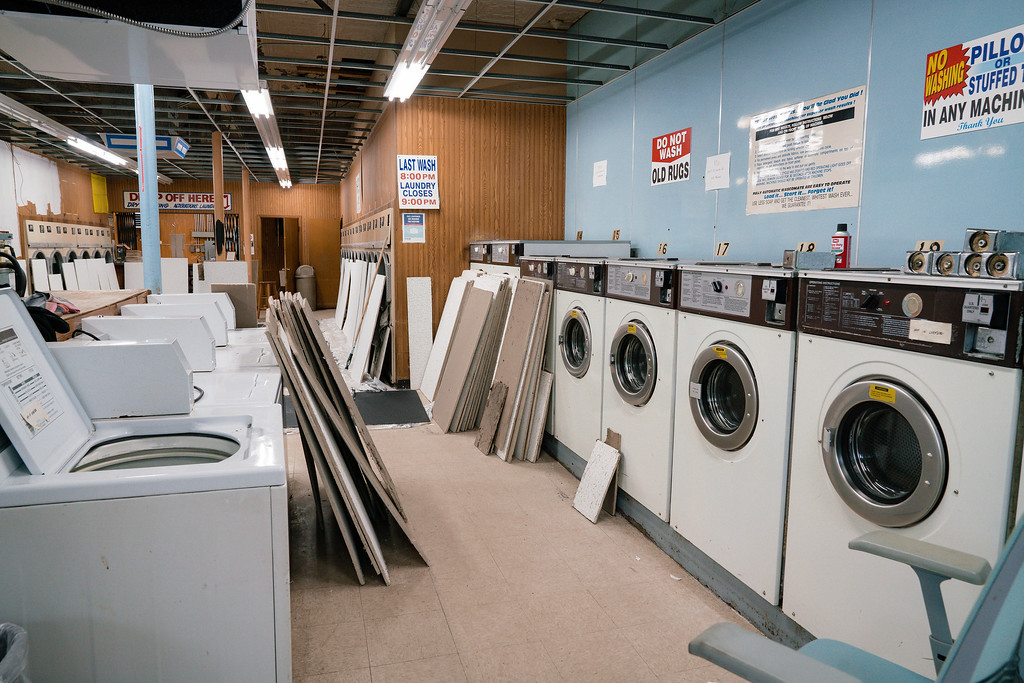 Since Launder Koin closed in February, Hyde Park "has a large population of people within walking distance who don't have access to a laundry facility, or not enough access," Sylvia Emuwa said.
The Emuwas want to meet the community's needs in opening Dirty Laundry. But simply bringing a laundromat back to the neighborhood wasn't enough, as "most laundromats are boring" and don't encourage customers to engage with their surroundings, Sylvia Emuwa said.
Service workers "have a lot of power to give people a kind word and great service," Augie Emuwa said. "… When you're in a laundromat spending time, you should have a Wi-Fi code, a table to sit at for co-working, machines that are working and functioning, coffee — that's a full wraparound experience."
Weekly arts programs like workshops, DJ sets and podcast tapings, paint-and-sips, storytelling nights, family-friendly events and after-hours collaborations with local artists are all on the agenda for the four-month pop-up.
Brown Books and Paintbrushes will help install a children's library at Dirty Laundry so kids who come to the laundromat have "high-quality books and a shot at some literacy practice" while they wait with their families, Augie Emuwa said.
The couple is also considering ideas like a music performance series similar to NPR's Tiny Desk, self-care resources and other options to make laundry less of a chore, Augie Emuwa said.
Laundromats "are a practical business type, but we wanted to make practical a bit more exciting and exuberant as a customer," Sylvia Emuwa said.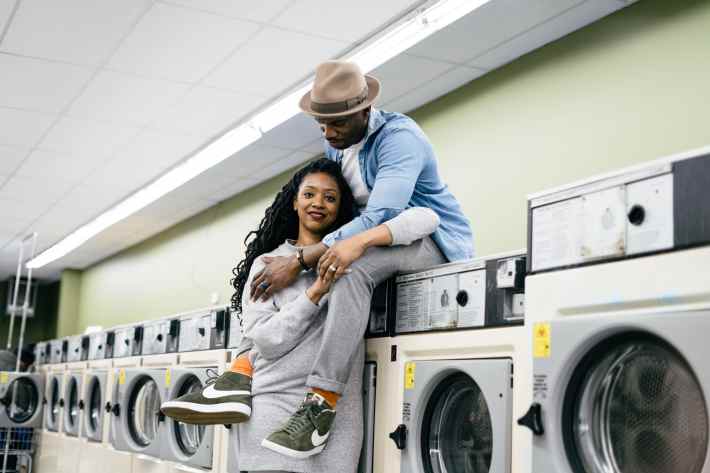 Dirty Laundry provides a "smart opportunity" to expand the Dinobi Detergent brand, Augie Emuwa said.
The laundromat will serve as a retail outlet for the company's detergent and dish soap alongside branded merchandise like laundry bags. It could be a pickup point for Dinobi's online orders in the future as well, Augie Emuwa said.
Dirty Laundry will also sell lint removers, dryer balls, snacks and other laundromat staples made by other small businesses at the shop. The Emuwas will soon launch an online fundraiser to further flesh out the storefront and its services, Sylvia Emuwa said.
Dinobi Detergent, which was founded in 2019 and won $5,000 through the South Side Pitch competition that same year, has grown steadily since.
Eco & The Flamingo, a zero-waste general store in Lincoln Square, began selling the plant-based detergent in 2021, while Dinobi started making hand soap in December. Retailers in Illinois, New York and Colorado also sell Dinobi products.
The Emuwas also plan to offer new products in the next year or two, like all-purpose or countertop cleaners for people who are "trying to get away from the standard chemical cleaners," Sylvia Emuwa said.
She hinted the company "also may be looking into skin products — I'll leave it at that," she said.
Amid the company's growth, the Emuwas have seen the beauty that comes "when families can come together, work hard and move forward," Augie Emuwa said. They hope to build on Launder Koin's history as a longstanding, family-owned business on Harper Avenue, he said.
"There's so much you find out about each other when you've got to work with them," Augie Emuwa said. "I know my partner through and through. Our relationship has become as transparent as our product."
Watch our "On The Block" TV show on The U, CW26 and MeTV.
Listen to "It's All Good: A Block Club Chicago Podcast":