SOUTH LOOP — A South Loop Walgreens has unveiled a renovated interior where most of the merchandise is kept away from customers — and some shoppers say the changes make them feel unwelcome.
The new design at the Walgreens, 2 E. Roosevelt Road, places most of the merchandise in aisles behind staffed counters, with two interior aisles — covered by anti-theft detectors — where customers can browse and grab items themselves.
The redesign was first reported by CWB.
Customers walking in Thursday were greeted by an employee who directed them to a kiosk for digital shopping. A sign tells shoppers they can "place your order and relax" while an employee fetches items from aisles now blocked by the counters.
"Let us do the shopping," the sign reads.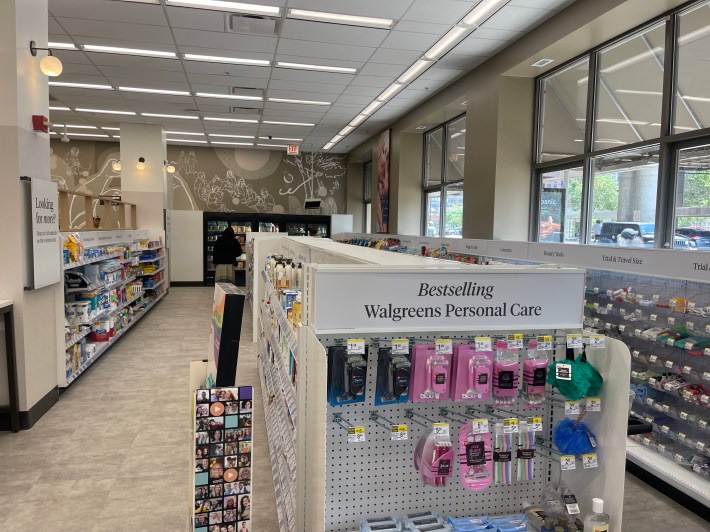 In a statement, Walgreens spokesperson Megan Boyd said the store continues to offer the same products, "just with a new look and feel that focuses on shopping digitally for convenience."
"We are testing a new experience at this store with new concepts, technologies and practices to enhance the experiences of our customers and team members," Boyd said in the statement.
The "store test" is the first of its kind, Boyd said.
The store still has self-checkout stations for groceries, bandages, allergy and pain medication and other lower-cost products, and it has a pharmacy in the back.
But several regulars who shopped Thursday said they think the new design is an attempt to deter theft. There were 19 reported thefts at convenience or drug stores in the 100 block of East Roosevelt Road in 2022, according to police data. 
Jacoby Gunn, a street cleaner and neighborhood peacekeeper with Readi Chicago, peeked into the store Thursday.
"I don't understand why they had to move everything to the back at just this store. … There's crime everywhere," Gunn said. "It's racial profiling. Why don't you trust your customers?"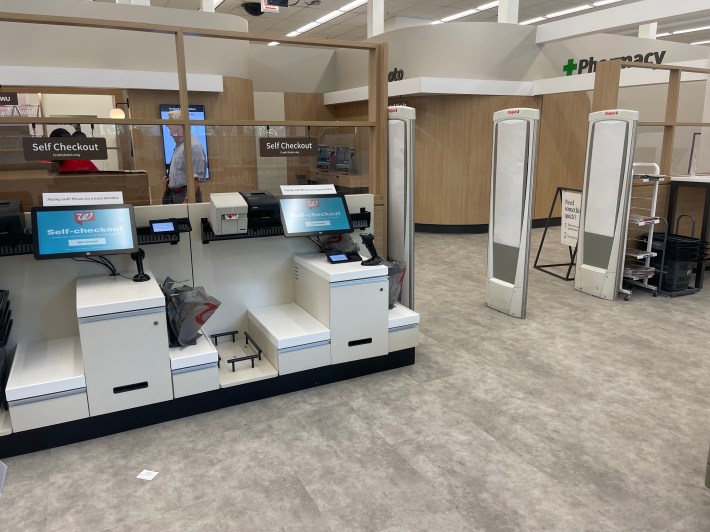 Customer Sirak Goitom said he found the store "confusing to walk through."
"The way it was set up before, it was easier to move in and out," Goitom said. "I don't think this is good for business. And security can't be that much better if there's self-checkout."
Mu Ergin, a South Loop resident and regular of the store, said the shop was previously "dirty, smelly and not properly organized."
Before the renovations, Ergin saw someone shoplifting and people would gather outside, he said.
"I'm pretty amazed at how the store looks more clean now. They're making it smaller so they can control it better," Ergin said. "It's better for me … but I never felt unsafe to start with."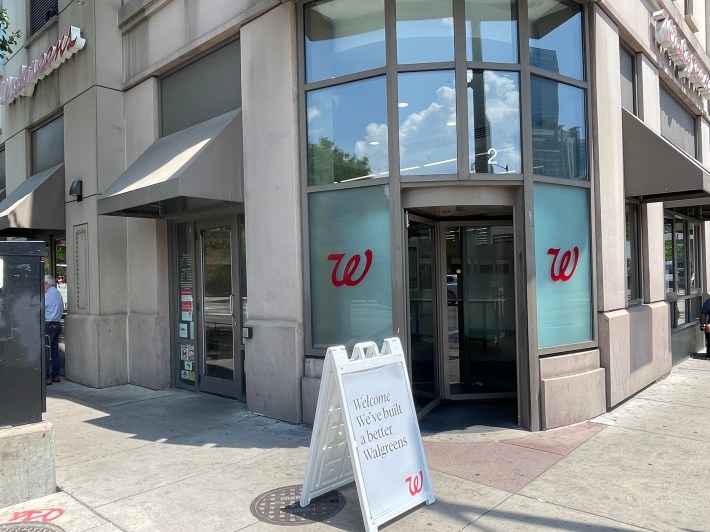 More than a half dozen employees worked the small store's floor as construction workers finished final touches Thursday. Employees declined to comment due to company rules.
A city building permit for "interior alterations" was submitted in February and approved in March, according to a sign posted at the store.
In January, James Kehoe, Walgreens global chief financial officer, told investors on an earnings call the company had overstated shoplifting, and it was more realistic it accounted for "the lower 2s" of Walgreens' percent of sales.
"Maybe we cried too much last year," Kehoe said. "And we're stabilized."
Watch our "On The Block" TV show on The U, CW26 and MeTV.
Listen to "It's All Good: A Block Club Chicago Podcast":