LOGAN SQUARE — After four years of barricades, ID checks and protests, Lori Lightfoot's neighbors have their block back.
Lightfoot's security detail, which reportedly totaled more than 70 officers, was slashed earlier this month after Brandon Johnson was sworn in as mayor, marking the end of what some neighbors called "Fort Lori."
The Chicago Police Department conducted a "needs assessment" of Lightfoot's detail and "adjusted resources to meet current demands," police spokesman Don Terry said. Terry didn't answer further questions, including how many officers were pulled.
Lightfoot declined comment through a spokesperson, citing safety and privacy concerns.
While squad cars were stationed outside of Lightfoot's Logan Square home in the 3400 block of North Wrightwood Avenue Tuesday afternoon, it was a fraction of the police presence that dominated the block during Lightfoot's time as mayor.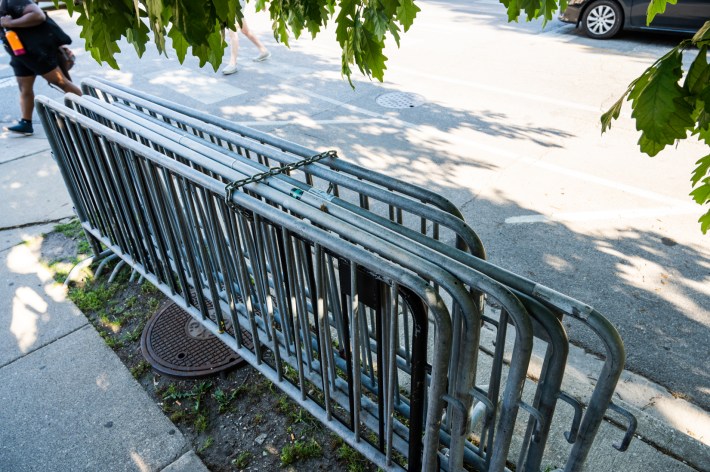 The Chicago Police Department in 2020 created a special unit — Unit 544 — to guard Lightfoot's home and City Hall and look after her bodyguard detail, the Sun-Times reported.
Lightfoot defended the heavy security as necessary protection against protests staged near her home and threats to her and her family.
She took the step of banning protests on her block after a string of George Floyd protests, ordering police to arrest anyone who refused to leave.
"We are living in a very different time, and I have seen the threats that come in. I have an obligation to keep my home, my wife, my 12-year-old and my neighbors safe. … I think that residents of this city, understanding the nature of the threats we are receiving on a daily basis, on a daily basis, understand I have a right to make sure my home is secure. We have a right to our home to live in peace," Lightfoot said at the time.
Lightfoot was the target of serious threats during her tenure.
A man furious over parking tickets was accused of stalking Lightfoot and firing shots in an alley near her home. Another man angered by rising crime was accused of threatening to shoot and hang Lightfoot and Cook County State's Attorney Kim Foxx.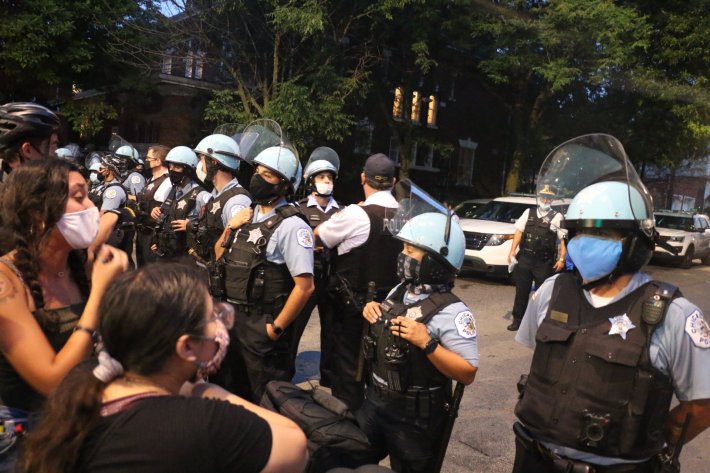 Now, Lightfoot's neighbors are adjusting to life after "Fort Lori," where they can come and go freely without getting stopped by police or held up by a protest.
A neighbor of Lightfoot's since 2021, Liz, who declined to provide her last name, said the frequent ID checks and swarms of police were unsettling.
"If I went out for a run or to get coffee and I just brought my keys, if there was any sort of event or extra security and they'd put up the barricades, they would make you show your ID with your address before coming in. Which, I'm a renter and I don't own a car, so why the f— would I change my address that often? And I had just gotten here. So it was really intimidating and frustrating," Liz said.
Liz said friends and guests were frequently grilled by members of Lightfoot's security detail about why they were on the block, she said.
"It felt explicitly hostile in a diverse community," Liz said.
Liz said she and other neighbors were so ecstatic to be rid of the large security detail — and the restrictions that came along with it — that they had a celebratory champagne toast when the block cleared out.
"I was completely thrilled to have the reduction in presence because it feels like a normal block again. It felt more like martial law for quite some time here," she said.
Ron Kaminecki, a resident of Bernard Street for more than 40 years, said while the ID checks and shutdown were inconvenient, the police officers were "extremely polite" and would move the barricades for residents without any hassle.
"I never held it against [Lightfoot] that she had some police presence, but I think she had more than might've been needed," Kaminecki said.
Another longtime neighbor Kevin Nevers said the large detail felt like "an awful waste of money."
"I liked her, but I didn't see any use for them," Nevers said, referring to the huge police presence.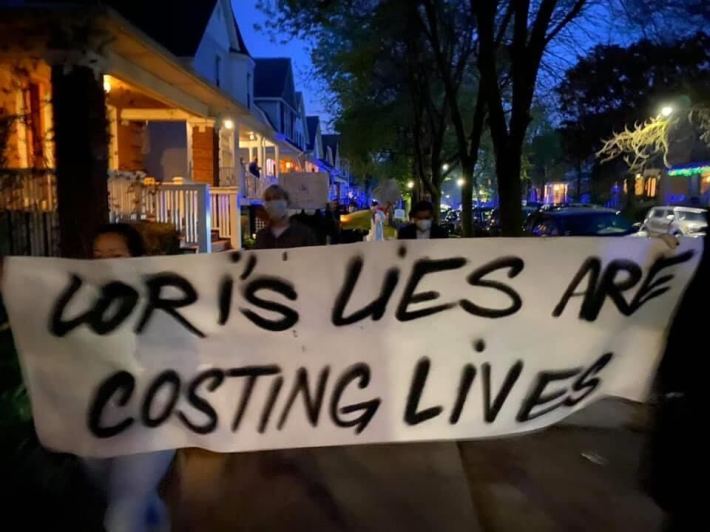 Some neighbors said living next to the mayor wasn't all that bad — and even had its advantages.
In the early days of the pandemic, the block was frequently shut down for protests, which allowed for safe social distancing and bonding, neighbor Sharon Maloy said.
"The children figured out they could ride their bikes through the street. They had this freedom that city kids don't usually have. We felt very lucky for that amidst an odd situation," said Maloy, who lives on Bernard Street with her husband and two daughters, ages 14 and 19.
"The block had always been friendly and well-connected, but we all became closer. The children became each others' social lives. The adults would have gatherings on porches and lawns."
Lightfoot's block was always kept clean, with several street-sweepers coming out on a weekly basis, Nevers said.
Perhaps because of the large police presence, the area didn't see much crime while Lightfoot was mayor, neighbors said.
That streak ended early Tuesday, when robbers stole catalytic converters from a few cars parked in the 2500 block of North Bernard Street, neighbors said.
Police said the thefts happened between 4-4:50 a.m. Maloy was one of the victims.
"We definitely feel like, 'OK, the police have cleared out. Keep those doors locked. No more enclave,'" she said.
Watch our "On The Block" TV show on The U, CW26 and MeTV.
Listen to "It's All Good: A Block Club Chicago Podcast":