CHICAGO — Laura Reynolds drives from Logan Square to suburban Wilmette, a trip that typically takes about an hour, for work several times a week.
Reynolds left home 9:30 a.m. Wednesday. She didn't get to Wilmette for almost two hours.
Traffic has gotten so bad — and unpredictable — that Reynolds delays her drive back to the city or avoids certain roads, she said. She has flexible work hours as a family assistant, which gives her some leeway on when she hits the road, she said.
"Last Friday, I was able to leave Wilmette around 3:30, 4, and there was no way in hell I was going to get on the Edens and the Kennedy," Reynolds said. "I just went and found a patio, sat there … . I wasn't getting on any road at this point."
If it looks and feels like traffic this time of year is worse than usual — it is.
Driver data collected between March and May by the navigation app Waze showed a 6.7 percent increase in traffic in Chicago over the same period last year.
Car travel appears to be approaching pre-pandemic levels, with a decrease in "travel time reliability" indicating congestion on the roads is rising, according to the Chicago Metropolitan Agency for Planning.
Residents across the city, traveling in all directions, told Block Club traffic is the worst they've seen. Some said their commute times have easily doubled. And with construction underway on four major roadways — the Kennedy, Stevenson, Interstate 57 and DuSable Lake Shore Drive — the season of gridlock has only just begun.
"Travel time to get Downtown on I-290 from I-88/I-294 during the morning rush hour takes as long as it did pre-pandemic and 50 percent longer than during the pandemic," said Jennie Vana, deputy of Communications and Engagement for the Chicago Metropolitan Agency for Planning.
Martha Hernandez, a Hyde Park resident, drives three days a week to Gary, Indiana. Her commute used to be 40 minutes. Now, it can take up to two hours, she said.
Hernandez's typical route takes her through Jackson Park, but with construction for the Obama Presidential Center, she backtracks west to avoid getting stuck in more traffic, she said.
"Oh, yeah, that's a given. I don't even go there," Hernandez said.
The unrelenting traffic is also impacting the way companies and organizations do business.
Nourishing Hope, one of Chicago's largest and longest operating food pantries, delivers food across the city. CEO Kellie O'Connell said its delivery drivers have been running late to some locations because of traffic all hours of the day.
"Around this time, there's usually a seasonal increase in traffic, right? Baseball games, tours, concerts, all that's coming to mind," O'Connell said. "But what [the drivers] feel is that they're experiencing that on steroids."
Construction Across The City
Road construction and streetscape projects are behind the excruciatingly long travel times.
Construction on the Kennedy began in March and will be done in stages over the next three years. Construction on I-57 is slated to be complete this summer, and other projects along the Stevenson should be done by the end of the year, according to the Illinois Department of Transportation.
At the same time, the Chicago Department of Transportation is overseeing construction on DuSable Lake Shore Drive, Jackson Park and several Downtown viaducts in addition to road reconstruction and streetscape projects along six corridors.
Construction on DuSable Lake Shore Drive is slated to be done by mid-June. The other city projects are expected to continue through 2025, and construction in Jackson Park is slated to last beyond 2025, according to the project's website.
Some residents question why the city didn't spread out the projects.
"I don't know if this is a rerun of bad management as far as letting the streets fall apart, and now all of a sudden we get money to do everything, " Hernandez said.
A CDOT spokesperson said the agency works with other city departments and IDOT to "coordinate activities and projects impacting the public way and minimize the impact of traffic delays."
This includes making improvements to traffic signal timing and developing detours for construction work that will require select ramp closures during the Kennedy Expressway construction, city transportation officials said.
City officials advise drivers to plan ahead and prepare for extra time when traveling throughout affected areas, while the state encourages drivers to find alternative routes.
Drivers can also monitor Chicago traffic conditions in real time on CDOT's traffic tracker.
Traditional traffic patterns are also changing in Chicago, Vana said.
Trips are happening in new places, with more trips around people's homes and fewer around places of work as more people work remotely.
"Trips are happening at different days and times as employees work under a hybrid schedule, sometimes at home and sometimes in the office," Vana said.
O'Connell said the most difficult part for Nourishing Hope drivers making food deliveries in the middle of the day has been navigating around DuSable Lake Shore Drive. The highway is being repaved, with traffic spilling into surrounding local roads — which are what the pantry's fleet use, O'Connell said.
With construction seemingly happening "everywhere" and side streets choked with traffic, some residents are considering drastic measures.
Katie Jozwik commutes from Avondale to Orland Park — a nearly two-hour drive each way. Her strategy is to leave earlier, but she said traffic is unpredictable no matter how much she tries to plan for it.
"At one point we've been like, 'Do we need to move closer to be more efficient?'" said Jozwik, who's lived in Avondale for 10 years. "I've definitely taken that into consideration … even just moving to Bridgeport or something like that to be a significant amount closer."
Public Transit Not An Option For Some
The city's beleaguered public transit system — whose riders have complained about long wait times, deteriorating conditions, security issues and "ghost" trains and buses — takes that alternative out of consideration for many drivers.
Jozwik previously has taken the Blue Line and transferred to the Metra, but she doesn't feel confident it will get her to work on time, she said.
Veronica Allen, a Roscoe Village resident who commutes Downtown four days a week, also doesn't take public transportation because of inconsistent service.
"I don't want to drive; but, even still, transit is so unreliable that it just doesn't feel like I'm winning either way," Allen said. "I also have an autoimmune disorder that makes walking long periods of time pretty painful and not sustainable for multiple times a week."
In April, 82.3 percent of Blue Line trains operated as scheduled with 89.7 percent of all train lines running as scheduled. Buses were running an average of 94.5 percent of all scheduled rides in the same month.
CTA officials have said some service has improved, but they've blamed workforce shortages for the chronic problems. The agency has been hiring for hundreds of train and bus operator positions, as riders and organizers push for quicker action to improve the system's reliability.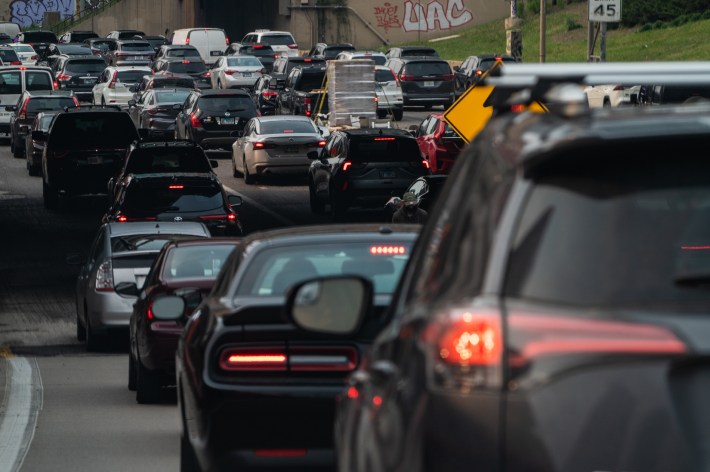 Given the issues with the CTA, and with no relief from the traffic in sight, some residents said they are cutting back on their activities in certain neighborhoods.
Every Sunday, Allen has dinner with friends in Hyde Park, but she recently started canceling because of unpredictable traffic.
Hernandez doesn't frequent the North Side as much as she used to for work or for fun. When she does, she tries to make all her stops in one trip, she said.
"I make a plan to visit certain stores … and I'm not the only one. Some people just say I'm not driving anymore. They'll do it once a week and try to get everything done at once," Hernandez said.
Congestion has also caused Hernandez and others to be more cautious of road rage — a factor in 40 percent of Chicago-area expressway shootings in 2022, according to State Police. That was up from 12 percent in 2021.
Road rage has been reported in at least nine Chicago-area expressway shootings this year, according to State Police.
Hernandez, a psychiatrist, said current conditions fuel the anger of already stressed-out drivers.
"People just cut you off," Hernandez said. "There is just anger. You can just feel it. It's palpable.
"What can we learn from this? And how can we help each other out so that this can become the … easiest experience rather than being just so angry and hateful? I'm always optimistic that we can do something, but it gets frustrating sometimes. And I feel for people who are already at the point of being on the edge."
Listen to "It's All Good: A Block Club Chicago Podcast":