LINCOLN PARK — People can pay their respects to a centuries-old oak tree that's reached the end of its life cycle Friday at the Lincoln Park Zoo.
The zoo, 2001 N. Clark St., is encouraging people to write "thank-you" letters to the bur oak tree before it's removed Monday.
The tree, which stands about 70 feet tall across from the white-cheeked gibbon enclosure, is estimated to be 250-300 years old and has reached the end of its life cycle. It's believed to be one of the oldest trees in Chicago — even predating the city's 1837 founding — but ages can only be estimated by taking coring samples.
"We are devastated to see a piece of Chicago history leave the zoo, but we are determined to extend its legacy throughout the community and zoo in other ways with meaningful partnerships," said Maureen Leahy, vice president of animal care and horticulture.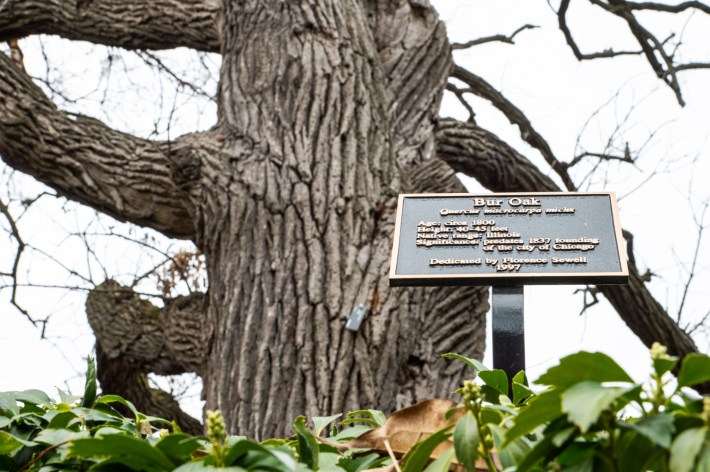 The letters to the tree are one of many activities the zoo has planned for Arbor Day this Friday, including viewing archival photos of the tree, leaf identification exercises and tree ring-counting games.
The zoo, which is an accredited arboretum, is also offering tours led by horticulture experts 10 a.m.-1 p.m. The tours are free, but pre-registration is required.
Katrina Quint, the zoo's director of horticulture, estimated last fall the bur oak was about 80 percent dead. Its removal is necessary given its proximity to a large sidewalk.
Bur oak trees are a native species to Illinois, Quint said. If growing in a field or savannah environment, the trees can reach up to 400 years old. But urban pressure has shortened this tree's lifespan.
This tree's age was estimated by measuring the diameter of the tree at 4 feet off the ground. This tree's diameter came in at 46 inches.
"The only way we could tell how old it actually is is to take a core sample of the tree," Quint said. "That's when you drill into the tree with a special tool that brings out a whole cross section of the tree. You then count the rings to get the exact age."
The tree's legacy will live on through a partnership with the Morton Arboretum, where 36 of its scions were grafted onto rootstock for propagation to preserve its genetics, according to zoo leaders. Slices of the tree will also be given to the Illinois State Archaeological Survey to support dendrological and climate studies in Cook County and with the Forest Preserve.
But the tree's ability to live on in other ways will depend on the level of degradation within its trunk, zoo leaders said. Officials hope to dry, mill and preserve slices of the tree for memorials, educational tools and play spaces at the zoo.
Local woodworkers and artisans have expressed interest in using the tree's remnants to create other products and artwork, zoo leaders said.
The tree is part of a grouping of bur oaks that have produced offspring, Quint previously said. One of those baby trees could also be transplanted into the bur oak's space over time.
"It's really sad to be losing one of our oldest trees at the zoo, but everything has an end of life, and we're happy to say we do have many other bur oaks that are fairly large and over 100 years old," Quint said.
Watch our "On The Block" TV show on The U, CW26 and MeTV.
Listen to "It's All Good: A Block Club Chicago Podcast":