LINCOLN PARK — Chicagoans have just a few months to say goodbye to one of the city's oldest residents: a centuries-old oak at the Lincoln Park Zoo that predates Chicago's 1837 founding.
The bur oak tree stands about 45 feet tall over the zoo's south lawn, across from the white-cheeked gibbon enclosure. It's estimated to be 250-300 years old and has reached the end of its natural life cycle, said Katrina Quint, the zoo's director of horticulture.
"It's lived for a very long time, especially considering everything that has come up around it: the zoo itself and pretty much the entire city of Chicago," Quint said. "But it's sad to see the tree decline."
It's believed to be one of the oldest trees in Chicago, although ages can only be estimated by taking coring samples.
Much of Chicago's forests and prairies were wiped out in the 1800s, with the land in and around the city turned into farmland and residences, leaving behind small green strips and patches of forest.
Expert Scott Carlini told DNAinfo in 2016 an oak inside Union Ridge Cemetery in Norwood Park, based on its trunk size, could be in the range of 325-375 years old. The cemetery is Chicago's oldest, most continually used one, according to the Norwood Park Historical Society. The first burial at the cemetery, which now overlooks the Kennedy Expressway from the south, took place in 1841.
A bur oak in Midway Plaisance Park near University of Chicago's Billings Hospital could be more than 260 years old, Gary Ossewaarde, an official with the Hyde Park-Kenwood Community Conference, has written.
The oldest tree in Illinois is a bald cypress in a Cache River swamp in southern Illinois. That tree is more than 1,000 years old, according to the Illinois Department of Natural Resources. 
Quint estimates Lincoln Park Zoo's tree is about 80 percent dead at this point, so it needs to be removed given its proximity to a large sidewalk, she said. The tree's removal is slated for the spring, likely happening by April 1.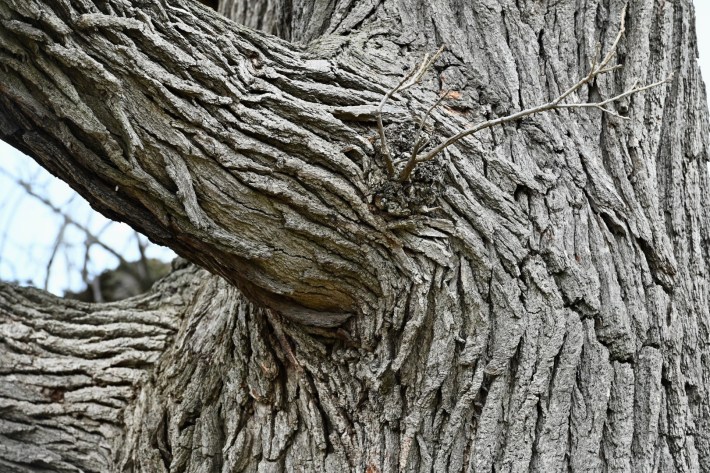 "I keep getting other Lincoln Park Zoo staffers stopping me to offer their condolences, and I'm now seeing people walk by the tree and stop to look at it," Quint said. "It's good to see that people are truly appreciating part of our own natural history at the zoo and the city itself."
Bur oak trees are a native species to Illinois, Quint said. If growing in a field or savannah environment, the trees can reach up to 400 years old. But urban pressure has shortened this tree's lifespan.
This tree's age was estimated by measuring the diameter of the tree at 4 feet off the ground. This tree's diameter came in at 46 inches.
"The only way we could tell how old it actually is is to take a core sample of the tree," Quint said. "That's when you drill into the tree with a special tool that brings out a whole cross section of the tree. You then count the rings to get the exact age."
Quint said the zoo plans on taking a core sample of the tree before it's removed. But the technique won't work to estimate the age if the tree turns out to be hollow.
The bur oak is one of 900 species of plants throughout the zoo, which is an accredited public garden, meaning it's part of the American Public Gardens Association, Quint said.
Quint leads the zoo's horticulture team — made up of six full-time staffers, three seasonal workers and an intern — in caring for more than 95,000 individual plants.
The zoo also became an accredited arboretum in 2019, Quint said.
"We really cultivate our grounds and gardens for the public to come and enjoy," Quint said.
Quint's team collected six acorns from the dying bur oak tree this year and will work to propagate them to see if a new tree can be grown from them, she said.
"There's actually several bur oaks [and] also a white oak very close, so it might be that the white oak pollinated the bur oak, which will be interesting to see," Quint said. "We won't know until they start to grow."
If that doesn't work, the zoo has several other baby trees that are offspring of the bur oak grouping of trees that can be transplanted into the bur oak's space over time, Quint said.
"It's really sad to be losing one of our oldest trees at the zoo, but everything has an end of life, and we're happy to say we do have many other bur oaks that are fairly large and over 100 years old," Quint said.