GRAND BOULEVARD — Frank Logan was 14 when he picked up a saxophone to impress girls in his freshman class at Dunbar Vocational.
Logan, now 49, said he always knew music would be part of his life — but he never imagined it would bring him here, as he prepares to walk across the stage to receive his associate's degree from Harold Washington College next month.
The story starts at the beginning of 2020, when Logan was laid off from his River North job where he'd been selling insurance for seven years. The timing couldn't have been worse; he was only days into his second marriage when he received the news, he said.
"After I got laid off, my wife said, 'You don't understand what a blessing this truly is. You've been talking about going back to school. You invested in me; now, it's my turn to invest in you,'" Logan said.
Logan had tried college before, leaving at the end of his sophomore year at Bethune-Cookman University in the early '90s and returning to Chicago. Marriage and children followed — but his urge to return to school never really went away.
Now, the opportunity was presenting itself once again.
'It's never too late'
Logan still remembers how confident he felt when he'd take over teaching music class at Dunbar on days the teacher was absent. He got a sense of accomplishment from showing someone how to hit a note just right. Teaching gave him purpose, he said.
So did music.
"Music is in the Logan genes. My dad's side of the family are all musicians and singers," Logan said.
In those days, Logan's father, Jon Logan, was a regular on the local jazz scene, playing clubs all over the city, Frank Logan said.
"I really didn't get that until I was in high school, which was really just a nerdy way for me to meet girls," Logan said. "It was like, 'Yeah, this will definitely draw the ladies.'"
Once the teen started practicing regularly, something changed. Soon it became less about the girls and more about the rush he got from performing.
Decades later, as Logan thought about returning to college and pursuing a new path, those experiences came back.
Becoming a music teacher seemed like the perfect way to combine Logan's two passions, he said. It would also address what he saw as a major concern — the dearth of Black male teachers in the United States.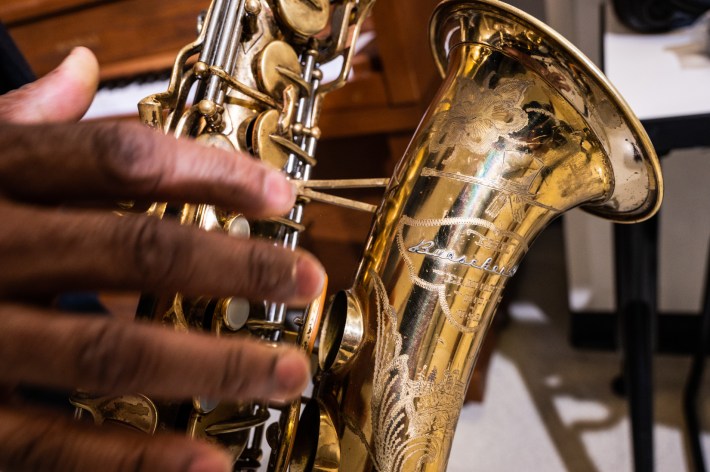 Only 1.3 percent of all K-12 teachers are Black men, according to data from the National Teacher and Principal Survey. That number matched Logan's experience as a student at Parkman Elementary in Fuller Park, where the lone Black male teacher he'd encountered there had been the principal. 
Logan's experience at Dunbar was somewhat similar, as he had a Black male principal there, too, and a physical education teacher. 
"Dr. Richard Edwards Stevenson was my principal. He had a doctorate, spoke four languages and taught me the 'soul brotha' handshake. I was a nerd and he knew it, so every morning he'd greet me in a different language. I hated it," Logan said, chuckling.
But as an adult, Logan realized that was the kind of teacher he wanted to be.
Logan enrolled in Harold Washington College, paying out of pocket and taking out loans to make it happen. At first, the returning scholar overdid it.
"I had to learn how to be a student all over again. I wasn't particularly well-organized, and I wound up withdrawing from three classes my first semester. I wanted to be sure I stayed on top of scheduling and time management, so I had to pace myself," Logan said.
It took a bit for the non-traditional student to find his rhythm again —but once he did, everything began to click, Logan said. And this time around, getting him to the finish line would be a team effort, with Logan receiving regular check-ins and words of encouragement from his three adult children.
"My daughter would call and ask about my homework, and my sons would tell me they were proud of me. It was the best feeling," Logan said. 
Logan was also making connections with his instructor and fellow students, the kind lifelong friendships are made of, Logan said.
"There are people I met here that will be in my life forever, people I wouldn't have met had I not enrolled here. You're meeting folks from all walks of life, and it's fascinating," Logan said.
Now, with eight semesters done, Logan's ready to start a new chapter as he prepares to transfer to a four-year university. Logan has a list of schools he's considering, including Chicago State University, Roosevelt University and Columbia College.
Once Logan finishes his arts degree, he hopes to earn his teaching certificate. He sees himself eventually becoming a professor. 
Logan's also enjoying life as a new grandfather. His youngest son and his partner welcomed a baby girl in December.
"I know it sounds cliché, but it's true what they say. It's never too late. As long as God keeps giving you breath, there's an opportunity to get off your backside and make it happen," Logan said.
Listen to "It's All Good: A Block Club Chicago Podcast":