O'HARE — Zipping between O'Hare and the Near West Side could get fancy in the near future.
United Airlines and Archer Aviation plan to launch the city's first air taxi in 2025 to get people on the Near West Side to O'Hare in about 10 minutes, company officials announced in a news release last week.
The route would go from Vertiport Chicago, a helicopter landing and takeoff facility at 1339 S. Wood St., to the airport, bypassing construction on the Kennedy Expressway that's expected to last three years.
The endeavor is billed as an alternative route in getting to the airport that's "safe, sustainable, low noise and cost-competitive" to taking an Uber or Lyft during rush hour, company officials said.
United has invested $10 million in Archer's Midnight electric aircraft, which fits four passengers and flies up to 150 mph, reducing hourlong commutes to minutes, according to the company website.
"Archer and United are committed to decarbonizing air travel and leveraging innovative technologies to deliver on the promise of the electrification of the aviation industry," Michael Leskinen, president of United Airlines Ventures, said in a statement.
The air taxi could expand to hit other parts of the city once established, officials said.
The companies have not yet announced how much an air taxi trip would be, but it would be competitive to a rideshare trip from Downtown to the airport, said Brian Gump, Archer's director of marketing.
An Uber Black luxury ride to O'Hare can range from $100-$140 one way from Downtown.
Chicago is the second city where the air taxi plans to launch. Last year, Archer and United announced plans for a New York City taxi from Downtown Manhattan to Newark Liberty International Airport.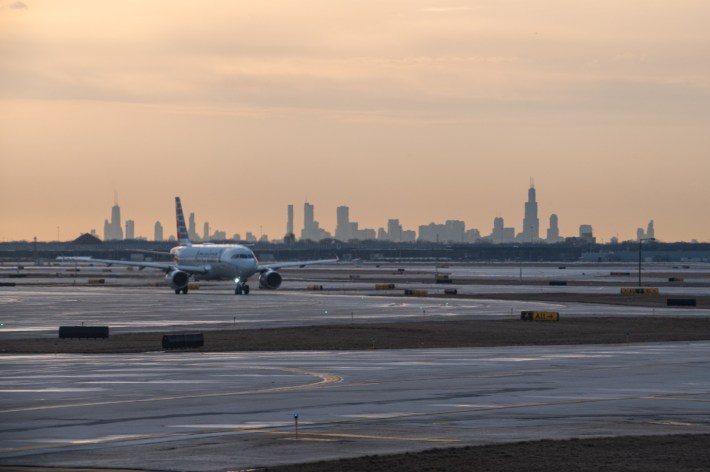 O'Hare was chosen as it is United's largest operations hub, which provides an "ideal location" for United and Archer to ramp up their electric aviation efforts, company officials said. It was not immediately clear where the taxi would land at the airport.
The Midnight aircraft, similar to a helicopter, still needs federal approval, which could come in late 2024, Gump said.
"The FAA has told us that certifying [electric vertical takeoff and landing] aircraft is a top three priority of the agency," he said. "We've been working closely with the FAA since the early days of our aircraft development and we are moving through the certification process efficiently."
ComEd will work with United and Archer to establish the power infrastructure necessary to support the electric aircraft operations around the Chicago area.
Gov. JB Pritzker praised the partnership in the news release, saying it will help address climate change.
Other companies have also begun testing urban mobility options in the city. Eve Air Mobility has been working to launch air taxis along 150 routes flying high across the Chicago area by 2026, CBS2 reported.
Listen to "It's All Good: A Block Club Chicago Podcast":