ANDERSONVILLE — A dual bookstore and cafe opening this week in Andersonville is looking to become a third space for the city's theater and creative communities.
The Understudy opens Saturday at 5531 N. Clark St. after hosting a soft opening Wednesday, married owners Adam Todd Crawford and Danny Fender said. It brings a coffee shop and bookstore to Andersonville — one that is under the same roof and offers a different product from neighboring businesses.
By combining a bookstore and cafe — plus a lounge that doubles as an event space — the owners hope to be a hub of creativity and collaboration for theater professionals and artists, they said.
"I want it to be a place people can come in and be curious," Fender said.
"There are so many artists in the neighborhood," Crawford said. "That's what we wanted from the beginning, a place where people can come and test out ideas."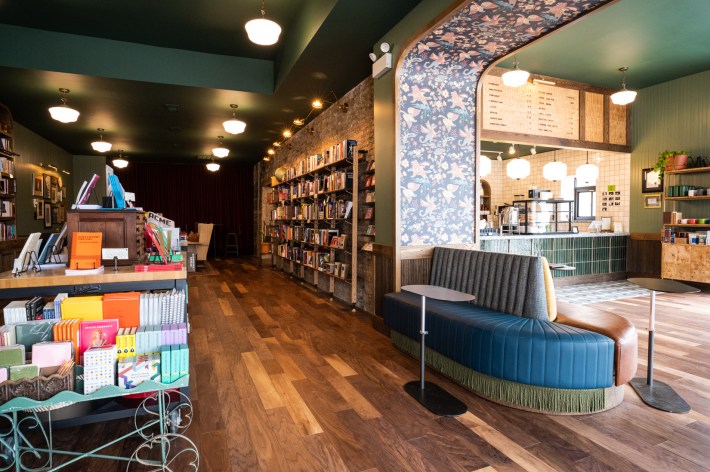 The bookstore portion of the Understudy stocks theater-themed books. That includes a fiction section with works by playwrights, titles that have been adapted for the stage and stories set around or involving the theater.
Other sections include theater scripts, books on theater production and arts management and a young adult/children's section. It also stocks stationary and theater-themed greetings cards.
Display tables include books selected by a rotating cast of local playwrights and theater professionals.
"There's something for everyone here whether or not you're a theater professional," Fender said.
The bookstore half of the business also has a lounge with plush sofas, high-top tables, velvet curtains and a piano salvaged from Ohio that was manufactured in Chicago in 1913, the owners said.
The lounge will double as an event space, with the book display tables being able to be whisked away for larger events. A reading event is already planned with Bramble Theatre, which is opening on the same block as the Understudy.
Other events, including children's story time, are in the works, Crawford and Fender said.
"We want this to be a space where people come to use and say, 'I have an idea for the Understudy,'" Crawford said.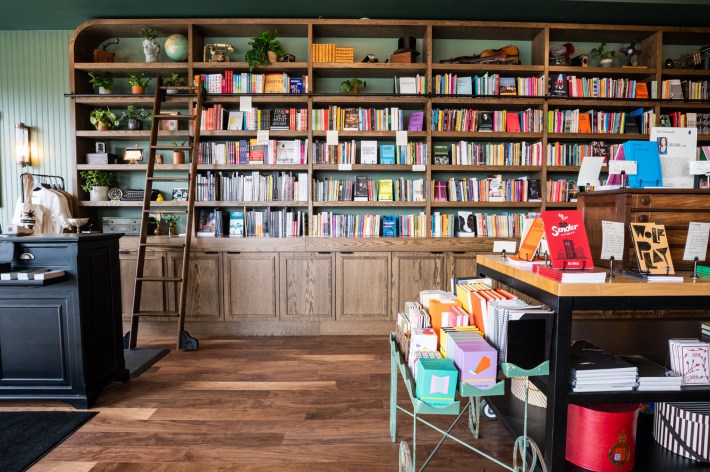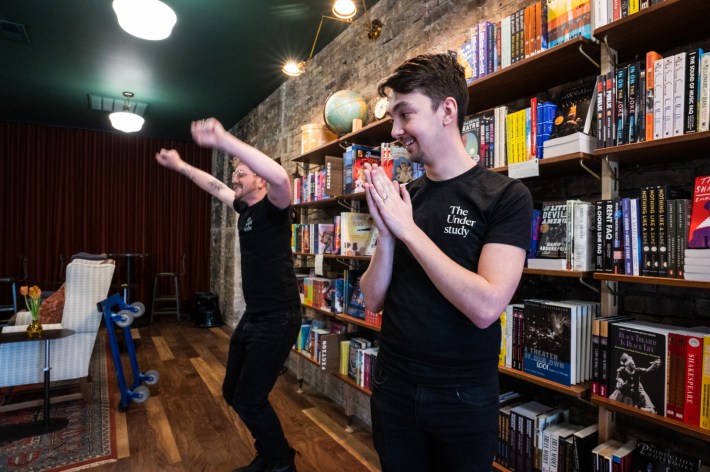 The cafe occupies the corner storefront and includes table, couch and bar seating.
It serves Metric coffee drinks and tea drinks from Lakeview's The Coffee and Tea Exchange. Baked goods are from Edgewater's pHlour and Andersonville's Defloured, which specializes in gluten-free pastries.
The two sides of the business are joined by a gold-trimmed archway, with colorful wallpaper of dragons and other fantastical creatures.
The bathroom and hallway are wallpapered with pages from play scripts, with many of the pages including handwritten notes from the reader. The interiors were done by Siren Betty Design and Raw Bldg Concepts.
The Understudy is opening at the corner of Clark and Gregory streets in a spot that has been vacant since at least 2017. It last housed a Chase bank.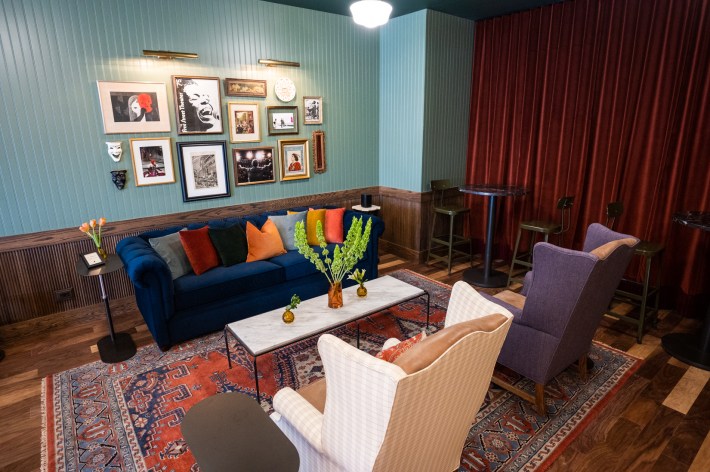 Crawford and Fender began working on the project in 2021.
The Andersonville-based couple had recently graduated from The Theatre School at DePaul University. Crawford, an actor, and Fender, a freelance stage manager, graduated into a theater industry that was severely impacted by the pandemic.
The two began thinking about the theater spaces available to those in the industry and dreamed up the bookstore-cafe business. The couple chose Andersonville for its proximity to many storefront theaters and production companies.
Crawford and Fender got married late last year as they were working to open the business. It made for a hectic journey but one already paying dividends, judging by the number of people knocking on their doors and windows asking when the shop will open, they said.
"I feel really proud and grateful to be apart of this community," Fender said. "The enthusiasm we've seen from the public is so rewarding."
The Understudy is open 6:30 a.m.-6:30 p.m. daily.
Listen to "It's All Good: A Block Club Chicago Podcast":