BRIDGEPORT — Twenty-six years ago this week, a 13-year-old Bronzeville boy looking to put air in his bicycle tire became the victim of a vicious, racist attack that haunted his Chicago neighborhood for years.
"You Didn't See Nothin" is a seven-part podcast that dives into the case of Lenard Clark. Produced by USG and the Invisible Institute, the podcast is narrated by journalist Yohance Lacour, who takes a look back at life as a young man during that tumultuous time.
On March 21, 1997, Clark and a friend rode their bikes into Armour Square in search of a gas station to fix a flat tire. Three white teens — Frank Caruso, Michael Kwidzinski and Victor Jasas — spotted the two from their car, knocked both to the ground and beat Clark unconscious. Authorities found him in an alley near 32nd Street and Princeton Avenue, according to news reports.
The attack left Clark in a coma. He recovered but suffered severe brain damage.
Kwidzinski and Jasas pleaded guilty to aggravated battery and were given probation; Caruso received an eight-year sentence after he was convicted of aggravated battery and a hate crime.
At the time, Lacour, who grew up in Hyde Park, was a 23-year-old budding journalist and student at the University of Illinois Chicago living at home with his father and selling weed to keep money in his pockets. Once the business started to grow, he left school behind, he said. That decision set him on a path that led to a multi-year prison sentence.
Lacour remembers the anger he and his friends felt upon finding out about Clark. He also remembers how quickly the story disappeared in a news ecosystem that seemed fixated with turning the tragedy into a tale of racial reconciliation, he said.
Lacour wrote a few stories about the case for South Street Journal, a Black-owned community newspaper based in Bronzeville.
"When I look at racist crimes like this, my first thought is, 'What if the shoe were on the other foot?'" Lacour said. "I don't know if a Bridgeport child had been beaten that viciously by a gang of young Black men from a neighboring community — it would've been handled so differently. For that reason alone, I think that incident and other incidents like it are never handled correctly."
Lacour and Bill Healy, a producer on the podcast, said the idea for "You Didn't See Nothin" came during the uprisings of 2020, shortly after the Invisible Institute wrapped up its inaugural podcast series, "Somebody." At the time, many had been shocked to hear about bat-wielding vigilantes targeting peaceful protesters in Bridgeport.
"'Somebody' was doing really well. It had been nominated for a Pulitzer, and [Invisible Institute founder] Jamie Kalven had the idea to tell Lenard's story by podcast and to weave my personal story into the retelling," Lacour said.
Lacour, Healy and their team hit the local library to comb through years of news archives and rolls of microfiche to better understand the media's role in the Clark case and how soon the narrative shifted from Clark's attack to the redemption of his attackers.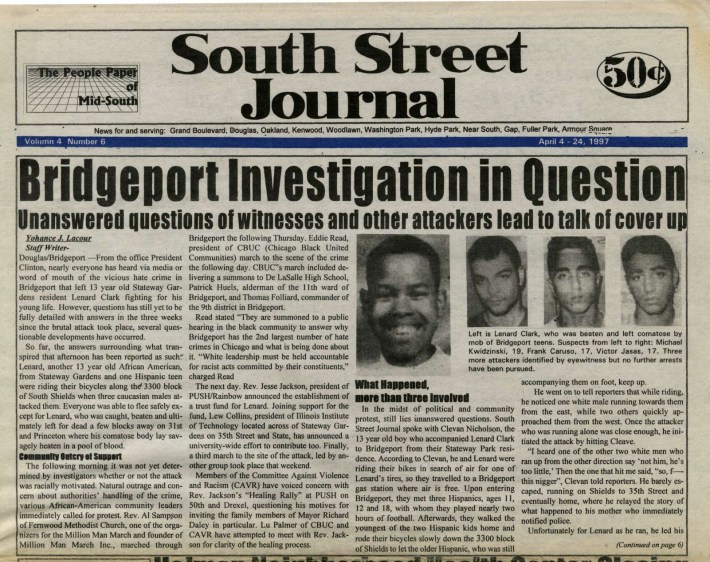 The other part of the story that seemed omitted or forgotten was the conversation happening in the Black community at the time, Lacour said.
While some Black leaders had joined those calling for reconciliation — and had even befriended one of the attackers — residents calling into WVON-AM Cliff Kelley's talk show shared frustrations about the handling of the case and the perpetrators, demanding harsher consequences.
Mainstream and conservative media discussions are well-documented and the archives easy to access. Archives from Black-led media outlets were harder to come by, Healy said.
"The Chicago Defender archives for this period are not online, so we had to go to the Chicago Public Library to request the microfiche, and we had to sit there during COVID-19 taking pictures page by page. Meanwhile, you can get the NPR stuff just by googling. You're getting the white perspective for this historical event, and the Black record is there, but it's hard to get," Healy said.
Clark is living a quiet life, Lacour said, not offering more details.
Lacour and Healy said they hope listeners will challenge the myth of a "post-racial" country. Encouraging the narrative that the city or country has moved past such racist tensions will only turn back the clock, Lacour said.
The advent of social media has been an important tool to combat racism. The George Floyd uprisings of 2020 were global, with demonstrators from every corner of the world calling for change, Lacour said.
"Too many people — Black and white — have bought into that narrative. People have to realize how alive and well racism is. And on a more positive note, people need to realize how much more we can do, how much louder our voices are than they ever been," Lacour said.
You can listen to "You Didn't See Nothing" online.
Listen to "It's All Good: A Block Club Chicago Podcast":