CHICAGO — The city could launch a pilot program for clearing snow and ice from sidewalks as early as next winter, officials said. 
Ald. Gilbert Villegas (36th) will introduce the Chicago Plow The Sidewalks ordinance to City Council during its Wednesday meeting. The alderperson partnered with advocacy groups Better Streets Chicago and Access Living to create the ordinance. 
If successful, the legislation would create a municipal sidewalk snow and ice removal pilot program in some areas so officials can gather data before expanding the service citywide. The city's transportation and streets departments would help determine where the pilot would be implemented, Villegas said.
More than 10 alderpeople have voiced support for the ordinance, Villegas said Tuesday.
City law requires building owners to clear the sidewalk near their properties, and they can face fines if they fail to do so. 
But "fines don't shovel sidewalks," which means many Chicagoans still find themselves struggling to get where they need to go, said Laura Saltzman, a policy analyst from Access Living who helped draft the ordinance. 
"What we're seeing is that the plowing often doesn't occur," Villegas said. "We hand out $500 fines, but the snow's still there and people still can't pass by. Instead of trying to nickel-and-dime people, I think it's best the city takes over this service and finds a way to implement it so that people can move throughout the city."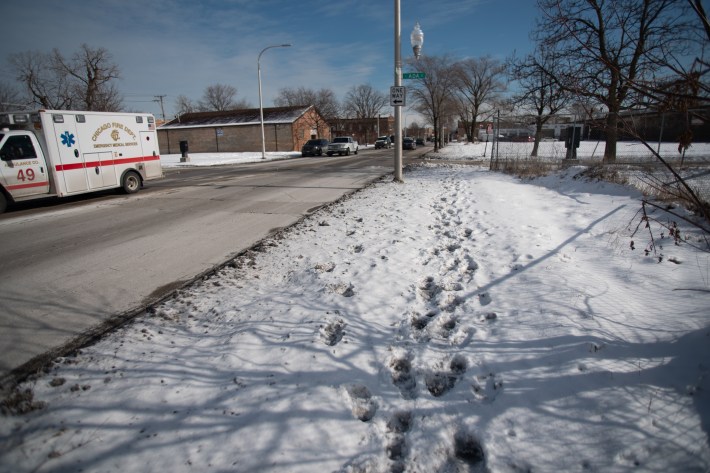 Impassable sidewalks are the biggest complaint the disability advocacy group receives from people during the winter, Saltzman said. 
Everyone is impacted when sidewalks aren't cleared, but the consequences can be especially severe for older people and people with disabilities, Saltzman said. 
"Snow- and ice-covered sidewalks are not just inconvenient; they can make it impossible to go anywhere or double the amount of time it takes," Saltzman said. "This is clearly something that makes sense to so many people. Sidewalks should not be obstacle courses." 
Snow can make sidewalks dangerous for people with vision impairments who rely on walking sticks, for people who use wheelchairs or other mobility aides, for travelers with luggage and for parents wrestling strollers around snow, advocates said. 
"People will turn their lives upside down to avoid having to deal with these inadequately plowed sidewalks, and that's unacceptable in a city the size of Chicago," said Michael Podgers, an organizer with transit advocacy organization Better Streets Chicago who worked on the ordinance. "On an individual level, it might not mean much. But if tens of thousands of Chicagoans are avoiding making trips every winter, that's a big impact on how the city functions." 
Organizers with Better Streets started raising awareness about this issue in February 2021, after a particularly snowy winter, Podgers said. They delivered a petition demanding these services with more than 5,000 signatures to the city last year.
Some cities do shovel sidewalks, including Rochester, New York, and Toronto and Montreal in Canada, according to Better Streets Chicago. Minneapolis is considering such a program, according to the group.
The group began developing relationships with City Council members, including Villegas, and partnered with Access Living to assist with researching and drafting the ordinance. Senior group the AARP and more than 20 other organizations also provided assistance and support. 
"There is a cost associated with plowing sidewalks; however, there's also a cost associated with people stuck in their home and not having the ability to participate in the economy," Villegas said. "We want to make it easier for them to participate in the local economy. And by doing that, this program will pay for itself."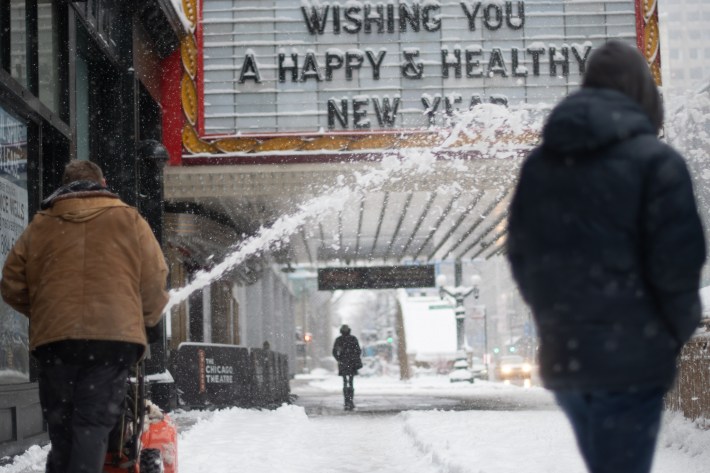 The ordinance would prioritize providing services in systemically divested areas, particularly those with high population density and lots of vacant properties. Areas with lots of young families, older people and disabled people will also be prioritized during the pilot program, officials said. 
"There was no pushback about this from anyone working on the ordinance," Saltzman said. "Everyone knew it was extremely important to focus on areas with high percentages of people with disabilities, in particular, which also tend to be areas with historic disinvestment since every map of Chicago looks the same." 
The most recent attempt at a citywide shoveling program in Chicago was in 2012. Then-Mayor Rahm Emanuel launched a citywide shoveling initiative that included a program called Snow Corps, pairing volunteers with older residents and people with disabilities who need shoveling help.
That program was scrapped in 2017 due to a lack of volunteers, sources told Block Club in 2021.
Podgers and Saltzman said they hope this ordinance will spur conversations about other ways the city can improve pedestrian infrastructure. This could include widening sidewalks, implementing raised crosswalks, providing more benches and repairing disintegrating concrete more efficiently. 
"Frankly, it's about starting to view sidewalks as part of our transportation system for the first time," Podgers said. "We need to view them as the most essential physical transportation infrastructure we have and make sure we're treating them with the necessary attention, love and care they deserve.
"Sidewalks are very simple, but they're very important transportation tools and we should be treating them as such." 
Listen to "It's All Good: A Block Club Chicago Podcast":