ALBANY PARK — Brandon Marchand spent more than an hour Monday night shoveling a path to the alley and digging out his car, only to realize the car would be stuck unless he shoveled the whole alley himself.
"My wife and I are pretty fortunate that we're able to work from home," said Marchand, an Albany Park resident. "But it'd be impossible for a lot of people to even get out of their homes because the sidewalks aren't being plowed or shoveled by anyone."
Chicago homeowners and landlords are responsible for shoveling their own sidewalks, and those who don't comply can be fined. Alleys are not plowed by the city.
But with Chicago experiencing its snowiest three-week span in 40 years, some residents say there should be a citywide sidewalk and alley shoveling service for those who are unable to shovel themselves.
Better Streets Chicago is circulating a petition asking the city to create a municipal shoveling service that would clear sidewalks and other "pedestrian infrastructure" of snow. The petition had more than 1,500 signatures as of Wednesday.
"It's time for the city of Chicago to stop shirking its responsibility to those who do not drive and begin clearing public sidewalks," the petition reads. "This is a policy that will benefit all Chicagoans."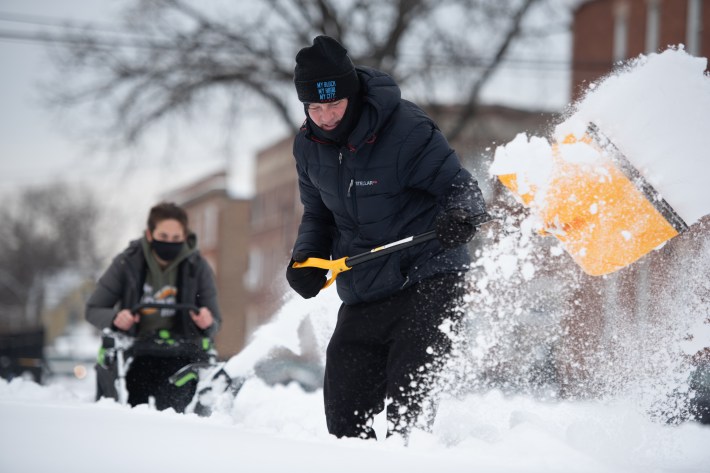 'If You Get Around On Foot Or By Bike, You're Stranded'
Some cities do shovel sidewalks, including Rochester, New York, and Toronto and Montreal, according to Better Streets Chicago. Minneapolis is considering such a program, according to the group.
In Rochester, city crews plow sidewalks when there's at least 4 inches of snow, but property owners are responsible for clearing away any other snow and ice.
Neighbors shoveling out their own sidewalks without any city help surprised Marchand when he moved to Chicago in 2009. He grew up in a small town outside Rochester where city workers helped neighbors clean up snow from sidewalks after storms.
In Chicago, the most recent attempt at a broader program was in 2012. Then-Mayor Rahm Emanuel launched a citywide shoveling initiative that included a program called Snow Corps, which sought to pair volunteers with older residents and people with disabilities who need shoveling help.
That program was scrapped in 2017 due to a lack of volunteers, sources said.
Now when there's a winter storm, it's largely left to ward offices and well-meaning neighbors and volunteers to clear, de-ice and salt pathways.
"That was a voluntary-type effort that the city made a good effort to try to provide," Rich Guidice, executive director of the Office of Emergency Management and Communications, said at a news conference Tuesday. "Right now, our message is: We're just asking everybody to be good neighbors, help out the vulnerable populations."
After more than 17 inches of snow fell on Chicago this week, demand for shoveling assistance skyrocketed through the city. At least 24 aldermanic offices have volunteer shoveling squads, but the groups have been unable to keep up with demand, according to aldermen and staff.
Community group My Block, My Hood, My City has received more than 200 requests for shoveling help and is answering the call with about 100 volunteers. They're still looking for more helpers.
That neighbors-helping-neighbors policy doesn't work for some vulnerable residents, said Courtney Cobbs, co-founder of Better Streets Chicago. Volunteers might be plentiful in some areas but not in other parts of the city, Cobbs said.
RELATED: Snowed In? Here's Who To Call In Chicago For Shoveling Help
Better Streets Chicago began its call for a municipal sidewalk shoveling service after the recent storms. The group's members saw sidewalks near bus stops and CTA stations covered in snow, and unplowed bike lanes, Cobb said.
A municipal shoveling service is a matter of equity for people who have disabilities and people who use public transportation, Cobbs said. The city's focus on plowing streets benefits those who use cars and buses, but it does little for everyone else, she said.
"We have a two-tiered system," Cobb said. "If you drive a car, the roads are cleared. If you get around on foot or by bike, you're stranded."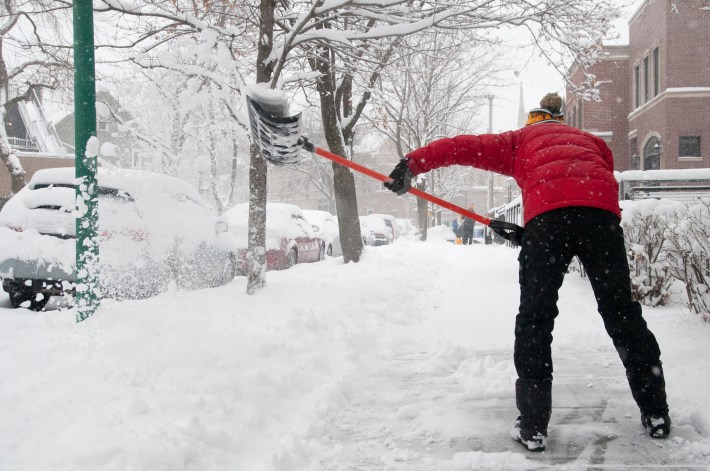 Better Streets Chicago's petition asks the city to devise a sidewalk shoveling program by next winter. Funding could come from the Police Department's budget, which some elected officials and activists are working to reduce.
Ald. Andre Vasquez's 40th Ward has one of the most robust volunteer shoveling services in the city. Among its 300-strong volunteer corps is a shoveling squad that fans out along the Far North Side ward to answer shoveling calls for residents in need.
Compiling such a volunteer base takes significant effort and organization skills, and the office started on the task on Vasquez's first day in office, he said.
It's coordinated using a mix of technology and old-school phone trees. Vasquez's office plots calls for shoveling help on a map, which volunteers can access and respond to based on their proximity.
Vasquez said he wants the city to have a conversation about expanding the Streets and Sanitation budget in the wake of increasingly extreme weather, including a tornado which badly damaged parts of the Far North Side.
Vasquez prioritized the volunteer network because his office of six people wouldn't be able to respond to the volume of calls for snow shoveling. But forming a municipal sidewalk shoveling service would be a challenge for the cash-strapped city, Vasquez said.
"Getting something done legislatively is a bigger challenge. One of them is funding because, at the city level, it's not volunteers anymore. It's city employees doing it," Vasquez said. "That requires a lot of investment."
That's not to say the city is not spending money to shovel residential sidewalks. Some ward offices send out city employees to answer calls for shoveling assistance.
Ald. Nicholas Sposato (38th) said his office has had three ward employees out this week trying to help older people and those with disabilities. The employees were dispatched because regular volunteers were snowed in, Sposato said.
"The guys are out, and they'll get done what they can get done," he said.
Sposato said his constituents do a good job at helping each other shovel out after snow storms. Instituting a citywide shoveling service would be costly and difficult logistically, he said.
"It's too hard," Sposato said. "You'd have to pay people. And who's going to want to shovel this stuff?"
It may be pricey, but establishing a city shoveling program would help erase one of many Chicago inequalities, Cobbs said.
"Not every ward has a robust volunteer base," Cobbs said. People "shouldn't suffer or have a worse quality of life because there are no volunteers."
Pascal Sabino contributed reporting.
Subscribe to Block Club Chicago. Every dime we make funds reporting from Chicago's neighborhoods.
Already subscribe? Click here to support Block Club with a tax-deductible donation.