NORTHALSTED — Workers at one of Northalsted's most prominent LGBTQ bars are unionizing in what's thought to be one of the first organizing efforts for a Chicago nightclub.
Workers at Berlin, 954 W. Belmont Ave., launched a campaign Feb. 27 to unionize under Unite Here Local 1, which represents more than 15,000 hospitality workers in the Chicago area. Workers involved in the effort told Block Club they connected with Unite Here about a month ago to begin planning.
Workers said they want to unionize to demand better pay, safer working conditions, improved on-the-job training and upgraded equipment. The group filed for a union election with the National Labor Relations board last week, hoping to unionize 21 full- and part-time bartenders, bar backs, stage managers, and workers in security, at the door and coat check.
A hearing among workers on whether to move forward with a union is set for March 20. Berlin opened in 1983.
Jolene Saint, who has worked for Berlin for six years as a security guard and bartender and is one of the lead organizers, said she joined co-workers, patrons and supporters from Howard Brown Health — who also recently unionized — to picket outside the nightclub March 3.
Soon after the demonstration, Saint had to put down the sign and clock in for her shift, duck under a broken bar swing and open the club for another night, she said.
Saint said security workers have come and gone because of poor treatment in the labor-intensive job. A vestibule for guards has holes in it, exposing workers to the weather during the winter, Saint said.
"When that vestibule was ripped up, the bouncer who had to stand outside to check IDs was exposed to the freezing cold. They must trade off who's outside every 20 minutes because it's so cold," Saint said. "It's not fair that my coworkers should have to be getting crumbs to be doing what is a hard job, and that's why the bouncers have so much turnover. It's not enough for people to live on."
Workers also said Berlin management isn't communicating with them about important issues dealing with the club or their job responsibilities.
In the past few months, Saint learned of two important notices from her work through Berlin's social media, she said. Berlin was no longer open on Mondays throughout the winter, which cut one-third of Saint's shifts, and it dropped its COVID-19 protocols, which will result in Saint losing her insurance.
"No email or text from management but finding out with everyone else online," Saint said. "The only reason I can be on Medicaid is because of the COVID protections that are in place. And the COVID protections are going away at the end of this month. So, at some point, the state of Illinois is probably going to kick me off Medicaid, which means I'm not going to have any health insurance."
Cutting COVID-19 protocols also affects security guard Sydryl Denila, who balances another job and full-time school.
"As somebody who works at the bar and also works with kids, it's concerning to not know where I'm getting sick," Denila said. "And now I'm also a full-time student. … If you're sick, you miss a lot of school, and it won't be only missing school like for me — I would also miss my second job. So, it was a little bit stressful for me."
Denila also said he felt unsafe and a like there was a lack of consideration for him and his co-workers when dealing with potentially dangerous situations with patrons.
"You're dealing with patrons who are intoxicated and worse, and we can't read everybody's mind," Denila said. "To have one person every shift who has violence training would be incredibly helpful."
Denila also hopes to see more communication between management and staff workers.
"I feel like we find out from one person to another like a game of telephone sometimes," Denila said. "There's just been a lack of communication in their end, and I do understand that things happen, and we can fix things, but sometimes I feel like there's been instances where we knew the management knew what was going to happen and instead of letting us know as soon as possible, we find out through social media."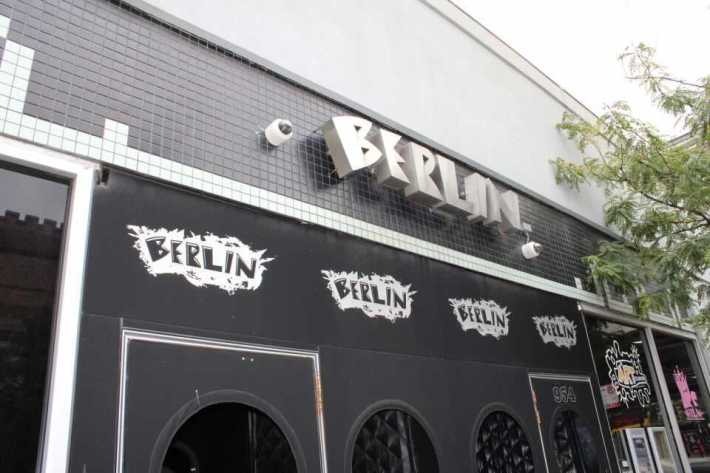 Leo Sampson, social media manager at Berlin, said he believes communication between co-workers is one of the biggest issues to address with this union. With one full-time manager, many problems get repeated before anything is resolved, he said.
"We've asked for a raise. We've asked for better training, for uniforms, for proper equipment. But it seems like it never really went anywhere …," Sampson said. "I don't really know why that is a question for the owners. It's like, why they weren't helping us with these to help us do our job?"
Sampson hopes the owners will listen to the requests and move forward.
"I think what we are asking for isn't that outlandish: to want to be paid a livable wage, better working conditions," Sampson said.
Security guard Chelle Crotinger said they hope local progressive support will move Berlin's union forward and set a precedent throughout queer culture in the United States.
"Berlin is a very unique bar within the city of Chicago and with any queer culture in general because it is an incredibly popular alternative bar for the queer scene," Crotinger said.
Crotinger and 19 drag performers severed ties with Globe Bar and Grill in Washington after they were not able to negotiate for a better working environment, they said.
According to the National Labor Relations Board, at least 30 percent of workers must sign union cards or a petition saying they want to organize. Management can voluntarily recognize the union, or the labor board will organize an election to certify the union.
There are more than 2,500 signatures on a petition on Unite Here's website in support of the Berlin workers.
Saint said she hopes this is the beginning for LGBTQ bars everywhere to start standing up for their rights.
"We want this for all people who work in Boystown and for all people who work at LGBTQ nightclubs and all nightclubs, for that matter," Saint said. "Food service is full of a lot of bad working conditions. And I think after the pandemic, people have a sense of things could be better. And I hope that people hold on to that and use that to try to make things better."
Listen to "It's All Good: A Block Club Chicago Podcast":